Liverpool came from behind to secure a 3-1 victory over Newcastle at Anfield, and the encounter saw the Reds' prolific attacking trio take centre stage.
The Liverpool juggernaut rolled on to their fifth successive Premier League victory this season, 14th in succession, after a masterclass display from the Reds' forwards.
While Jetro Willems edged Newcastle into an early lead, the 83 minutes which followed saw Sadio Mane twice find the net alongside Mohamed Salah, with Roberto Firmino also proving instrumental following his introduction off the bench.
The victory at Anfield ensures Jurgen Klopp's side remain on a high as they start the defence of their European crown against Napoli on Tuesday evening.
This Is Anfield's Joanna Durkan (@JoannaDurkan_) was joined by Sam Cox (@samueljessecox) and Matt Addison (@MattAddison97) to examine the positives and negatives from the victory and discuss the quality of the front three.
The good…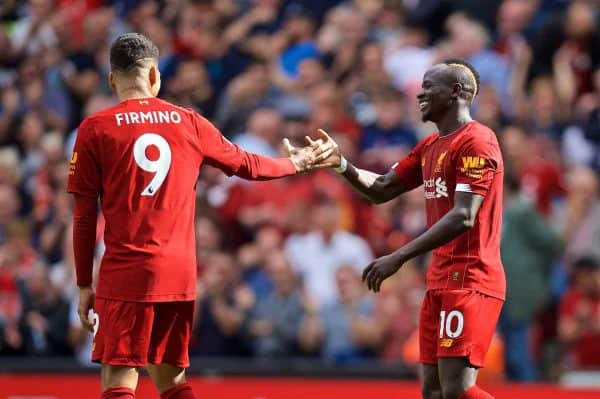 Sam: So imperious is Liverpool's home form, they pull themselves back into the game whilst almost in cruise control now.
Even going a goal down earlier seems a minor inconvenience. Forty-three games undefeated at Anfield is something I couldn't have imagined in my wildest dreams.
Perhaps an unlikely pick, but I want to highlight Trent Alexander-Arnold. He began slowly and had a goal scored against him but worked into the game, displaying his full passing range in the first half.
I am continually astounded by the excellence of his crosses. You can call him Trentice – Stevie G's apprentice because I haven't seen anyone ping low crossfield balls with such precision since Gerrard's heyday.
Daniel Sturridge famously christened Stevie G 'James Bond' on the training ground for his abilities with the ball, well there's a new Bond in town and you can call him 066.
Matt: Roberto Firmino is simply a delight to watch at the moment – at this current time, there is no better player in the Premier League.
I completely understand why he wasn't in the starting XI, given the intense string of matches which are to come, but the difference when he entered the field of play was as obvious as the blatant foul on Joel Matip.
Firmino changed the game with his incredible touches. That assist for Salah was just the icing on the cake; he was given a couple of hospital passes from his teammates at times and he made them look like inch-perfect balls so good was his touch. It's a genuine privilege to watch the deftness of his touch week in, week out.
That's now 14 Premier League wins in a row for the Reds; keep playing like that, and Firmino will no doubt fire Klopp's men to extending that stunningly consistent run even further.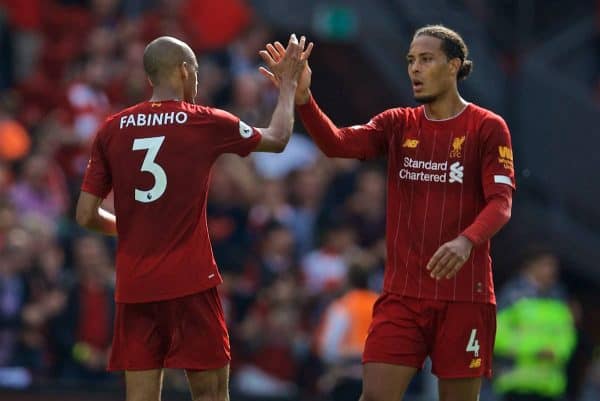 Joanna: Going behind is never ideal, and in yesteryear that would have not only sent the home faithful on edge but the team too, but that's not how this side conducts their business.
At no stage did they show any signs of panic or distress, they instead trusted the process and their ability to find a breakthrough, content in the knowledge that their time would come – and what a joy it was to see it unfold.
Andy Robertson, I thought was imperative in increasing the tempo after a lethargic start, Fabinho with his telescopic legs was again highly influential, while Gini Wijnaldum, fresh off his brilliant international outings, was similarly a standout in the middle of the park in both facets of the game.
Mane's ruthlessness, Salah's proficiency and Firmino's subtle genius was again on show and was yet another example of why they are Europe's best front three, but more on that later.
The bad…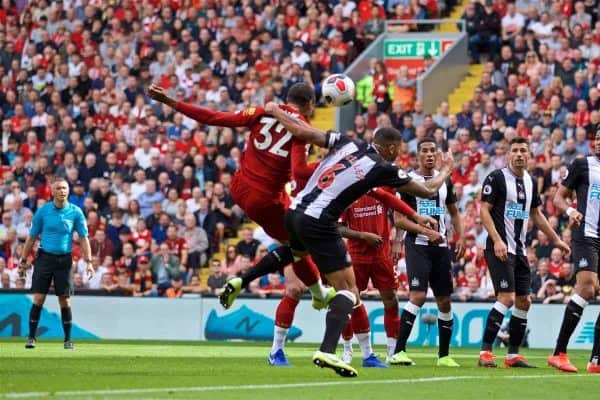 Sam: Everyone thought VAR was going to mean grappling in the box was finally going to be eliminated and yet when Matip was pulled down while in mid-air, it went unpunished.
It's the sort of strange decision that makes you wonder what is VAR's value?
Liverpool's defence leaked another goal, despite offering Newcastle very few chances.
In fact, overall Klopp's men played an excellent pressing game, remorselessly suffocating Newcastle, they just appeared to start both halves slowly with a couple of mental lapses.
Adrian has been excellent you would have to say, but Alisson is world-class and that could be the difference.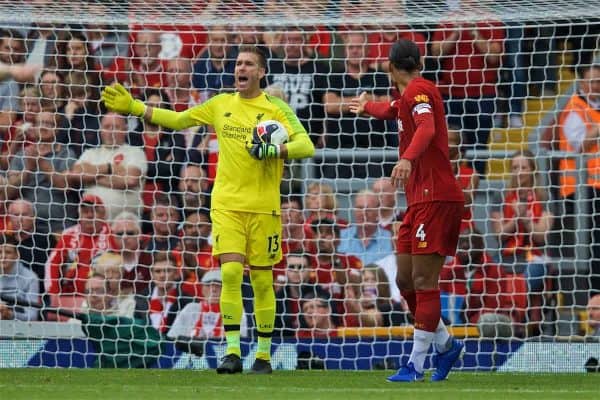 Matt: The atmosphere at Anfield wasn't the best, it must be said, at least for the first half an hour or so of the game. That's always the case with 12.30pm kick-offs but it's frustrating, nonetheless.
The players started sloppily, and the crowd was quiet – or worse, audibly annoyed by the decision-making from those in red at times – and that's never going to help.
In the second period, it was much better, but fans need to be doing everything to help the team, and for me, that wasn't the case here.
In terms of individual performances, Divock Origi didn't do a great deal when he was on the pitch and then got injured. It was a bad day for the Belgian, but he's probably got enough credit in the bank with most fans to avoid too much criticism.
Alex Oxlade-Chamberlain didn't do a massive amount, either, but he's still nowhere near his best after a long spell on the sidelines.
Newcastle at home should have been the perfect match for him, but it didn't quite work out that way – hopefully, he'll be able to make more of an impact in the next few weeks. With so many games to come, he'll certainly be given chances to impress.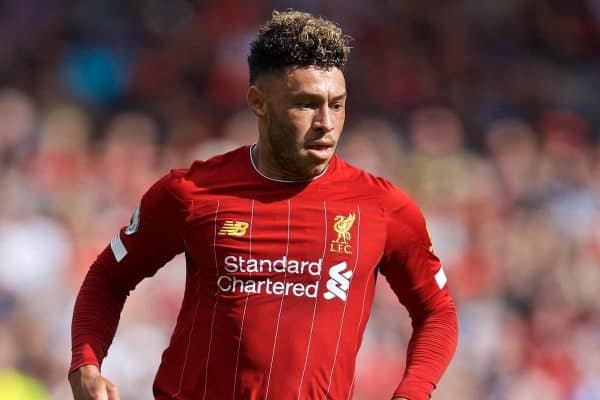 Joanna: On the whole, there isn't a lot to be overly critical of.
Newcastle's goal was symptomatic of the sluggish start and our defensive 'struggles' in the early stages of the season and while we showed we are more than capable of emphatically bouncing back, regular clean sheets are more than welcome to return as soon as possible.
Additionally, while it was a rocket from Willems, I feel Adrian's positioning and choice to go with his left arm was questionable – but that's just me being picky.
And the major negative from the clash was not anything Liverpool did, it was what VAR, or the officials operating it, did not do.
As Sam noted, how a penalty was not awarded after Matip was locked in a WWE stranglehold is beyond me – it was as clear as day.
And just how impressive were the front three & what heights do you think they can reach this season?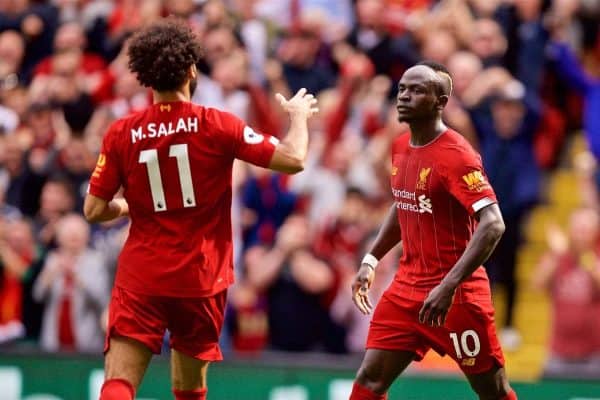 Sam: Salah and Mane were showing heavy touches early, misplacing balls uncharacteristically.
Before Firmino came on, Liverpool were already powering through the gears, but the clutch was heavy, and they were having to muscle their way through at times.
Once he came on, however, the transitions were smooth, the viscosity optimal. Not just a vital physical cog but a mental lubricant. There is a space between method and madness which Firmino exists in and I do believe it is called genius.
As a front three I think they are already at the top and the scary part is, as an integrated unit at least, they appear to still be improving.
There was no overplaying of the ball against Newcastle at the expense of better-placed teammates, just hugs and assists. The true signs of success for these three.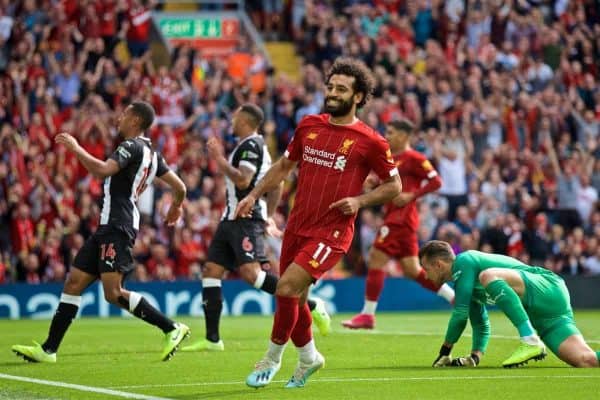 Matt: Firmino will take the headlines, quite rightly, on this occasion for his flicks, tricks and assists. He changed the game when he came on in the first half and deservedly won the Man of the Match award.
Many people have said for the Reds to win the league title this season, the likes of Salah and Virgil van Dijk will need to stay fit but Firmino should be right up there on that list.
Mane notched another two goals and he'll score just as many as he did last season, if not more.
Salah is the same; the three-season wonder has been remarkable this year. That little spat with Mane aside, he's been world-class and that will only continue. He did very well against Newcastle, too, and his goal was a lovely finish that we've become accustomed to from him.
As a trio, there's no better frontline in world football right now, and a target of around 30 goals each for the season is more than achievable.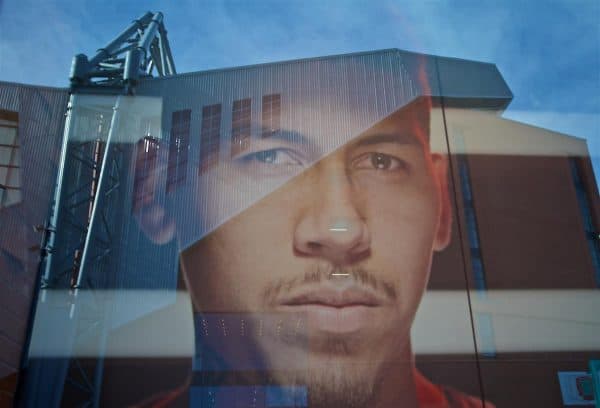 Joanna: Individually they are each world-class in their own right, and collectively they are undoubtedly the world's most fearsome attacking trio – and I will not be told otherwise.
Mane has been on another level so far this season, exuding a level of confidence and conviction which he hasn't always had, and it is having a profound influence on his ability to find the net.
Salah, meanwhile, is always in and amongst the action and a constant menace to the opposition – a player who can conjure up a tide-turning moment at the drop of the hat, not to mention his finishing ability.
And Firmino, are there enough words or time to describe his intelligence, vision, genius and importance to this Liverpool side? Against Newcastle, it was Bobby's world. The flicks, chip passes, movement and work rate – he had it all.
I've long thought Salah will again be on the top of the goal-scoring charts, but I'm shifting towards Mane now although I expect them both to amass close to 30 goals in all competitions this season, while Firmino will again be in double figures himself, but I expect his assist tally to rise and be higher than that of his counterparts this time around.