Liverpool suffered a 2-0 loss at the hands of Napoli on Tuesday night, tasting defeat for the first time this season.
Losing feels a bit strange, doesn't it?
The Reds have become a winning machine in 2019, racking up 14 victories in a row in the Premier League, but they fell short in Naples.
Dries Mertens' penalty was added to by a stoppage-time effort from Fernando Llorente, as Liverpool's defence of their Champions League crown made an inauspicious start.
Henry Jackson (@HenryJackson87) was joined by fellow This Is Anfield pair Karl Matchett (@karlmatchett) and Matt Ladson (@mattladson) to discuss the highs and lows from the Reds' European defeat.
The good…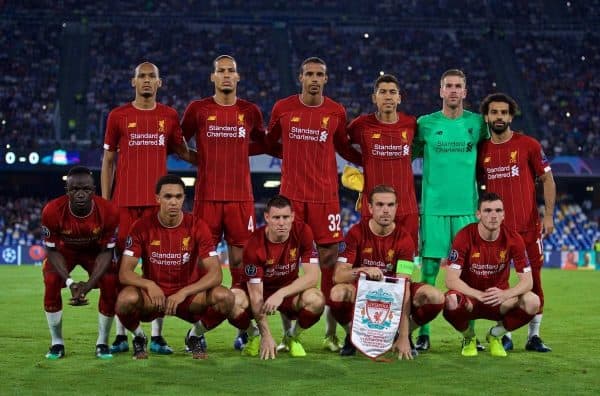 Henry: I always think football supporters are guilty of simply judging performances by the eventual result.
Liverpool played pretty well here even though they lost, and that shouldn't be forgotten.
For large periods we were in charge of proceedings and looked the more likely to win the game before that penalty decision.
Fabinho was superb in the middle of the park – he was a man possessed in the opening 30 minutes – showing why he is arguably Europe's best defensive midfielder currently.
Adrian's save was also one of the best I've seen in a long time – like Daniel Sturridge's stunning Europa League final goal, it may sadly become a great forgotten moment because Liverpool lost.
Karl: In the first half it was good to see us manage parts of the game nicely; they were on top initially, before we enjoyed a spell on the ball, quietened the crowd a little, slowed the game to get a foothold. It was back-and-forth like that for a while, but our periods on top were a welcome sight.
Fabinho, as Henry says, was genuinely top-class, and there's a case to make that the movement from the front three was as good as always, even if the end product wasn't.
If the defeat serves as a reminder that we have to be completely on it, every game, every minute, otherwise victory isn't assured… then I'll take that as another positive for the longer-term.
Matt: Fabinho was definitely the standout player for us.
Adrian had his best game – which I guess is by nature of it being his busiest so far. I liked that he did well on crosses and seemed more composed on the ball.
Trent did well defensively up against a tough opponent.
The bad…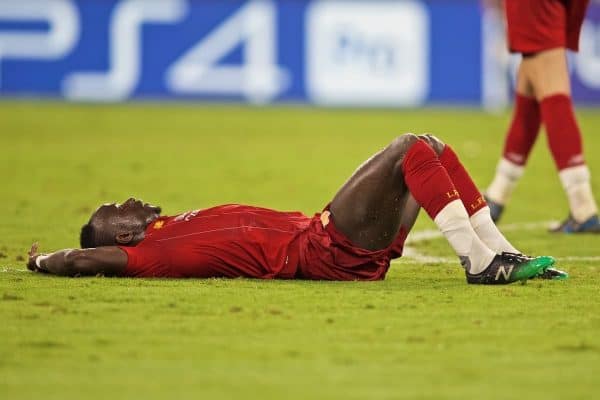 Henry: I'm not going to bang on about VAR because I'm already bored of it, but Liverpool would not have lost the game if the technology wasn't so nonsensical.
Let's leave it at that.
I thought James Milner was poor in midfield, and as much as I love him, he should not be starting away matches in Europe. It rarely works.
Fabinho was exceptional and Jordan Henderson had good moments sporadically, but Milner wasn't at the races, looking every bit a player approaching 34 years of age.
The end product was also severely lacking, with Mohamed Salah, Sadio Mane and Roberto Firmino all uncharacteristically wasteful.
That two-on-one with Mane and Salah summed it up – you cannot be so profligate against someone like Napoli and expect to win the game.
That must change at Chelsea on Sunday, or Liverpool's 100 percent Premier League record this season will end.
Karl: I think Henry's being kind there to the other two-thirds of the Reds' midfield.
Henderson started well in terms of ball-winning but had little impact after the break. He set up a couple of chances, yes, but his ball use overall—and Milner's—was pretty poor across the 90 minutes, way below the three other central midfielders in the game.
Milner was a complete bystander, unable to keep up with passing, movement or counters. His run into space and attempted pass from left to right was as big a chance as Mane to Salah from the opposite side.
Andy Robbo wasn't great, perhaps inhibited by his pre-game injury which stopped him training, and maybe he had to play as we have no other left-footed left-backs in the squad. With Jose Callejon an outside winger, rather than the usual inside variety we see nowadays, Klopp possibly wanted a left-footer in place at all costs.
Finally, I'd say Klopp waited too long to make subs again. We could have brought Shaqiri (or Ox) on earlier, but even after they scored it was another five minutes until a change was made. And no Brewster on the bench at all, so no striker available?!
Matt: I completely agree about the midfield. Fabinho did more than the other two combined.
I can't remember the last time I watched Milner and thought he played well, certainly not this season. Yet there are calls for a contract to his 35th birthday?!
We could do with Naby Keita getting fit, staying fit, and being the player we all hoped and imagined.
And was Liverpool's lack of squad depth exposed?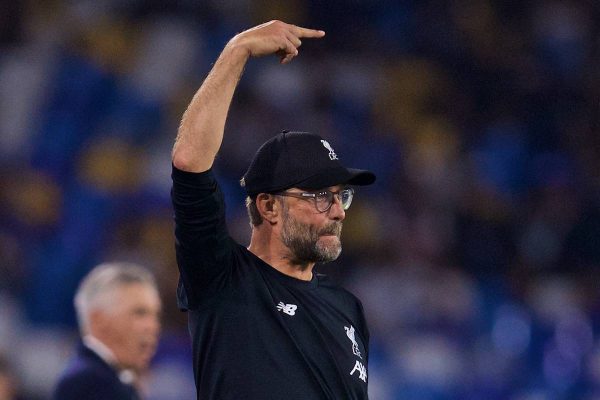 Henry: Speaking to a friend on Tuesday, I said if Liverpool can keep their five or six main players fit, they will win the Premier League title this season.
What worries me is what will happen if a couple are sidelined for a while.
Robertson is one of those key men and he was nowhere near full fitness on Tuesday, (unfairly) giving away the penalty and looking far from his sharpest.
Klopp took a gamble in playing him, when Liverpool should really be in a position where they have a reliable backup left-back to replace him.
This is a good squad, but it is still one not too far away from a few injuries highlighting its shortcomings – Tuesday showed that with Robertson.
Karl: I wouldn't say so. The full-back situation is far from ideal but that didn't cost us here. Better defending for the last 10 minutes and we get a point; better attacking in any of the 80 minutes prior and we might have had three.
This was reasonably close to a fine away performance, controlling spells, not letting the home side build up too much pressure…then seeing about winning near the end.
Didn't work out that way, but we've plenty of time to rectify the group stage situation (and our away form in Europe).
I'd rather the defeat came in the opening Champions League match than in any given Premier League encounter, where the margins for error are much finer!
Matt: I agree with Henry, Robertson shouldn't have been needed if we actually had another left-back in the squad. No surprise he wasn't as effective as usual.
And as Karl mentioned earlier, no striker at all on the bench just makes little sense to me.
If Shaqiri is now being deemed as midfield option, we literally have no forwards beyond the front three if Brewster isn't going to even make the bench.
No player should be needing to be relied upon to play every minute of every match like our front three are. When they have an off day like last night, we should have an option to make a change with 20 minutes remaining.
I understand why Klopp prefers a small squad, but there are so often times you think it hurts us as much as it helps us.