Liverpool FC Women host Everton for a historic occasion on Sunday, but it is not the first women's Merseyside derby to be played at Anfield.
A memorable afternoon lies in wait over the weekend for a host of players as Vicky Jepson's side trade Prenton Park for the spiritual home of Liverpool Football Club.
Everton are the visitors in what is the first Merseyside derby in the Women's Super League to take place at Anfield, a game that holds vast significance for those of both the red and blue persuasion.
A new generation will be afforded the opportunity to ply their trade on the hallowed Anfield turf, following in the footsteps of Liverpool Ladies' 1997/98 team.
On December 9, 1997, under the floodlights at Anfield the Liverpool Ladies, as the club was formerly known until 2018, and Everton Ladies took to the field in a truly historic and ground-breaking match.
And This Is Anfield spoke to Julie Griffiths (@Taz_263), who captained the Liverpool Ladies side that night to hear about her journey, the "incredible" pride in representing the Reds and how a new generation now gets to live out their dream.
The Start of the Dream

Liverpool became affiliated with the women's game in the summer of 1994 as Knowsley United became Liverpool Ladies.
The move ensured the players suddenly represented the club most had supported their entire lives, adorning the Liverbird on their chest week in and week out – a "dream come true" for Julie.
Julie played for the club for up to seven seasons "anywhere on the left", which included left-back, the left-wing or left-wing back, and is widely known as 'Taz' in the football world as she "was a speedy little player so my teammates nicknamed me the Tasmanian Devil."
"I've been a Liverpool fan all my life and was stood on the Kop at the age of six," she explained.
"I was playing for Knowsley United in the National League and so it was a dream come true in the early 1990s when I was playing in parks and then we became affiliated with Liverpool Football Club.
"It meant they provided all our kit, travel and hotels – because at the time when we were playing in the Premier League there was a lot of London clubs so we spent most of our time there.
"The club were brilliant, they paid for all that, so it really was going from one level to an absolute unbelievable dream as all of a sudden we're wearing the Liverpool tracksuits and traveling in executive coaches down south to play our games.
"We felt the game grew massively form that point. Arsenal was already established and had a ladies team, but it was crying out for Liverpool FC to become affiliated, and they did.
"And that was the start of the journey."
History Made Under the Anfield Floodlights

The formative years of Liverpool's team were heavily influenced by Sylvia Gore, a trailblazer in women's football who paved the way for the game we see today.
Sylvia was both a player and a manager, scoring England women's first international goal in 1972, and was involved in football for the majority of her life – earning an MBE and a place in the National Football Museum Hall of Fame as a result.
Throughout her time with Liverpool Ladies, Sylvia was a secretary and Chair of the Club among various other titles and was key to setting up Liverpool's first women's Merseyside derby at Anfield where history awaited Julie, her teammates and members of the opposition.
"Sylvia Gore, you can't forget her. She was an absolute pioneer in our game and I'll always say she played a massive part in where the game is today," Julie said.
"If you just look at the history of the woman, she gave 50 years of her life to women's football.
"She was unbelievable. I know she worked hard tirelessly with Brian Hall, who was the club secretary at the time, to get that fixture on.
"If you can imagine the way the game is today: the professionalism, the crowds, the advertisements, and then in 1997 to get a game of that magnitude on at Anfield [would not have been easy] and you've just got to say fair play to Sylvia.

"Liverpool was in my blood and my whole family were just fanatics so to then actually be wearing the kit and leading the team out as the captain that night was an incredibly proud moment, like every time I played for the club.
"It was a historic occasion and I think there were about 5000 people in the ground, it was just incredible.
"My father was just beaming in the stands because his dream was always for one of his lads to play for the mighty Reds, I've got three brothers, and it turned out to be the daughter. It was just a brilliant occasion.
"Ex-England goalkeeper Rachel Brown, who is a pundit now, was the Liverpool goalkeeper during the game – she made her debut for Liverpool Ladies at the age of 15 and played in her first FA Cup final at the same age.
"She started her career with the club and she was a part of that historic night. We got beat 2-0 on the night but that doesn't take anything away from us players at that time."
Unlike the players of today, however, the women's game was not professional and as such players had full-time jobs running alongside their career as a footballer.
While parents would worry about the viability of such pursuits, it was the deep love for the football club which ensured it was a family affair for Julie throughout her career with the Reds.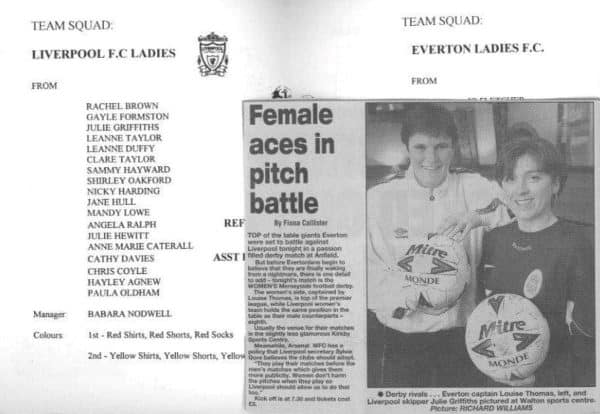 "My parents always looked at it that it wasn't something I could make a career from, and in the 1990s I couldn't," Julie explained.
"I had to maintain my full-time job, but it was just the pride of being part of the Liverpool family that got my family at that time.
"My father instilled Liverpool in us from a very young age and my three brothers went home and away to watch them for decades of their life, which they still do. And to then have their sister playing for the club and to lead a team out at Anfield you couldn't get any better than that could you.
"There was a hype leading up to it and we were interviewed, and my family were sat at home watching it all and saying, 'oh my god'.
"It wasn't professional at the time, but it didn't matter. It was just being a part of the LFC family and that it was incredible that it was their daughter.
"That night was the pinnacle, it was a 'you can't get better than this' attitude from the family having watched their daughter walk out at Anfield for a Merseyside derby.
"I've got lots of nieces and nephews and for me to tell them my history knowing where the game is to today it's a little bit of a wow factor even for them. So, this story lingers on and it's never going to go away. They're growing up with knowing their aunty led the team out at Anfield and it's huge, they all love the story."
A New Generation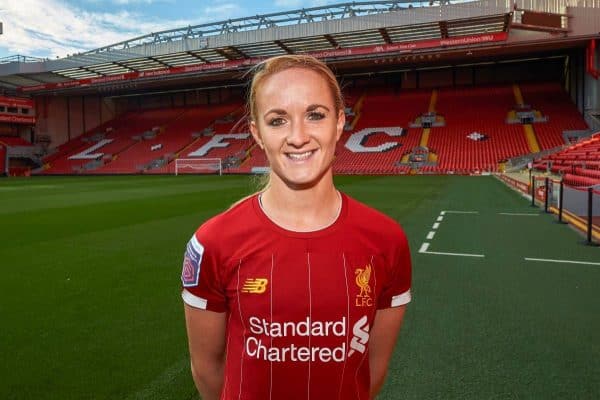 The game on Sunday will see a new generation handed memories and stories to tell for a lifetime and importantly should act as a catalyst for further growth of the women's game.
It is an occasion not only for the players but also for young fans who will be provided with the opportunity to watch history unfold as the first WSL game is hosted at Anfield.
Julie will be one of the thousands attending and could not hide her excitement over the prospect of Jepson's side experiencing the same feeling she did in 1997.
"I'm definitely going to the game, 100 percent. I'm loving the fact it's happening and the girls are kicking ass today and they're playing professional football because there's nothing I would have loved more in my time," Julie added.
"I was doing a full-time job alongside training twice a week and spent most weekends down in London because a lot of our games were away at the time.
"For me, it was full-time as I was maintaining a full-time job as well. So, you look at the girl's life today and the career they've been offered it's just unbelievable.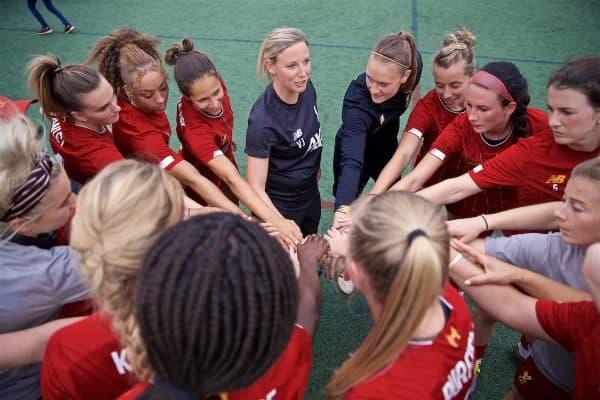 "But if someone said, 'would you swap your history for now' I don't think I would because I'm proud that some might say 'that was your era and you took the game to the next level'.
"We believe we did as we were playing in parks and then one day we were playing at Anfield and Highbury and we kind of created history there as the game went to another level.
"I'm so delighted this game is happening on Sunday. A new generation of players gets to experience that feeling so I'm pleased it's happening.
"I hate it when people compare it to the men's game, this is our game, this is the women's game and it's at this level for a reason and it's good to watch."
---
* Liverpool Women host Everton on Sunday, November 17 at Anfield, with kick-off at 3pm (GMT). You can purchase tickets for the game at the ticket office until 3pm on Saturday, November 16. Online sales are now closed.