Joel Matip refuses to put a time frame on his return to action as he continues to recover from a knee injury.
The defender has been an integral member of Jurgen Klopp's side since the turn of 2019, but injury has since plagued his start to the 2019/20 season.
Matip initially sustained a knee injury during the win over Sheffield United in late September which ruled him out of the subsequent victories over Salzburg and Leicester.
He would then return for the 1-1 draw against Manchester United three weeks later only to aggravate the injury further, where he has yet to make a return to training almost five weeks later.
Initial reports suggested the 28-year-old was set for a six week lay off period, and despite missing the Reds' last six games the centre-back refuses to set a date for his return.
"I don't want to put a time on it. I'm just taking my time and we'll see," he told Sky Sports.
"Of course it's hard to get injured but unfortunately that's the life of a player. I am working hard at the moment to get back.
"I'm always trying to do my best, sometimes it works and sometimes it doesn't. Hopefully, I'm back as soon as possible."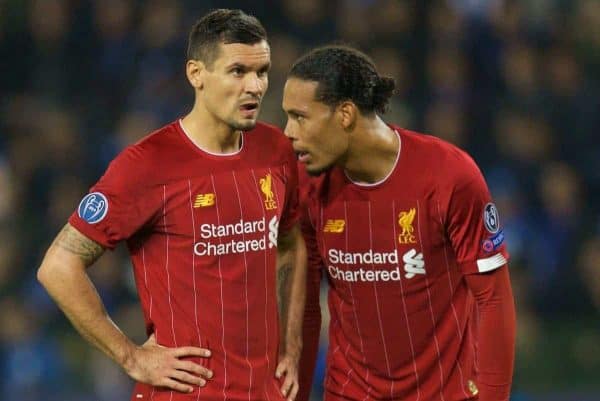 In Matip's absence, Klopp has primarily turned to Dejan Lovren in the Premier League alongside Virgil van Dijk, while Joe Gomez has predominantly featured in the Champions League and League Cup, and the same pattern is expected in the coming week when Liverpool face Crystal Palace and Napoli.
Gomez is under a slight injury cloud himself, however, after sustaining a knock to the knee which forced his early withdrawal from international duty, but the manager is likely to provide an update during his press conference on Friday (11.30am).
It is simply a case of playing the waiting game and not rushing Matip's return, as while Klopp will have planned for his absence for the trip to Selhurst Park, he could now be forced to face the majority of the Reds' run of nine games up until Christmas without his second-choice centre-back.
Moreover, doubts also remain over the availability of both Mohamed Salah and Andy Robertson for the trip to Palace on Saturday afternoon.