At 21, Trent Alexander-Arnold is a key player starting almost every game for Liverpool, but the club will be mindful to avoid burnout for their No. 66.
Having made his debut as an 18-year-old in 2016, Alexander-Arnold has now amassed 102 appearances for the Reds including 17 already this season.
He has played every minute of every Premier League game so far, along with the full 90 minutes in three out of four Champions League ties, and only four team-mates have clocked more minutes (1,447).
Only six players aged 21 or under have played more across Europe's top five leagues, with Aaron Ramsdale and Declan Rice the only other ever-presents in the English top flight.
Interestingly, Dele Alli found himself in a similar position at the same age in 2016/17, when he started 35 of 38 league games for Tottenham, along with their eight games in Europe.
Only Eric Dier and Christian Eriksen played more that campaign than Alli, who produced a similar feat the following season but since then has been dogged with persistent injury issues.
The subject of burnout is a familiar one in English football, with Wayne Rooney's career believed to have dwindled earlier than most due to breaking through at any early age, while there were concerns over Raheem Sterling while at Liverpool.

Oxford United manager Karl Robinson worked with both Alli and Alexander-Arnold at MK Dons and Liverpool respectively, and speaking to the Liverpool Echo discussed his fears over the right-back.
"The one thing I do worry about for Trent, and for Dele and for all the young English players is we're getting so money driven," he said.
"These players are playing far too much for their age. It's scary how much football they are actually playing."
He recalled: "I remember Steve Heighway famously saying to us as young coaches that when we finish in the summer our young players should go away and play a different sport and almost leave the sport for at least three to four weeks.
"I've always remembered and something I've always said to my players if they do get a break, try and stay away from the industry because it allows you to recharge and go again."

It is almost impossible for players like Alexander-Arnold to take a break from football now, due to the ever-increasing demands of international football, pre-season tours and the commercial side of the game.
After sitting out of the U19 Euros in 2017, the youngster has played at the World Cup in 2018 and the UEFA Nations League last summer—the latter coming just a week after the Champions League final.
Robinson argued that the pressure is due to "a lot of people sat at the top of these trees earning a lot of money because of what we do in this industry," as they "don't care about the well-being of these players."
"At some stage there's going to be a drop-off in performance because of it," he continued.
"All of a sudden the players will get the blame for it, but the people at the top who are earning all the money, no one will ever speak about them or question them publicly."

It is a valid point to make, and Jurgen Klopp will no doubt be wary of overusing Alexander-Arnold, but he appears to have soured on the option of Joe Gomez as a genuine alternative.
The manager has repeatedly expressed his issues with an overloaded fixture list, which is even busier for Liverpool this season as they travel to Qatar for the Club World Cup in December.
Alexander-Arnold should be part of the squad for that tournament while Neco Williams fills in for the League Cup quarter-finals, and there will be little downtime in the months after.
Robinson concluded: "People may listen and said 'it's just football' but when you're travelling, and you prepare for three days for any game and the mental fatigue that comes along with that at the top level is phenomenal and mind-blowing."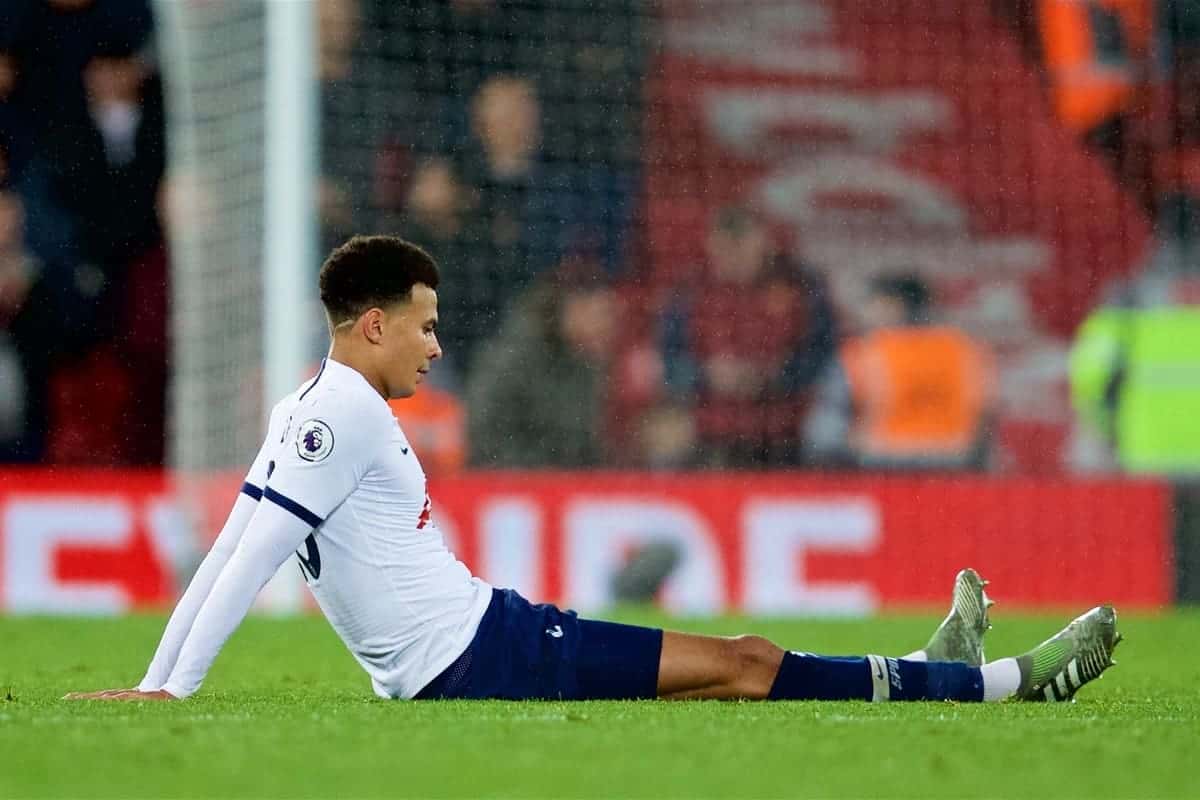 Alli may be an exceptional case study, but there is likely a correlation between the amount of games he played since debuting at 16 and the fitness problems that have arisen since.
Liverpool will carefully manage Alexander-Arnold's workload as they would any other player, but Robinson's argument is certainly worrying.