Jurgen Klopp has urged his side to strive for "perfection" and be "brave" in the pursuit of three points against Man City at Anfield.
The Reds are poised to host a crucial Premier League showdown with Man City on Sunday, with Anfield the host as Liverpool look to tighten their grasp atop of the table.
Klopp's men head into the meeting off the back of a midweek Champions League victory over Genk and a handful of dramatic victories which ensure confidence remains high.
The occasion marks an opportunity for both sides to throw a spanner into the opposition's run at the title, but the manager is eager not to build the occasion up more than it already is as the season is still in its infancy.
Klopp did, however, state Liverpool must be "brave" against City if they are to walk away from Anfield as victors, with "perfection" the needed level in multiple facets of the game to overcome the current titleholders.
"[The rivalry] is getting bigger and bigger," he told reporters.
"Man City is a pretty good football team and that means there is a rivalry. Thank god there is a rivalry as that means we are not in a bad place.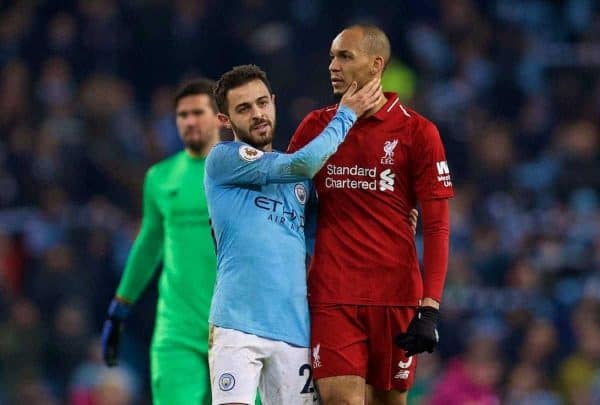 "In the last nearly two-years it feels like each game we play is the most decisive of the season, there's not one where anybody said, 'you can lose that'.
"First, we were fighting for qualifying for the Champions League then trying to win the title, trying to go to the final again and the year before we try to go to the final and fight for the Champions League.
"You cannot make games bigger than they are already so it's a very very important game, but we cannot make it more important than very very important.
"It's a big game. Two really good teams face each other. Best news it's at Anfield which is really cool under the floodlights, so everything is prepared for a good football game.
"Everything is on the plate. Nobody hides anything. We both try to deny the strength of the other, which we have to do, you cannot only be offensive but if you are not brave against Man City you have no chance, not even for a point.
"We have to create. Positioning must be nearly perfect, protection must be perfect, movement, different ideas – there's a lot in a game like this and it's possible that it will be 0-0 like last year."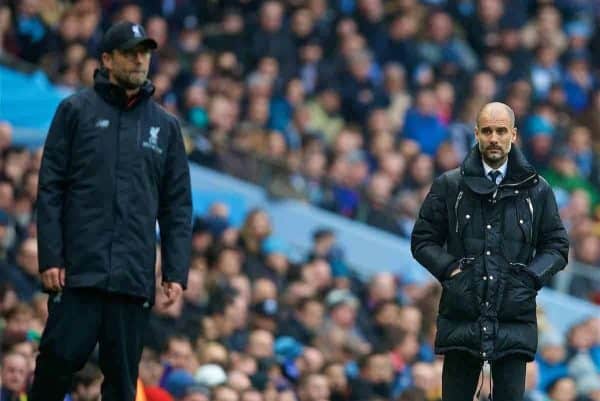 And while Klopp refused to be drawn into waxing lyrically about the side Guardiola has assembled, he did acknowledge the impressive talent and organisation they consistently possess.
"I don't admire other teams. I respect them and like a couple of things. It's more about the character of the team together with the manager [which] is quite impressive," Klopp added.
"The combination of speed and technique is always impressive in football and they have quite a few players who are good in that, [and their] organisation is really good.
"It's a really good football team and if I would not be in the situation that I work for a team that is fighting against them then maybe I could watch more games of them and say, 'that's really nice'.
"But maybe I would watch Liverpool games as well and would fancy them more – I don't know. We all have different tastes but both ways can obviously lead to some success.
"Which success one or both of us will have at the end of the season, we will see."
The boss also spoke on the threat of Raheem Sterling, his relationship with Guardiola, the roles of Trent Alexander-Arnold and Andy Robertson and Sean Cox's return to Anfield.