Mohamed Salah should be back on Merseyside ahead of the weekend, after returning several positive tests for coronavirus over the international break.
The No. 11 almost certainly won't be in contention to face Leicester on Sunday night as he has yet to return a negative which would allow him to return to training, and as such his participation against Atalanta and even Brighton is in doubt at present.
But, importantly, Jurgen Klopp has confirmed his return to home is in place and the player himself is suffering no symptoms of the virus, which means he'll be ready to jump back into action as soon as he's allowed.
"He is probably back today, that's what I've heard. We are in close contact with him all the time," the boss told reporters.
"In the moment when you have a negative test then the process really starts. He feels well, no symptoms so that's all fine."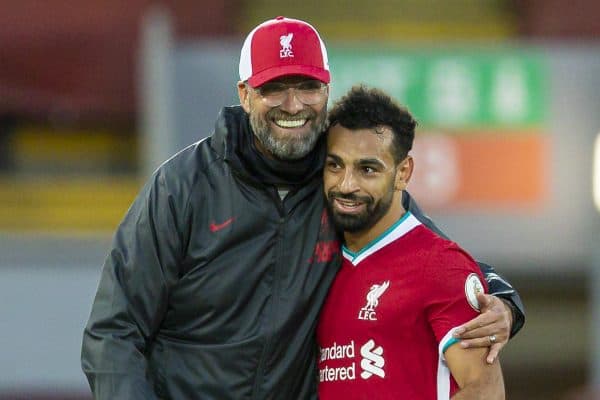 On the matter of Salah likely contracting the virus after being at a packed wedding ahead of the internationals, Klopp was keeping discussions between the two under wraps—though it rather sounds as though the manager has held talks with the player behind closed doors, while also understanding the nature of Salah being with a family member on an important day.
"There's absolutely nothing to say in public, the things I talk to my players about is not for the public.

"I was in the summer in Germany and a friend had moved his birthday party for me just because I was there. I decided in the last minute not to go – it was allowed at the time, it was outside but I didn't go.

"In other countries there's more social pressure on you and a brother's wedding is a very special moment. My players are incredibly disciplined. There were some cases of course but they know about the situation. Sometimes it doesn't work out like this, something happens and that's the situation we are in.

"But the rest is between Mo and me, we did it already and we are fine."
It's a delicate matter to pass judgement on of course; while there is heightened expectation and scrutiny of players due to their role and responsibilities, still working and playing while most of the country is locked down, there's also the more huminatarian aspect to consider.
In either case, Salah's worth for Liverpool will be proven across the campaign yet again, not for one particular match in isolation that he misses.
For now, once he's back in England, isolation is precisely what Mo requires – and the other attackers in the squad will have to step up against the Foxes in his absence.