Liverpool are in the process of installing rail seating at Anfield and fans will get their first experience of it for the two friendlies this weekend.
Anfield is one of eight Premier League stadiums to have rail seating in place for the 2021/22 season, with the Reds' installation being a 12-month trial period.
Seats in the Kop, of which there are approximately 1,800 rail seats, will be in use for the friendlies against Athletic and Osasuna on Sunday and Monday, while the 6,000 in the lower Anfield Road End will be ready for the first home game of the season, against Burnley on 21 August.
The club explain that: "this trial of seats with safety rails will be in two areas of the stadium which were highlighted in a safety review by the Sports Grounds Safety Authority (SGSA) to have an issue with persistent standing.
"This trial in the Kop and Anfield Road lower tier is to ensure supporters' safety in these high-risk areas.
"The seating being installed at Anfield includes normal stadium seats with an integrated safety rail behind them to avoid a crowd collapse.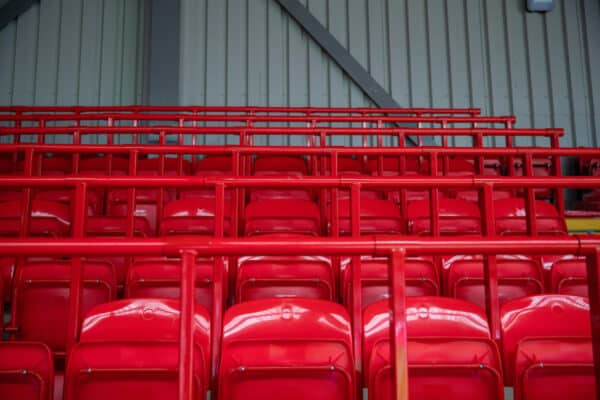 "They will not impact the visibility of the pitch for supporters. The design is to enable fans to stand safely at key moments in the game, like goal celebrations, but must revert to a seat at other times."
Supporters attending matches are reminded that Anfield is still an all-seater stadium and should remain seated when possible.