Jurgen Klopp is no stranger to a wildcard in the Merseyside derby so can Liverpool expect similarly or will it be the strongest possible XI on Wednesday evening?
Liverpool and Everton head into the 14th matchday of the season on polar opposite ends of the spectrum, with the Reds having lost just once in that time and the Blues six.
And while Klopp and co. are just two points from the top of the table, Everton are only six above the relegation zone to put Rafa Benitez firmly in the firing line.
As is the case with derbies, form can turn on its head and Goodison Park has not been too fond of dishing out wins to Liverpool, but that needs to change this time around.
But just how will Klopp set up his side?
Team News
The good news is there is no news for Liverpool, with the squad as is for the derby:
No new concerns from Southampton game, "everybody came through well"
Keita and Gomez not "too far away from team training," expected next week
Firmino "still a couple weeks away from being fully back"
And Jones cannot be rushed, waiting for doctor's green light
Liverpool's XI vs. Everton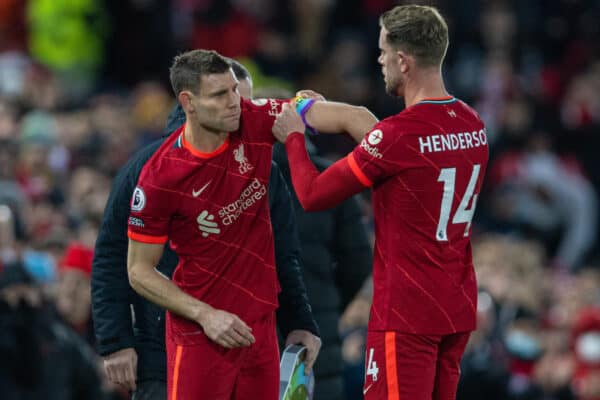 With a four-day break between games, Liverpool can afford to keep changes limited to just one this time around.
And it could very well come in the defensive line, with Joel Matip stepping back into the team, a week on from his last outing against Porto.
It would come at the expense of Ibrahima Konate, not as a demotion but simply for rotation with Matip's minutes needed to be managed for the long-term.
Alisson would then sit behind Trent Alexander-Arnold, Matip, Virgil van Dijk and Andy Robertson, who keeps his place over Kostas Tsimikas.
The midfield of Fabinho, Thiago and Jordan Henderson worked well against the Saints, and the former duo have won all 12 games they have started together. Time to make it 13.
It leaves Mohamed Salah, Sadio Mane and Diogo Jota to lead the attack once more: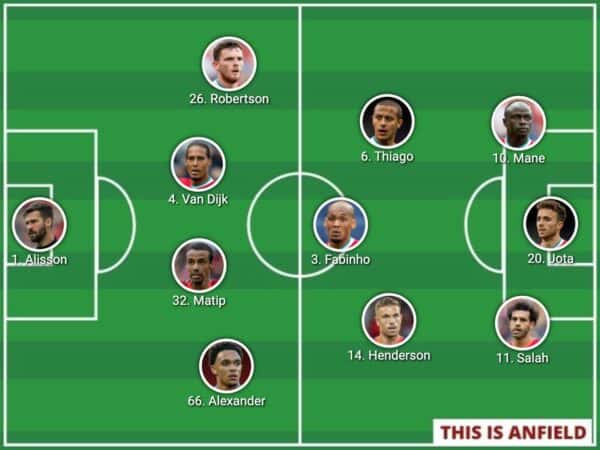 Alisson; Alexander-Arnold, Matip, Van Dijk, Robertson; Fabinho, Henderson, Thiago; Salah, Mane, Jota
---
But as abovementioned, Klopp is fond of a derby curveball and he has a number of options to do just that this time around.
It feels a little harsh on Alex Oxlade-Chamberlain to exclude him from either option, but with James Milner back in the mix, Klopp could opt for his vice-captain in this physical contest.
Konate could then keep his place next to Van Dijk with Kostas Tsimikas chosen for his first derby outing, keeping the left-back contingent on their toes.
To complete the changes, Divock Origi could be chosen to reacquaint himself with Everton and appear in more of the Blues' nightmares next to Mane and Salah: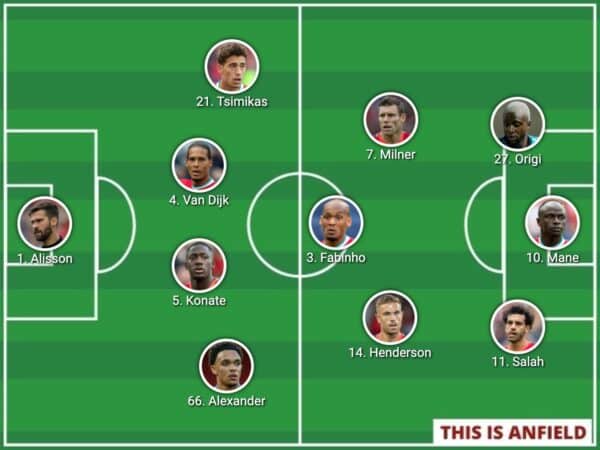 Alisson; Alexander-Arnold, Konate, Van Dijk, Tsimikas; Fabinho, Henderson, Milner; Salah, Origi, Mane
---
It wouldn't necessarily come as a shock to see Klopp opt for a wildcard or two for this one with a less than three-day break on the other side, but the expectation is that the strongest possible XI will get the nod.
With only two wins in the last 10 visits to Goodison Park, the third has to be added on Wednesday and this team, who have 59 goals in 20 games, are in just the shape to do it.