Speaking after Liverpool were beaten 3-0 by Brighton on Saturday, Jurgen Klopp went as far as to say he could not remember a worse performance from any team.
Here are the key points from Klopp's post-Brighton press conference…
The worst performance he can remember…not just from Liverpool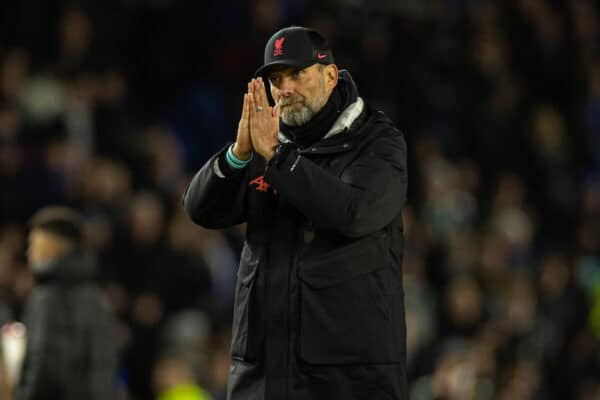 This is some claim.
The boss says his team's performance was the worst one he can remember, and not just from a Liverpool team.
Dark, dark times.
"I'm not sure if it's because the game was only a few minutes ago, but I can't remember a worse game," Klopp said.
"I honestly can't. And I mean all, not only Liverpool. I can't remember.
"And that's my responsibility. That makes it a real low point for the moment."
Change of system backfired

Liverpool began the game in a different formation to Klopp's usual 4-3-3 system.
Thiago was positioned slightly higher in the midfield in what looked more of a 4-2-3-1, but Liverpool couldn't get close to Brighton.
The boss said he thought it was a change that would have worked to their benefit, but that couldn't have been further from the case.
"We tried to help the boys with a slightly different organisation," the boss explained.
"I actually thought it could have worked pretty well. We had moments when we put them under pressure, but in all situations when we won the ball, we lost the balls much too easily.
"That's the main problem. We never got something going."
"Fully my responsibility"

So where exactly are Liverpool going wrong? Everywhere, you say.
Klopp says Liverpool's downfall at the Amex was largely down to the same issues he pointed out in last week's draw with Wolves, and he says he's fully responsible.
"The problems are the same as last week, like we spoke about, we don't win the key battles on the pitch, the key challenges, and we give the ball away too easily," he added.
"That makes it difficult to organise protection for losing balls you should not lose. It's not easy.
"But it's fully my responsibility, because I had an idea with a different formation and that didn't work out. Sorry."
The end of this team?

One journalist had the nerve to ask Klopp whether he thought the team that had been so exceptional over the last few years was now a thing of the past, pointing out the withdrawal of the likes of Jordan Henderson, Fabinho and Joel Matip in the second half.
And the boss didn't really dismiss that suggestion in his response:
"It's our fault that you can ask this question. I understand it…
"Who had their best season yet, for us? Difficult, eh?
"We have to make sure that you can't ask this question anymore, and that's obviously our job."
---
* Remember to subscribe to This Is Anfield on YouTube to watch every LFC press conference in full.