Wolves are looking for revenge against Liverpool this weekend, as the Reds come up against potential future signing Matheus Nunes.
Jurgen Klopp's side suffered the disappointment of FA Cup elimination at the hands of Brighton last Sunday, as their season of woes continues.
Liverpool have enjoyed a full week on the training ground, however, in preparation for Saturday's Premier League clash trip to Molineux.
The Reds have reached the stage where they cannot drop many more points in the top-four race, while Wolves are still in a relegation battle.
Ahead of the game, we spoke to Daniel Baylis from the Wolves 77 Club podcast (@77ClubPodcast) to hear about life under Julen Lopetegui, Liverpool's season and much more.
How would you assess Wolves' season so far?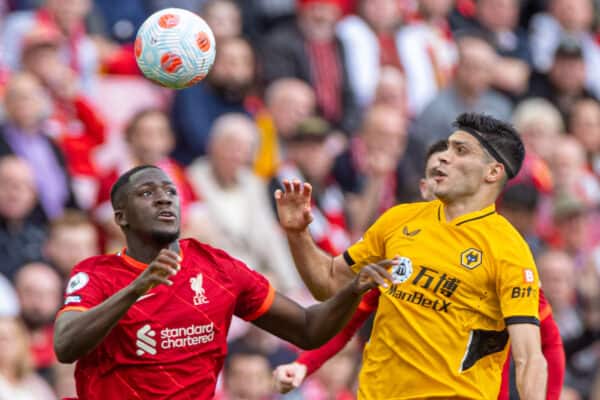 Pretty poor until Julen Lopetegui arrived.
We play some attractive football at times but have been liable to getting caught out by long balls and defending set pieces.
Alongside having little threat up the other end, the season was looking like a potential disaster.
Fortunately, our form seems to have turned the corner. Wolves are playing much better and scoring goals.
We started picking up points in really important games, namely at Goodison Park and against West Ham at home. We were by far the better team against Aston Villa but got done by a long ball after not taking our chances.
The issue is that we still haven't found a reliable goalscorer. Raul Jimenez isn't the same man after his injury, Hwang Hee-chan struggles to make a real impact and don't get me started on Diego Costa.
Matheus Cunha joined in January and has had a few bright moments that show promise – hopefully, he can get his first goal in the next couple of games and then carry on that form.
The old Wolves of a couple of seasons ago may not quite be back yet, but we are taking steps in the right direction.
How is Lopetegui faring so far?

You can see that Lopetegui has given the players something to believe in and has a more attacking approach than Bruno Lage.
Given he has made six signings in January, some of whom have good Premier League experience, it's clear that there are some players he doesn't favour.
Hopefully, the new acquisitions can make an immediate impact.
The real test is the next month, with games against Southampton, Bournemouth and Fulham. Points from these games can see us away from the bottom pack and look up rather than down.
What has he changed stylistically from Lage?

Lopetegui is letting the full-backs get forward, which Wolves have been crying out for over the last 18 months.
Lage was too negative and his wing-backs got a nosebleed if they ever crossed the halfway line.
In the last couple of weeks, it has been really positive seeing players like Nelson Semedo and Hugo Bueno both getting forward and creating chances.
This has given Ruben Neves the freedom back to play the cross-field balls he's so admired for and can make Wolves a real threat again going forward.
Have any players shone, or been poor, this season?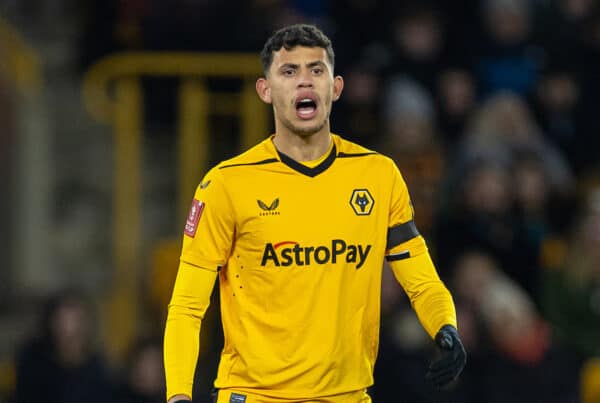 Young players like Nathan Collins and Bueno have made themselves reliable starters and both seem to grow in confidence game by game.
I've been impressed by both.
Meanwhile, Neves is a superb player and is just starting to show how good he really is again.
I know Liverpool have been linked with Nunes and you can see why – he has real talent but has been wayward with his passing at times, which has caused Wolves problems.
The only real disappointment of late has been Jose Sa.
The goalkeeper has been at fault for a couple of goals, had a couple of gaffs and some of his kicking makes it look like he is wearing house bricks for boots.
As for Liverpool, how do you assess their campaign to date?

Really poor, to be honest.
It is surprising to see a team that has been so dominant over the last couple of seasons suffer such a fall from grace.
To let a Wolves reserve XI score three goals at Anfield was shocking.
I also caught the Brighton game and didn't think I would ever see Liverpool totally outclassed by them.
It looks like one of those seasons where Liverpool need a bit of a reset, get some fresh legs in over the summer and go again.
Where do you think both sides will finish this season?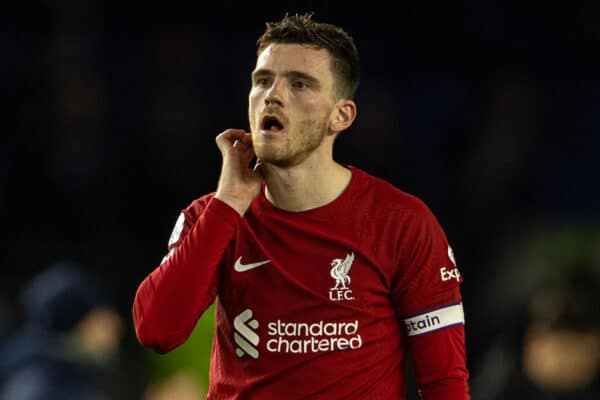 I would be really surprised if Liverpool didn't make a European spot. They should squeeze into sixth, maybe even fifth, when Spurs have their next 'Spursy' moment!
Brentford and Fulham will soon run out of steam.
I think it's still too early into the Lopetegui era to predict where we will finish, but I will give it a go.
Although the football is much better, the goals need to be more consistent or we could still be in trouble.
Given what I've seen so far, the optimist in me says we will be comfortable outside the relegation zone and finish somewhere around 12th-14th.
Which Reds player would you most like to have at Wolves?

Mohamed Salah is world-class and seems to find the net for fun, even when he is offside.
We desperately need a goalscorer, so it is a no-brainer.
Looking ahead to Saturday, where are the key battles?

It will be in the middle of the pitch.
I really think Wolves have the quality now to start dominating midfield battles against the mid and lower table sides.
If we can dominate there and take our chances – a big ask, I know – I think Wolves can give Liverpool a really good game this weekend.
What's your prediction?

Wolves do owe Livarpool one this season, so I'll stay positive and say that we will win this one 2-1.