Having joined Liverpool for a club record fee last summer, it's been a mixed start to life at Anfield for Darwin Nunez, with the Uruguayan admitting "I don't think I'm playing well."
Nunez has scored 10 goals in his first 25 appearances for the Reds, and while it certainly hasn't been an ideal season to bed into this Liverpool team, the striker still feels he could be doing better.
With 34 goals in all competitions for Benfica last season, Nunez is eyeing improvements on his current goal tally, and has not started a game for Liverpool since returning from a minor injury last month.
In a revealing interview ahead of a Premier League meeting with Wolves on Saturday, the 23-year-old has revealed how Jurgen Klopp wants him to be "more calm" and "move more" when he's on the pitch.
"I think he wants to see what he saw in Benfica," Nunez told Sky Sports when asked what Klopp is asking from him.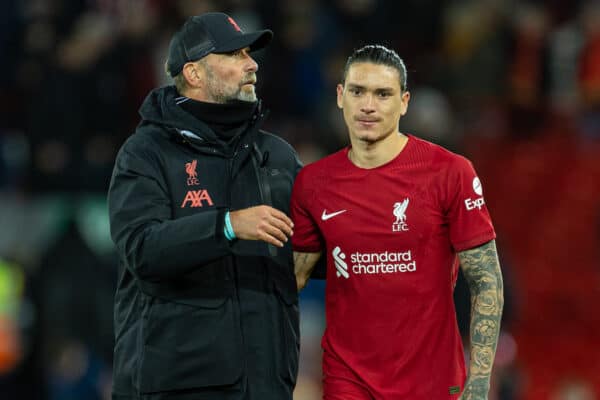 "For example in the games I played against Liverpool, when I performed very well.
"I don't think I'm playing well at the moment, but I always want to improve. I try to improve every day.
"Klopp knows my strength is my speed, running into space. Also, he tells me that I need to be more calm when I'm playing, and that I need to move more.
"He tells me that I need that, and that I am a player with a lot of quality. So, that's more or less what he wants from me – and, of course, that I score goals.
"He has told me that I have to be calm in games when it comes to finishing. He wants me to take a second longer, because if I shoot with anger, or I rush it, then it will always go badly. He asks me to take an extra second, with calmness, and I will score."
When he first arrived at Liverpool, many were making comparisons between Nunez and Erling Haaland, with Man City also splashing big money on a striker last summer.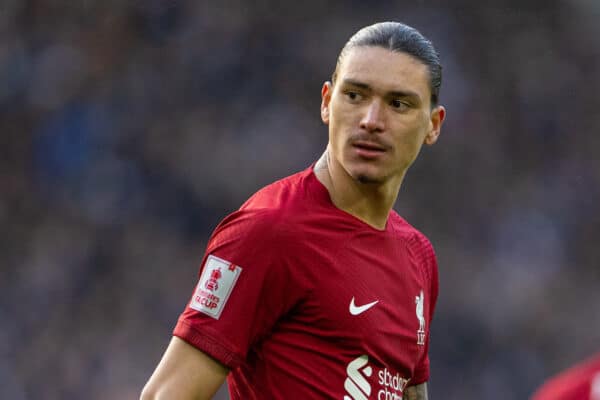 Remarkably, Haaland has already scored three times as many goals as Nunez has managed this season, but Liverpool's No. 27 feels there is every chance he will "explode" in his second season, much like his countryman Luis Suarez did during his time with the Reds.
"It is a case of adapting," he continued, while also claiming he hopes to understand English in the next year and a half.
"Adapting is important – and not only here at the club. Things have to be good on the football side, but also with your family, because if your family is OK, then you will always be OK. My family and I are good.
"Obviously, I still have many things to work on, for example my finishing. But I think the same thing is happening to me as happened to Suarez. In his second year, he tore it up.
"Something similar happened to me already at Benfica. The first year went very badly for me and in the second, I exploded.
"Here, I think the same thing is happening. I hope next season will be like that. I'll put my best forward and hopefully I'll get a bit of luck."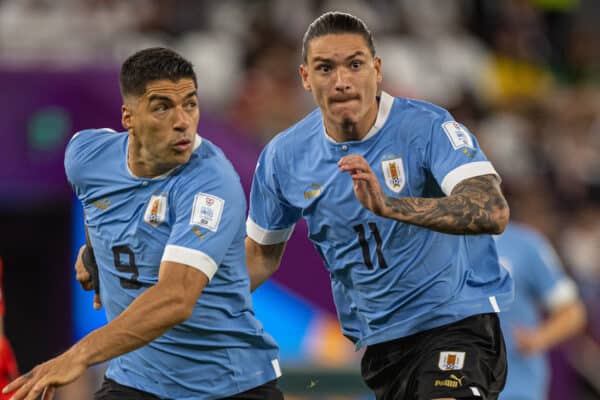 When asked to elaborate on his relationship with Suarez, who he played alongside with Uruguay at last year's World Cup, Nunez referred to him as "an idol" and says he often asks him for advice.
"Of course, it's always helpful to speak with Suarez," Nunez added.
"For me, he is an idol. He is a great example. In the national team, I now have a much better relationship with him.
"We are always talking and he is always giving me advice. I always try to keep in touch with him.
"I ask him a lot of things because he was at this club and he has a lot more experience than me. He is an important player to give me advice and explain things to me."