Liverpool are out of the Champions League after the club's heaviest aggregate defeat in European competition.
Real Madrid 1-0 Liverpool
Aggregate score: 6-2
Champions League last-16 second leg, Bernabeu
March 15, 2023
Goal: Benzema 78′
A brave approach or merely a necessary one?

Three goals down to a team who had only lost once at home all season and not conceded more than once in any game at the Bernabeu – did Jurgen Klopp have any choice but to go with four forwards in the lineup?
Perhaps so, but those options were further limited by midfield absences, with Jordan Henderson and Stefan Bajcetic both missing since the weekend defeat.
It looked bold, it looked attack-minded – but it wasn't too offensive-looking once the game kicked off. Again, the Reds' problem was control and build-up through midfield, as well as stopping Madrid's main men at the other end.
Cody Gakpo's role was a hybrid one, not really a No10 in terms of linking play but being a true fourth attacker in possession and presumably having been asked to slot back in midfield out of possession – though in a weird opening 15 minutes or so, his actual on-pitch play was as much beside Van Dijk as James Milner.
Ultimately, regardless of attacking numbers Liverpool still lacked a connection between midfield and attacking lines, still lacked much in the way of creativity and still lacked any consistently impressive press.
A game of two…legs, and arms

The first leg at Anfield was notable for two things: total carnage leading to goals, and calamity goalkeeping leading to goals.
Thibaut Courtois and Alisson Becker are two of the world's best No1s but both were atrocious and error-strewn in the initial tie, both culpable for some of the seven goals on show.
In the first 45′ at the Bernabeu, it was back to the more usual form of their business, especially where our Brazilian is concerned.
The TV commentators appeared insistent on praising the more spectacular of the two as the best one, a fingertip save at stretch onto the crossbar, and while it was excellent, his earlier one – a massive spread and block with the upper arm from close range – was just incredible.
A one-on-one stop from Valverde second half continued his good showing, while Courtois also made the odd stop, the pick of which might have been a diving save from Nunez.
There was nothing Ali could do about the goal, once the Reds' centre-backs opted to totally ignore Benzema.
Underperformers on the big stage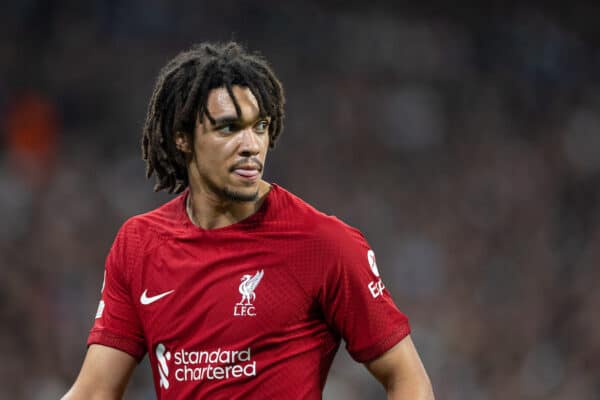 Lots of good players, lots of poor showings. Liverpool have had the big men for the big occasion many times over in recent years, but few have been such this season.
At the Bernabeu, too many of the potential match-winners were downright poor.
Trent Alexander-Arnold's passing was well below his best level again, while defensively he never once stopped Vinicius Jr. He did make a big block on Benzema, but he just hasn't had a good year.
Diogo Jota's goalless run continued with a wild swing and a miss, Darwin Nunez offered nowhere near enough on the night and behind them, Fabinho's distribution was often wayward too.
Individual performance aside, the team just still isn't functioning well as a unit.
It's not dangerous enough consistently enough in one half of the pitch, and remaining way too open in the other.
Dismal options and questions of Klopp's subs

Luis Diaz, Thiago Alcantara, perhaps now Bajcetic if we really need to classify the teenage rookie as such: that's the extent of the even vaguely offensive-minded absentees Liverpool had on the night.
And yet, when we needed goals and impetus, who was there to turn to?
A still-not-fit Jota started, without a goal in 11 months. Firmino, who is leaving in a couple of months, came on. And then so did Alex Oxlade-Chamberlain, who is also out of contract and hadn't played in Europe all season – had in fact only played five minutes in the Premier League in the last two months.
How is this the state and paucity of the squad?
The alternatives offered no more reason for optimism than a random roll of the Ox-shaped dice: Curtis Jones has played about 320 minutes this season. Naby Keita has basically been ostracised since the Wolves debacle. Fabio Carvalho is a kid, with five league minutes to his name since 22 October. Arthur isn't even registered in the Champions League squad.
Overhaul doesn't even begin to describe the depth of work needed in the centre of the park this summer, even if the outright forwards are not added to – and that's far from a definitely wise course of action as things stand.
Recruitment is only part of it too, there are valid questions to ask of Jurgen Klopp over his use (or non-use) of some squad members during different parts of the campaign.
Add into that the choice to take Nunez off at the stage he did and it was tantamount to waving the white flag.
Liverpool needed goals and the club's (potential) record signing, the centre-forward signed to score those goals in the biggest of games, was removed.
It's a tough message for fans to receive, as well as – again – bringing questions of whether the manager is really getting the best out of some of those individuals.
A long wait and a big run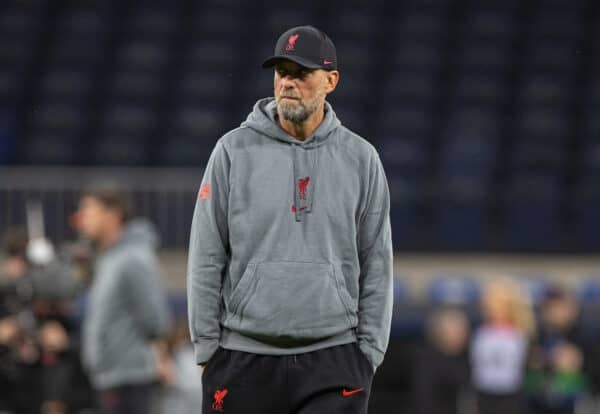 With the match against Fulham postponed at the weekend, it's now 17 days until our next game. That empty run includes an international break, so it's not all training and recuperation time, but it's still a big chunk of practice and preparation.
And Liverpool are going to need it.
After so many false dawns even since the World Cup, we can now accept this year is simply awful and won't be consistent in terms of performance level – but Klopp does still have to find a way to eke out more consistent results.
We return to action at Man City, then face Chelsea away and Arsenal at home. Three huge games in any season, but this time three which might define whether we can really make a late charge for the top four.
Needless to say, the Reds cannot afford to have any outings with the mindset and quality shown against Bournemouth.
This game was almost a gimme after the first leg abomination, a match to try and reestablish certain ways of playing or defending which could be beneficial later in the season.
In the end we didn't even muster a clean sheet, let alone one of the three goals we needed for a chance of progression. A very poor four days for Liverpool, in a season chock-full of terrible days.