A graphic has surfaced which highlights the enormity of Liverpool's injury woes this season, with no side having seen more players unavailable for games through injury than the Reds.
Liverpool's injury problems were laid bare by a table in the Times, with the combined number shown to be comfortably more than any other side in the Premier League.
The statistics, sourced by Premier Injuries, showed that there have now been 162 instances in which Liverpool players have been unavailable for selection in the Premier League this season, with Chelsea next on the list at 124.
Ben Dinnery uploaded the graphic to Twitter to showcase ongoing injury concerns at Nottingham Forest, however it was quickly picked up by Liverpool supporters who were taken aback by the sheer volume of casualties.
Forest welcomed Niakhaté back from long-term injury today… but another three players were added to the treatment room at Spurs – Hennessey, Wood and Brennan Johnson

Only three teams have lost more PL games to injury than Forest heading into GW27https://t.co/cckOHhGs0b#NFFC pic.twitter.com/xUTSxAUBF1

— Ben Dinnery (@BenDinnery) March 11, 2023
The Reds have seen 23 senior players pick up at least one knock since the campaign began in August, with only Adrian, Fabinho (missed one for personal reasons and one for illness), Harvey Elliott, Mo Salah and Cody Gakpo yet to miss a game due to injury.
It is perhaps no coincidence that Liverpool and Chelsea, who each played 63 games in all competitions last season, are the two sides which head up this list. No top-flight side played more fixtures in 2021/22.
Liverpool fans reacted to the graphic, with many suggesting that the club need to do more work on injury prevention:
There is a lot wrong at Liverpool but the fitness, injury and recovery aspect of the club seriously needs reevaluating this summer. We cannot have another season ruined due to mass injuries. It's happening far too often for a top club to consistently compete. https://t.co/mCQMP85Cy8

— LFC Stats (@LFCData) March 13, 2023
I'd like to know why #LFC https://t.co/l10tq59KHy

— GL (@garylouth) March 12, 2023
That's not just bad luck yeno. It's more than that when the gap is that big. Sports science, physios, staff burning players out, having no club Dr etc. https://t.co/YK6laPjsR0

— ????? (@_paultommo) March 12, 2023
Medical team?
Training?
Something just not right….

— ???????. (@fatmoose187) March 13, 2023
Look at the state of us, man. I'm convinced we'd top this list every year. https://t.co/6JyLDM6Jrb

— Chaz ? (@_CC98_) March 12, 2023
Last season is catching up on LFC big time.

— jktp (@missionbell9) March 13, 2023
The only league table Liverpool top this season… https://t.co/zmMhWwOYMs

— Sam Woodward (@SamwoWoodward) March 11, 2023
---
It is, without doubt, a major concern for Liverpool. Some believe that the issues stem from the medical department while others see it as being little more than poor fortune.
A record-breaking 63-game season in 2021/22 was always likely to take it's toll on the players, but having now reached March, Liverpool can scarcely afford for this to still have such an impact.
Where it leaves us in the coming months remains to be seen, the age and availability of some of Liverpool's senior players mean that a squad refresh is on its way in the summer.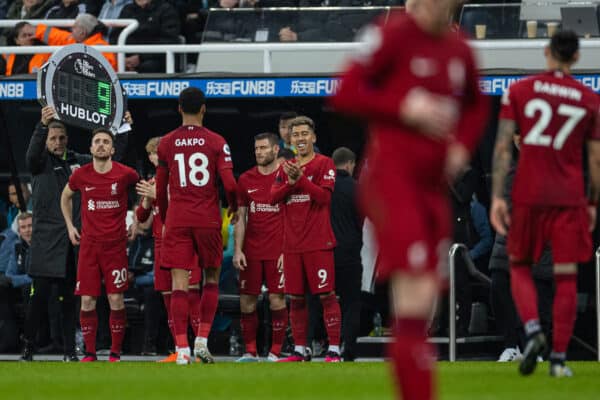 Protecting players will also contribute. Trent Alexander-Arnold has, for example, been substituted in three of his last four league appearances, a move which indicates that Jurgen Klopp is conscious of a lack of depth in that position which could lead to burn-out.
New club doctor Jonathan Power appears not to have yet started his role, which is far from ideal, but let's hope the physios have less work to do in the coming months.