Liverpool's win at home to Fulham marked two records for the season: a first run of seven unbeaten and a first run of five straight victories.
More than that, it has given real reasons for positivity and forward-looking after a system change in the Reds' play.
Jurgen Klopp and his coaches have switched tactics and personnel of late and, bit by bit, improvements have been on show as the Reds have seen off Leeds, Nottingham Forest, West Ham, Tottenham and now Fulham.
We're up to fifth, we've four games left – and even if we're not yet where we want to be, there has been plenty to pick out of the recent upturn in fortunes.
Luis Diaz is READY

What a difference a single player can make.
It's not that Luis Diaz is technically on top of his game, or totally unstoppable in the dribble – clearly, after months out, there's still a way to go to reach peak sharpness.
We'd expect that, of course.
But just having him back on the pitch and on the screen shows so much of what has been missing too often this season: actual aggression. Real determination to win back the ball. Acceleration, and an ability to drive past an opponent.
Diaz has no time for your defensive ineptitude or your lack of appetite for challenges and we are here for it.

After weeks and months of tepid, tame and frankly embarrassing levels of effort being on show from those in red, the contrast Diaz provides even when not at full tilt is telling.
In just two starts and a few sub appearances he has probably won as many challenges and carried the ball past more defenders than the entire midfield did between late October and early February – and certainly with more intent and impact.
Trent's role has so much upside…

The big change in Liverpool's alignment, if not lineup, is where Trent Alexander-Arnold is purposely and frequently positioning himself.
On the ball, the Reds now have him in the centre of the park alongside Fabinho, not just meaning his passing range is on show in a more concentrated area of the field but also that he can contribute going forward in different ways.
First, his powerful drives from deep have already forced openings for either his typical final passes or, more intriguingly at times, his ability to shoot from range.
Not too many do that in this team.
Also, we can note Trent's tackling in midfield areas – he's quick into the challenge and adds bite in that zone, where we can at times lack it.
Add in his combinations with Mo Salah, switches to the wingers on the left and the fact he has licence to rove both ahead and behind Fabinho, left and right of him, and he's a tricky man to pin down for the opposition.
There are lots of reasons to like this change in Trent's role – and scope for it to improve the team overall.
…but defensive knock-on concerns too

On the other hand, we can also see that it's having knock-on effects when the Reds are out of possession, particularly in transition moments.
There's still no absolute single person who has responsibility for filling in at right-back when Trent has been playmaking infield, leaving a mish-mash of Ibou Konate, occasionally Jordan Henderson or even Salah tracking across against counters or direct balls.
This isn't ideal. It's costing chances at a rapid rate, and we always look vulnerable.
Konate has fared well for the most part when drawn across but then Andy Robertson has struggled to become the far-post defender, while Henderson has been simply poor at stopping his opponent in that zone.
Then there's obviously the fact that it's removing some of Robbo's attacking play from buildup when he needs to stay as the third centre-back, although Kostas Tsimikas seemed released from that role against Fulham for the most part.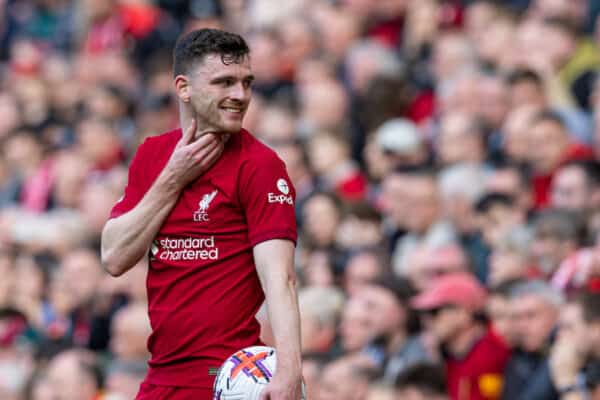 Better attacking sides would have made that a costly decision.
We know midfield changes are coming in summer, but even if perfect players are identified, there's still the issue of timing and spaces to seriously work on.
We can't just force the issue if the negatives outweigh the benefits of what we create with this system.
The great fits and misfits

The altered role of Trent isn't the only one to see subtle changes, of course. We've mentioned the left-back alteration, but higher upfield it's a bit of a change too.
Liverpool's left-sided central player, what used to be our left No. 8, is now spoken about by Klopp as a No. 10.
In truth, it is more like an in-from-out, left-sided midfielder in a quartet, the way Curtis Jones plays it.
Jones has been excellent, a real star across the recent run of games, with some good technical play combined with ball-winning and filling a specific tactical role well.
He dovetails between central areas and the flank, offering an overlap or letting the nominal left winger – Diaz or Diogo Jota mostly – fly infield and become an extra centre-forward.
Another player to note is Cody Gakpo. He has had a stop-start time since joining, in part because – well, let's be honest – we were rubbish.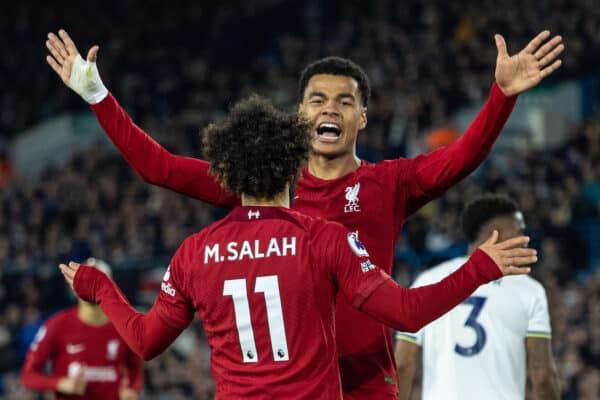 But his movement and link play are much improved, he has a few goals (albeit all in games we've won – he's yet to become that player who helps you in the toughest of moments) and the signs are there he can combine well with a few more familiar faces.
At the other end of the scale, Salah again looks a little too marginalised in this very wide starting spot, Darwin Nunez looks well off the pace and speed of the team and, as noted, Robertson has struggled at times when covering across as the extra defender.
We don't know if this shape and approach is here to stay for good yet, or if it's an end-of-season best fit.
But if it's the former, some players still have work to do to earn a regular place going forward.
Liverpool can actually look forward with cause for optimism

And going forward is all that matters. Every season brings its own challenges and objectives, and some of those change as the campaign unfolds.
We all would have been hoping to challenge for honours again, but 2022/23 became about something else: setting Liverpool up for the seasons beyond.
It should have started to happen earlier, but now the team regeneration needs to be bigger and quicker.
And yet this year isn't yet a total write-off. There's still a small chance fourth doesn't stray out of reach, and for all the woeful form earlier in the season, Liverpool could feasibly end it on a nine-match winning streak.

That in itself is exciting for what might come, given we expect improvements.
Moreover, those expected improvements should make for an interesting and dynamic summer, with at least four incomings – quite probably more – and with plenty of optimism for how Klopp undertakes the rebuild into next term.
It's not all over yet, but even when it is, there's always another season, another challenge, another opportunity just around the corner.