Roberto Firmino was the one to rescue a point for Liverpool in a 1-1 draw against Aston Villa, a fitting way to say goodbye after a storied eight-year spell on Merseyside.
It was a big day for Liverpool at Anfield, with a game to win and farewells to be had – but Jurgen Klopp's side were all too complacent to start, with Villa taking an early lead.
Sadly, there was another instance of the referee proving to be a major talking point with John Brooks upping the ante in shambolic displays from Premier League officials.
Cody Gakpo had a goal disallowed, apparently, for offside, while Aston Villa relished the chance to drain the clock with one time-wasting tactic after another.
But who other than Firmino to get the Reds back on level terms in front of the Kop on the day he bids farewell.
The top four is mathematically still on the table, but it would require Man United to lose their last two games – here's how fans reacted to the result.
One last time…

Were we surprised Bobby had one last say at Anfield? It just HAD to be him:
A win would have been nice but a Firmino goal is a pretty nice consolation.

— Paul Grech (@paul_grech) May 20, 2023
Siii senoorrrr ? pic.twitter.com/AdgHa8dRdw

— This Is Anfield (@thisisanfield) May 20, 2023
It just had to be him…. ??

— Jamie Holme (@JamieHolme) May 20, 2023
Only David Fairclough (18) has scored more goals as a substitute for Liverpool in the club's history than Roberto Firmino (16). #LFC #LIVAVL

— Michael Reid (@michael_reid11) May 20, 2023
pic.twitter.com/bgPgqJehuT THINGS YOU LOVE TO SEE.

— Billy Liddell (@Liddellpool) May 20, 2023
The top assist->scorer combo of the Klopp era is Firmino to Salah (21).

Signed off at Anfield in the other direction ?? pic.twitter.com/JdSY5EvgPR

— Andrew Beasley (@BassTunedToRed) May 20, 2023
A spotlight on the investment needed…
While the Reds have strung together an impressive winning streak, up until now, this match was a timely reminder of the improvements needed in the summer:
That performance from Jordan Henderson today is stark evidence why a new No. 8 is the priority this summer.

So much potential in that RCM role but not got the personnel for it.

— Jack Lusby (@LusbyJack) May 20, 2023
Easy beating cannon fodder but come up against a decent side and we look disjointed. Team needs a proper preseason and new blood desperately

— LFCZA ?? (@LFCZA) May 20, 2023
"Back to reality. Our winning run sort to paper over the cracks. We would have heard how resurgent Trent, Jones and Bajectic are like new MF signings. A lot of work to be done over the summer." – Jurgenpressing in the TIA comments.
Green shoots from this end of the season run from Liverpool. Looking forward to next season with a few additions on the way….

— Jamie Holme (@JamieHolme) May 20, 2023
Ending the game with a Milner and Elliott double pivot. Klopp sending a message (intentionally or not) about the investment, or lack there of, in midfield. Doing the minimum in transfer window after transfer window has it's come uppance in the end.

— Red (@TaintlessRed) May 20, 2023
Will it ever get better?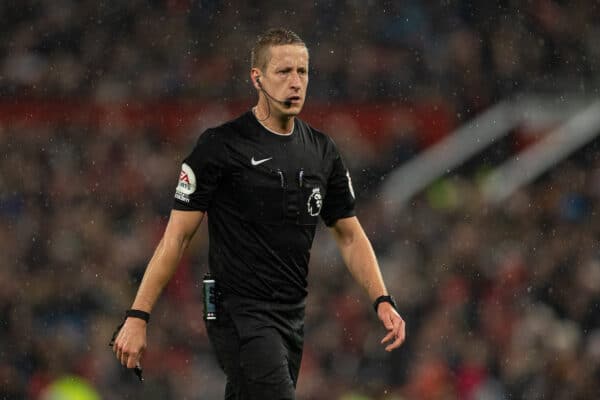 Surprise, surprise there were more questionable decisions from the referee, perhaps it was a good thing Jurgen was in the stands!:
Ref knows he can't have Klopp bellowing at him. Free pass today.

— Andrew Beasley (@BassTunedToRed) May 20, 2023
if Klopp wasn't already suspended he'd be getting suspended here so I guess it's okay

— nate (@natefc) May 20, 2023
John Brooks is an even worse referee than Paul Tierney, and that takes some doing

— Liam Togher (@liamtogher88) May 20, 2023
Yet another game at Anfield where it feels like there are two very different bars for what constitutes a foul for each team.

— Joel Rabinowitz (@joel_archie) May 20, 2023
Makes sense why we get Tierney every week now. Think I owe him an apology cos he's like Collins related to this fella.

— Phil Blundell (@PhilBlundell) May 20, 2023
All I want is a referee to give us free-kicks & penalties for the same things they give opposition players free-kicks & penalties for. That's it. You wouldn't think it would be that complicated.

— And Could He Play (@andcouldheplay7) May 20, 2023
Apologies for this because we're trying to be nicer, but referee John Brooks is having an absolute howler at Anfield. Both sets of fans genuinely perplexed at how poorly he's reading these situations

— Sam Tighe (@stighefootball) May 20, 2023
John Brooks yet another inept referee PL employs. Standards are so low

— Moby (@Mobyhaque1) May 20, 2023
Just one of those classic monitor checks for offside. You know. The ones that never happen for literally any other side. Good times.

— barry (@BackseatsmanLFC) May 20, 2023
Talk about wasting time!

There was, obviously, a time-wasting school last summer that Liverpool missed out on as Villa drained the clock:
I have never seen time wasting like this before. EVER

— Chloe bloxam (@ChloeBloxam) May 20, 2023
"Boy am I glad I don't watch Villa every week, not sour grapes but 6 across the back and time wasting from the first minute is not a team and tactics I'd want to see any more than I had to." – Brighton Red in the TIA comments.
Aston Villa have had more bookings for time wasting today (4) than Liverpool have had all season (3)

— Andrew Beasley (@BassTunedToRed) May 20, 2023
Few things more irritating than a ref pulling out a token yellow for a goalkeeper time wasting in the 80th minute when they've been sucking obscene amounts of time away all game. Feel like I spent more time watching Martinez holding the ball there than I did actual football.

— Joel Rabinowitz (@joel_archie) May 20, 2023
---
It was not the win we desperately craved or needed, but that it was Firmino who scored the equaliser at least offered a touching consolation.
One game to go.