Roberto Firmino broke out of his shell under the tutelage of Jurgen Klopp, but his talent was obvious to the manager before he had even taken the helm at Anfield.
After eight trophy-laden years at Anfield, we had to say farewell to Firmino at the end of the season – an emotional goodbye for a fan favourite who helped win it all.
The Brazilian's flair and selflessness endeared him to many, although those feelings did not quite exist in his early days under Brendan Rodgers – who struggled to tap into his potential.
Klopp, meanwhile, had no trouble turning Firmino into the world's leading false nine having been a fan of the forward while the pair plied their trade in Germany.
"When I met Jurgen for the first time, one of the first things he said to me was 'you've got a really great player in Firmino'," former Liverpool CEO Ian Ayre said in The Redmen TV docu-series 'Bobby Firmino: The Best in the World'.
"The first thing he mentioned about the squad was about Bobby."
Liverpool's No. 11, at the time, stood out even then for Klopp, who reiterated his thoughts to the squad when he became manager that untapped potential was waiting to explode.
"I can always remember when Jurgen first came in, he was the one that really had seen Bobby a lot before with him being at Hoffenheim, in Germany," Henderson revealed in the docu-series.
"I can remember the gaffer making a big thing around Bobby and saying 'people don't realise how good he is'.
"He said that in front of the lads in a meeting and really, from that point, I feel as though Bobby went to another level."
That he did. Firmino went on to play 355 times for Klopp – more than any other player managed by the German – scoring 111 goals and contributing 79 assists.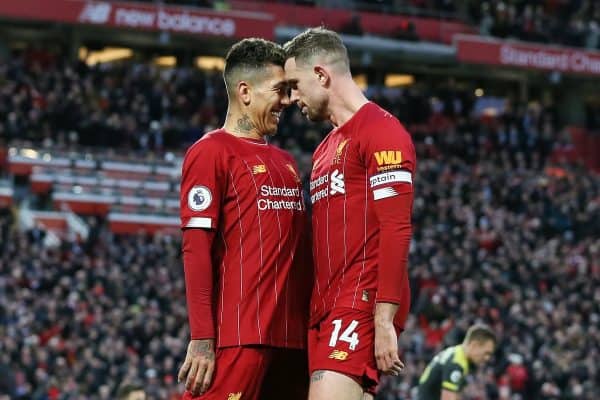 Firmino's departure sees another era come to an end at Anfield, one full of memorable celebrations, performances and silverware, and the dressing room is losing a key figure.
"I'm not sure I would class Bobby as a flamboyant character to be fair, I think maybe from the outside looking in, you might think that but Bobby's quite quiet," Henderson added.
"He's always smiling and laughing and always brings good energy but he's quite quiet and reserved at times as well."
From a puzzle Rodgers found too complex to solve to Klopp bringing Bobby to life, it truly was a match made in heaven.
---
* 'Bobby Firmino: Best in The World' is a three-part documentary from The Redmen TV.