Darwin Nunez was the wildcard Newcastle did not want to see on Sunday and his explosive match-winning cameo off the bench has earned him a record that will be hard to break.
The third appearance off the bench for Nunez this season left not only Newcastle dazed but Liverpool fans too as Jurgen Klopp's rollercoaster took us for another loop.
When Nunez entered the contest in the 77th-minute, Liverpool were 1-0 down and had not had a shot on target since Virgil van Dijk was shown a red card in minute 28.
But just two shots on target later and Nunez had flipped the script and delivered a victory that Klopp is eager to tell his grandchildren.
Not only did Nunez's brace deliver the victory but it also saw him write his name in Liverpool's record books.
As per Opta's Michael Reid, the No. 9 became the first player to come on as a substitute in a Premier League game for Liverpool and then score both an equaliser and match-winner in the same match.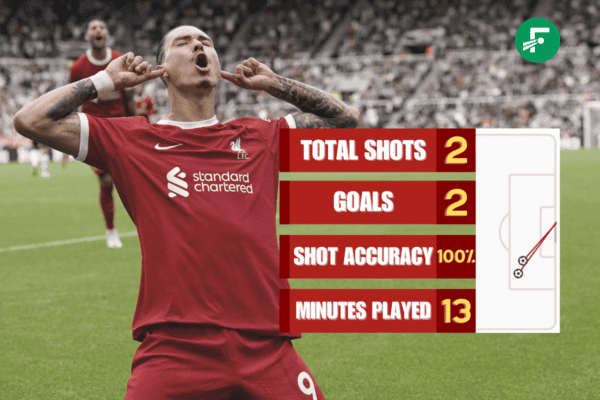 We have seen countless players over the years emerge from the bench to score the equaliser or notch the winner, but never both in the topflight since 1992.
That is not going to be an easy one to replicate!
Nunez scored his two goals from an xG of 0.43, a clinical return from a player whose accuracy has come under much scrutiny since he arrived last year.
The 24-year-old has found himself as the manager's fifth-choice forward but he put all his chips on the table at St James' Park with two glorious goals in the space of 12 minutes.
His manager knows that he is not going to be happy with not starting for the Reds but stressed that Nunez's chance will come.
"Everything is OK," Klopp explained to Sky Sports. "Really, I understand the question. It's clear he's not happy – how can a player be happy when he's not starting?
"The thing is it's early in the season, we need to find stability, we need to find a formation, we need to get results.
"And then we'll play every three days anyway and everybody will play, there's no doubt about that."