Have you ever wondered what it would be like for you and your mates to try and play in a Jurgen Klopp system? Here's a step-by-step guide!
The sun's out, the pre-season match coverage on This Is Anfield has just finished, and the WhatsApp group chat pings.
"Fancy a kickabout?"
Whether it's jumpers for goalposts in the park or the Sunday league starting up again, 11-a-side is in season for many Reds.
It's the closest we get to living the dream of playing for Liverpool. But what if we want to get a little bit closer, and actually play like Liverpool?
The basics
Keeping this nice and simple – everyone knows the classic Liverpool setup, right?
False nine with wingers as strikers
High press out of possession
The shape
We think 4-3-3 because that's how teamsheets and TV graphics work. But that's just an idea for when the opponent has the ball.
When you have it, the most important thing is having five in attack and five in defence at all times.
We all like to charge forward when we're attacking, but look what happens if your teammate gives the ball away.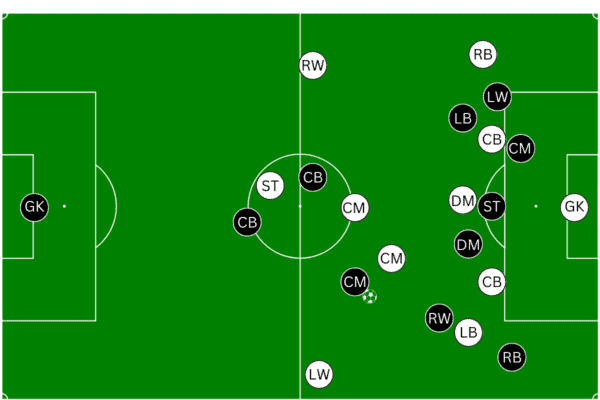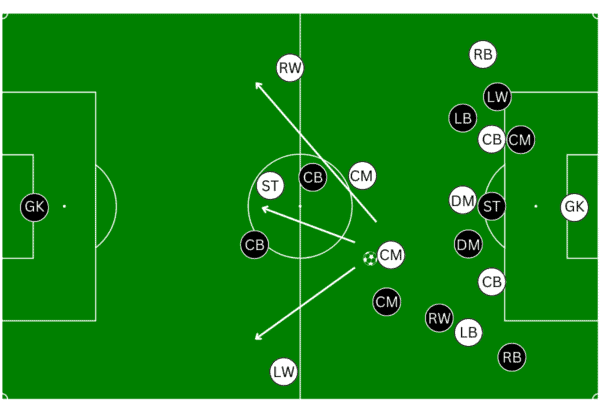 By keeping a solid structure, you can stop these counter-attacks – allowing you to have another go at scoring.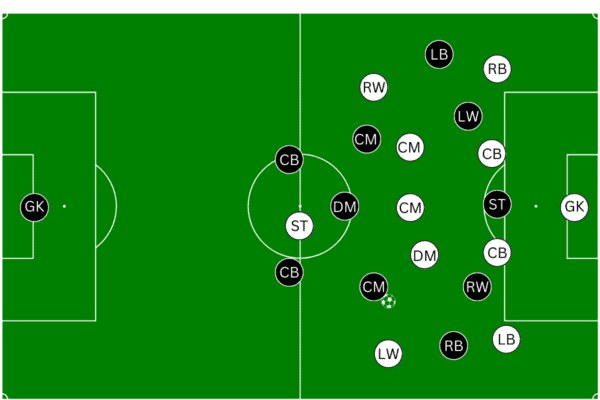 Play to your strengths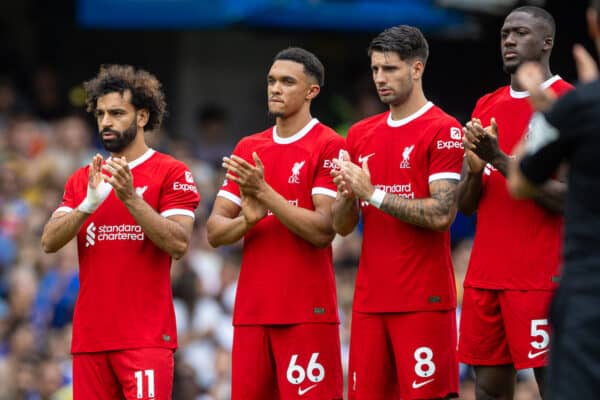 Every team has different roles that require different skillsets. So start thinking less about positions and more about roles.
Our main creators are going to be the full-backs, so stick your attacking midfielders there – they'll get plenty of time in the final third. That's how Trent Alexander-Arnold ended up there, after all!
We're looking at more of a linkup player than a finisher up front, so see if your big centre-forward fancies a go in defence – they'll get lots of scoring chances from set pieces.
No specialist goalkeeper? We'll need a sweeper-keeper who can play passes, so try one of your midfield mates in goal.
You get the picture – everyone enjoys doing what they're good at, so think about what they're good at and where they can do that.
Remember why you're there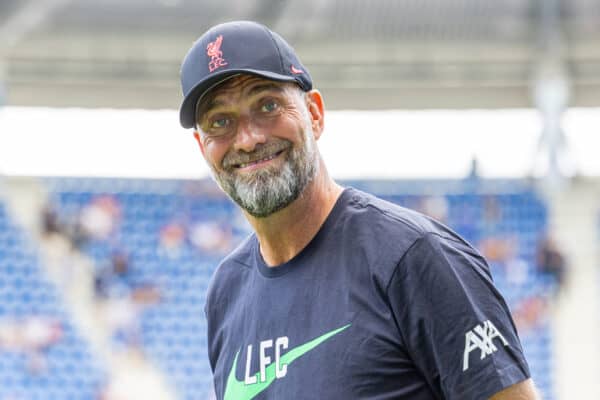 Liverpool's high-octane style is exhilarating. It's also exhausting.
Many a side have made the mistake of running around shouting 'press!' at each other, only to watch the ball get zipped around them and fired into their net.
We're not aiming for elite standards here or complex tactical systems. The goal is to have fun and try to win if we can.
Which means scoring goals! Klopp's men are very good at that, so let's see what we can learn from them.
Width is your friend
When you want the ball, it's tempting to go towards it and ask for it.
Sometimes that's helpful – especially for that team-mate who struggles with a five-yard pass – but that often ends up with too many people clustered in the middle.
You get no time on the ball and no space to do anything fun with it.
By thinking about where your width comes from, you can give everyone a simple but powerful idea of where to be to help the team.
Until recently, Klopp rarely used wingers for width, and that's because it can cause two problems.
Problem A – your striker is outnumbered when you swing in the cross.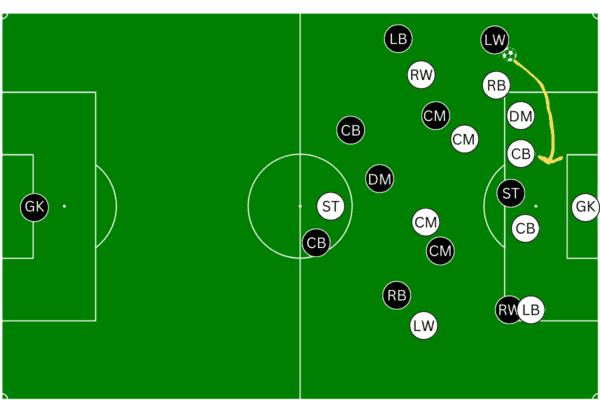 Problem B – you pile everyone forward and get counter attacked.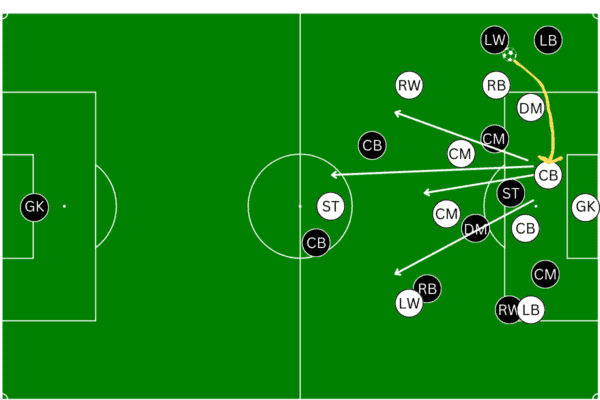 To play like Liverpool, we need our wingers to think of themselves as strikers. Stay nice and narrow, like Sadio Mane and Mo Salah, and let the full-backs overlap to give the width.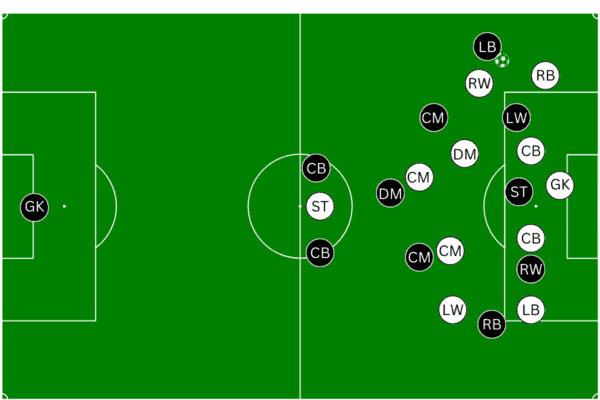 Now you've got options in the box, and also a natural structure – five and five, with the midfield ready to block counter-attacks and chase clearances.
How to press
Imagine your opponent has a goal kick. Usually, when we press as seen on TV, it looks something like this.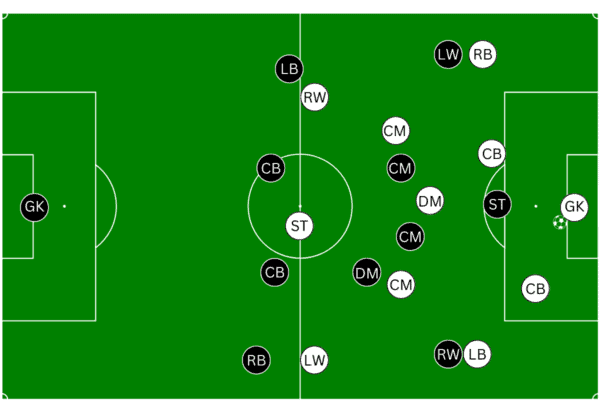 Here's the problem with that.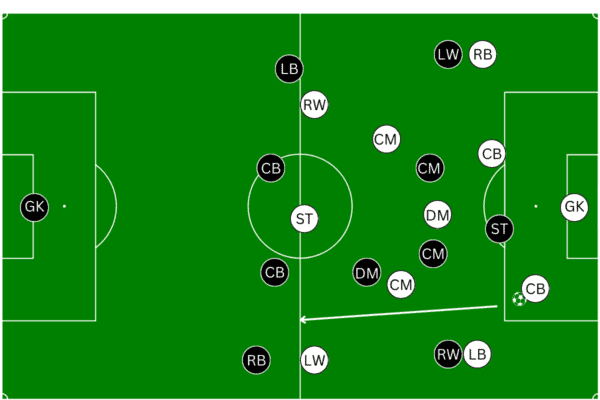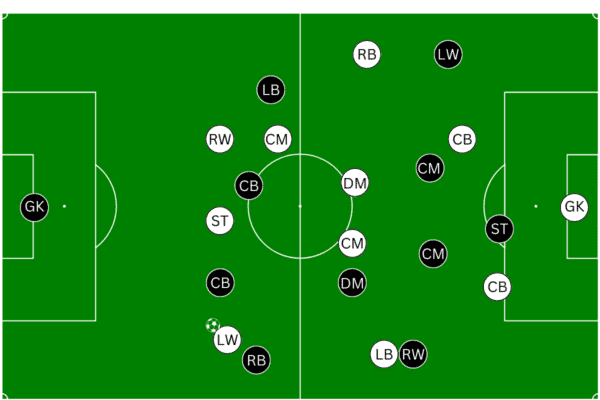 This is a recipe for shouting and finger pointing. I've been the centre back moaning at their midfield here for not tracking back, but I'm a changed man now.
I can see that pressing from midfield like this is hard work – and frustrating when you're inevitably bypassed and forced to chase back.
Instead, let's go back to our front three. Remember, you're not wingers – you're strikers. Stay narrow and compact.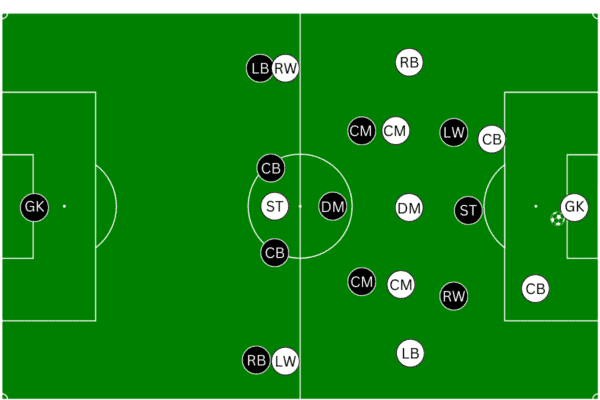 Now the opponent can't play through you, they have to try playing over you or around you.
Stick two defenders on their striker in case they try playing over you (or three if they're playing two strikers). The simple maths of that means you're playing eight vs. nine (outfield players) when pressing.
They'll always have a player spare – so you want their spare player in the least dangerous place possible.
By forcing the ball to one side, you can leave the opposite full back free, because they're unlikely to get the ball.
Here's what to do if they go left: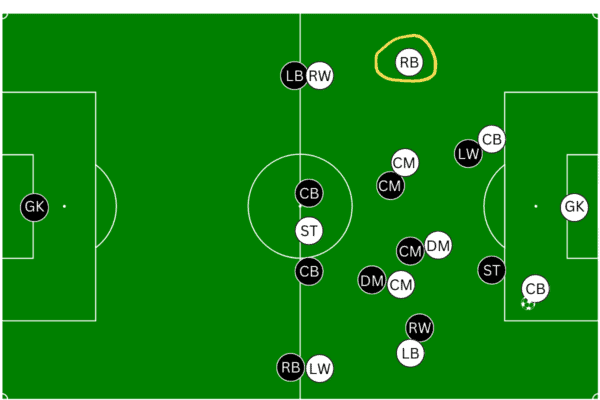 And if they go right: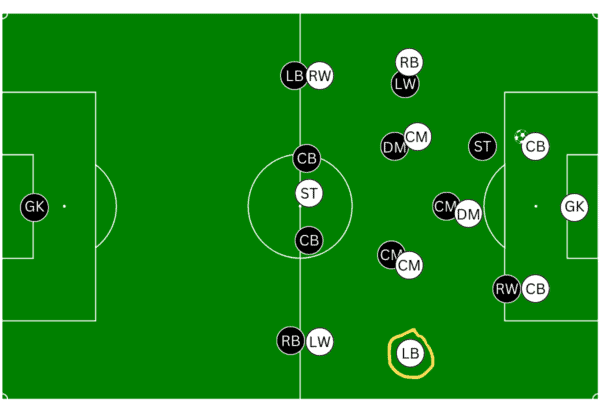 Nice and simple.
If your opponent turns back and plays it sideways, just shift across. No way out!
This means more
With this simple guide, you'll soon by pressing high, hunting in packs, then springing forward and sweeping in goals on the counter.
You'll have a solid structure to help keep the ball and win it back, and the right numbers in the box to score from your chances.
Just remember there's no VAR to save you if they get behind your high line.
Klopp once said that "we smile when the ball smiles." So remember to smile and have fun!