Jurgen Klopp has attempted to clear up comments he made regarding early kick-offs in the Premier League, insisting that people "misunderstand" the point he is looking to make.
The manager criticised the fixture scheduling in England prior to the 3-1 win over Wolves, labelling the number of games his side play at 12.30pm on a Saturday after international breaks a "joke."
The Reds failed to win all six of their games in the weekend's early kick-off slot last season and will face Everton at Anfield at the same time next month.
Klopp didn't hold back with his criticism of the schedule last week, but he has since explained that his comments have been misconstrued in certain quarters.
"It's no problem Thursday-Sunday. It would be better if we played a little bit later but people misunderstand it when you talk about the 12.30pm," Klopp told reporters as he previewed Sunday's visit of West Ham.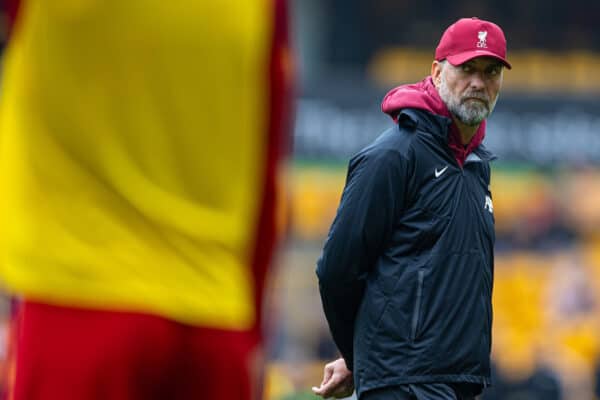 "It is only two and a half hours before the 3pm games, that is true but it is completely different when you have a pre-match meal at 9am.
"It means the boys are really not there yet because they come from a completely different time zone. And everyone who has ever had jet lag knows how that feels."
The Reds have found lunchtime kick-offs tricky to manage in recent times, with away losses at Nottingham Forest and Bournemouth both coming at that time last season.

Klopp called upon television companies to do more to help the "product" of the Premier League and reiterated that being mindful of kick-off times can facilitate better performances from teams.
"All these things are really difficult and the only thing I am asking for is all the TV stations help there because you want to have the best product there and we want to have the best product as well," he continued.
"It's not that we want to put them in cotton wool and say 'don't touch them until they are awake in the afternoon' or whatever. It is about helping them to get into the best possible shape to deliver the best possible performance.
"So now, yes, playing at 2pm is much better than 12.30pm. You might say it is only one and a half hours but you only say that if you really don't understand the situation."