Jurgen Klopp has lamented the refereeing performance of Simon Hooper against Tottenham as the "most unfair" he has seen in his career.
The Reds were cruelly robbed of a vital point when Joel Matip diverted a late cross into his own goal to give the hosts a 2-1 victory.
It came at the end of a controversial game in which both Curtis Jones and Diogo Jota were shown red cards as Liverpool were forced to try and see out the game with nine men.
Klopp was understandably livid with Hooper after the final whistle and criticised the "crazy decisions" his side were on the wrong end of.
"I was never more proud of the team than today. I never saw a game like this with the most unfair circumstances, crazy decisions," said the boss after the game.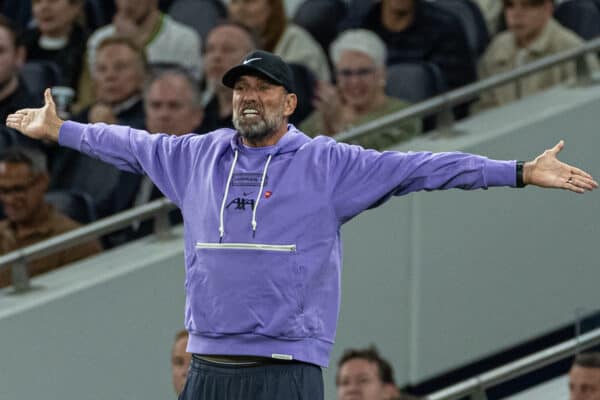 UPDATE: PGMOL release statement admitting "significant human error"
"We scored an own goal, that is really tough to take but I am really proud. The first red card, Curtis steps on the ball and goes over. Not a bad tackle.
"It looks different in slow motion. He steps full throttle on the ball and goes over the ball. That is unlucky."
The defeat leaves the Reds two points behind Man City and a victory would have lifted them above the league-leaders, who themselves suffered a loss away at Wolves earlier in the day.
The first of Jota's two yellow cards came when he was judged to have fouled Destiny Udogie after coming off the bench, but replays showed that the left-back had in fact tripped himself up.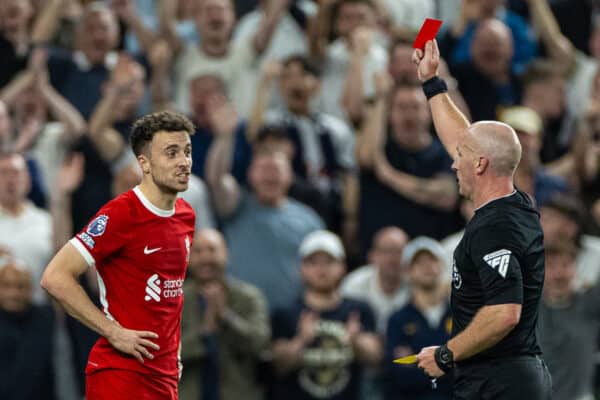 Klopp followed on by insisting that his striker should have remained on the field, but he praised the strong "mentality" shown by his players following the incident.
"[For Jota] first yellow was not a yellow. Then he gets a second and to defend with eight outfield players is tricky," he continued.
"You want to build something you need players with mentality and I saw them today, they fought. Pretty special tonight."
"It is so tough to deal with it."