Jurgen Klopp jokingly implored Ibrahima Konate to tell Didier Deschamps, 'that's how you rest a player' after being given a night off for Liverpool on Thursday.
The Frenchman has faced his fair share of injuries woes during his time with Liverpool and the management of his minutes is of upmost importance to Klopp.
The manager opted against including Konate in his squad against Toulouse, allowing the centre-back extra time to recover after 458 minutes for club and country in just less than a month.
Liverpool opted not to take any risks in the Europa League clash, but the manager acknowledged Konate's situation was not managed the same while with France during the October break.
But while his words on paper may seem a little prickly, Klopp's view on France manager Deschamps playing Konate for 90 minutes and then 87 was somewhat light-hearted, though, you sense there was some truth to his message.
"[Konate] did not start tonight. He's not even in the squad," Klopp told RMC Sport.
? Interrogé sur Konaté, absent pour la réception de Toulouse, Klopp en a profité pour faire passer un petit message à Deschamps. Le coach de Liverpool n'a visiblement pas apprécié la gestion de son défenseur lors de la dernière trêve internationale… pic.twitter.com/WbORnZROQH

— RMC Sport (@RMCsport) October 26, 2023
"I love absolutely everything about Ibou, but the problem is Ibou had injury problems from time to time, and Monsieur Deschamps played him 90 [vs. Netherlands] and 87 [vs. Scotland] minutes in the two games.
"So, we've used this time now to give him a little rest. He could have played tonight [Thursday], of course, but he has to play on Sunday again."
He added, smiling: "That's why I spoke to Ibou and told him, tell Monsieur Deschamps, 'that's how you rest a player'. Not three minutes, the fully 90.
"But we are more than overly happy with Ibou. [He is a] fantastic boy and a super player and France can be really happy to have him."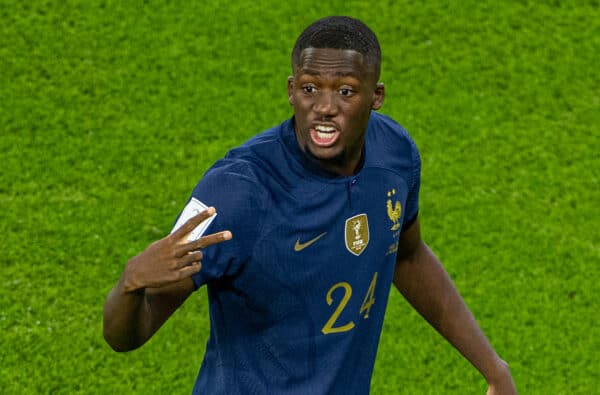 Of course, it is Deschamps' prerogative to play Konate as and when he pleases, having called him up to his squad.
But with one of their October games a friendly against Scotland, Liverpool could be forgiven for thinking his game time would be managed after securing a Euro qualifying win over the Netherlands.
With the November break coming up, Klopp will be keeping a close eye on how Konate is used for their two qualifiers against Gibraltar and Greece – and if the No. 5 passed on his message!