Daniel Sturridge vs. Fernando Torres: Liverpool's deadliest? – TIA vs. TAW Debate
In the second of our debate series vs. The Anfield Wrap, Karl Matchett has the task of arguing why Fernando Torres was deadlier than Daniel Sturridge for the Reds.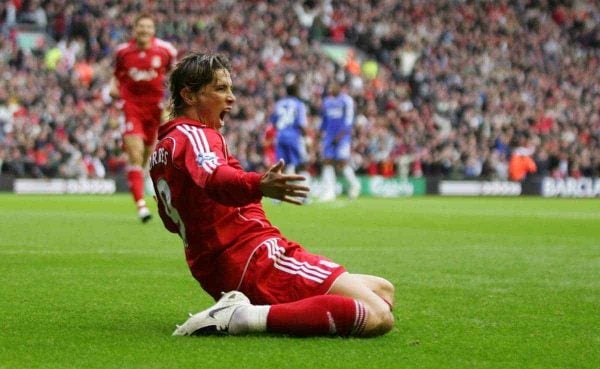 In the mid-to-late 2000s, Liverpool challenged everything and everybody for the biggest trophies, often coming within a whisker of real, tangible success as they battled among the top four in the strongest Premier League on record, as well as in the latter stages of the Champions League.
Spearheading the attack of that formidable side was arguably the world's best striker of the time: Fernando Torres, Liverpool's No. 9.
The Reds have long been blessed with talented strikers capable of breaking the 20-goal barrier each season, and even since Torres left there have been another couple, but in comparing the World Cup winner to the man who currently leads the Reds' attack, there's only one winner: Torres was the better, and a more complete, player than Daniel Sturridge is.
Both of course have tremendous goalscoring records and there's no particular reason to think that Sturridge's will dip over time, but Torres matched what Sturridge has managed so far over a greater period of games.
Article continues below
The two have near-identical strike-rates: 0.57 goals per game for Torres, 0.59 for Sturridge.
By the end of this season they'll both also have had the same length of time at the club, three-and-a-half years, but the Spaniard managed almost double the amount of appearances in that time that Sturridge has so far, despite his own injury problems from time to time.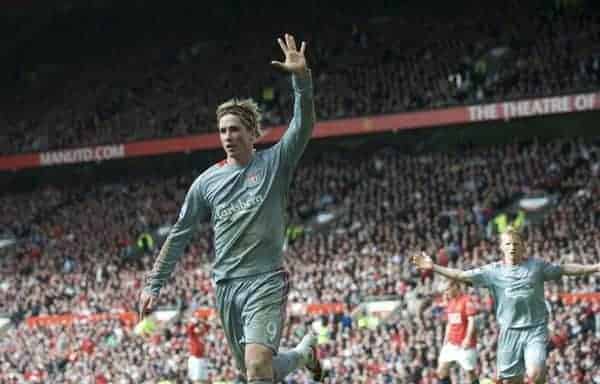 He was a far more resilient player overall, taking a fearsome amount of knocks and kicks as he led the line entirely on his own for seasons, without reasonable back-up and at times without genuine support from the second line.
In terms of the Liverpool attack it was too often Torres or nothing, and the former Atletico Madrid man was rarely found wanting, especially in his first couple of seasons: A mere 21 months after signing, Torres hit his 50th goal in a Liverpool shirt. Sturridge has yet to reach that tally after more than three years.
Article continues below
There was, of course, much more to Torres than merely putting the ball in the net—though the best parts of his game led almost inevitably to that outcome.
He was a tireless worker, a crowd-pleaser in all senses. In the first year or two at Anfield it was not uncommon to see Torres chasing back past the halfway line, nipping in with a slide-tackle to rob the ball off an unsuspecting opponent attempting a counter-attack. Think Real Madrid, 4-0, as the prime example.
He may have argued, answered back and sniped somewhat at defenders and referees, but Torres never sulked, never hid. A missed chance or two, a run not seen by a team mate or a foul not given by the officials simply spurred him on to further prove his dominance over the defence the next time he took possession.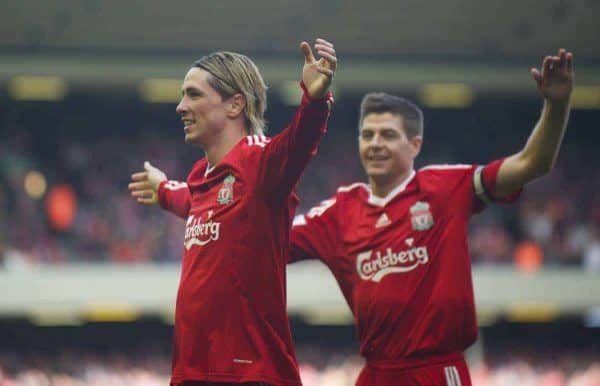 A huge part of his game was in the absolute determination and aggression he possessed, the spirit and will to win that only the very finest on the planet have, both in one-on-one duels and throughout 90 minute matches. Those who seem to exist only to excel are most often those who absolutely refuse to countenance the thought of losing, and Torres in that regard sat right up there alongside the likes of Luis Suarez, Graeme Souness or Jamie Carragher.
Article continues below
Mentality and physicality were vital components of his game, but Torres also held all the technical excellence required to be justifiably labelled the greatest striker on the planet, for a period at least.
Possessed of an innate brand of magic, Torres' on-the-ball ability is what really marked him out as the best.
Dribbling, acceleration and a first touch which could send defenders so far the wrong way they had to pay to get back into the stadium made Torres an unstoppable force of nature when in his stride, while his ability to assess attacking situations and take advantage of space was as imperative to his goal tally as his dead-eye finishing.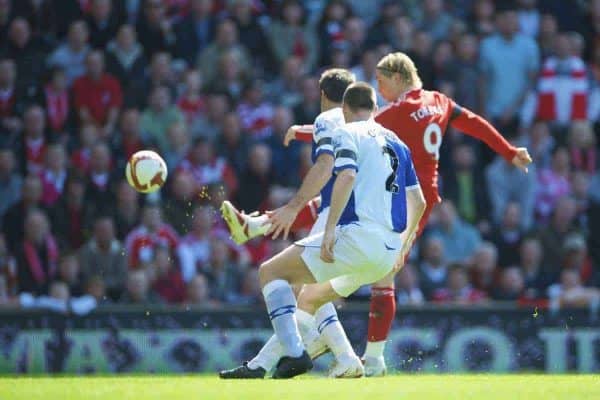 While some strikes will live long in the memory for their importance, others linger simply for their audacity.
The volley against Blackburn, the slaloming effort against Porto and the shimmy past the goalkeeper without touching the ball against Newcastle—Torres' ability to find the back of the net knew no bounds.
Late goals, important goals, goals to give hope, belief or outright euphoria, right foot, left foot or headed into the back of the net. Torres scored them all, and then some.
Article continues below
Previous TIA vs. TAW Debates:
More:
Daniel Sturridge
,
Fernando Torres
,
TIA vs TAW Debate
Fans Are Reading
Fan Comments
Comments are retrospectively moderated. Some could be subject to delays before publication. They must obey the
comment policy
. Comments load below.
Please only discuss the article above. General chat can be made on our forums at forums.thisisanfield.com