"Sofa experts" "Sign Reus" "What are they smoking" – The best of LFC on Twitter
Henry Jackson on 21.03.2016
As Twitter celebrates its 10th birthday, we take a look back at some of the most memorable tweets concerning Liverpool over the last decade.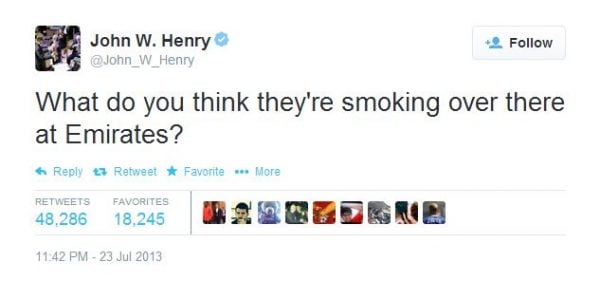 Social media plays an enormous role in modern football.
Twitter, in particular, gives fans a platform to voice their opinion on all things Liverpool, while players can keep their supporters updated with their day-to-day whereabouts.
In the 10 years since Twitter's inception, there have been many memorable tweets that have gone viral due to their popularity.
Article continues below
Here is a selection of some of the finest.
Jurgen Klopp became Liverpool manager in October, and Arsenal fan Piers Morgan's tweet from a year earlier went down a storm when it was confirmed:
Liverpool owner John W. Henry sarcastically tweeted about the incessant rumours surrounding the Reds making a move for Borussia Dortmund forward Marco Reus back in 2014:
Article continues below
It caused some to wonder whether the German may actually be on the verge of moving to Anfield, but the non-gullible among us realised it was all very tongue-in-cheek from Henry.
He also produced this brilliant tweet 12 months earlier, following Arsenal's embarrassing £40,000,001 bid for Luis Suarez:
The owner's wife, Lina Pizzuti Henry, has a strong social media game, and she responded memorably to a fan hinting that Reus was down because Klopp had moved to Liverpool:
Former Reds wide man Ryan Babel took to his account back in January 2011 – Kenny Dalglish's first match back as manager – to slaughter Howard Webb's awarding of a penalty to Man United against Liverpool.
Article continues below
The tweet read: "And they call him one of the best referees? That's a joke. SMH" – with a photo of Webb in United shirt.
Babel's antics earned him a £10,000 fine, but it went down well with the Liverpool fans. He was spot on.
Another since-deleted tweet arrived when former defender Glen Johnson took to Twitter within an hour of throwing away a three-goal lead at Crystal Palace in May 2014, criticising:
"So many sofa experts in this game..Absolutely no idea bout football what so ever #Jokers"
Jose Enrique was another who used Twitter to take a swipe at critical fans, stopping his social media accounts earlier this year: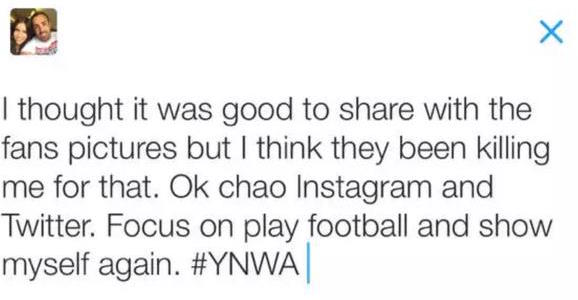 Fans may have been unhappy to see an ageing Kolo Toure in the Liverpool side to face Real Madrid at Santiago Bernabeu in late 2014, but the Ivorian was a rock from start to finish.
Twitter reacted accordingly:
Article continues below
One particularly big Kolo fan had the centre-back's name tattooed on his hand, although unfortunately the spelling was appalling. Toure offered to change his name in order to ease the embarrassment:
Mamadou Sakho posted some video footage of a special guest at Melwood earlier this month. What we could do with him in the team still:
RELATED: 10 of the Best Liverpool FC Twitter Accounts To Follow
What are your most memorable LFC tweets? Let us know in the comments below.
Share:
Fans Are Reading
Fan Comments
Comments are retrospectively moderated. Some could be subject to delays before publication. They must obey the
comment policy
. Comments load below.
Please only discuss the article above. General chat can be made on our forums at forums.thisisanfield.com