The last 12 months have seen Jordan Henderson go from improving youngster to key player under Brendan Rodgers. Henry Jackson (@OnFootballTweet) takes a took at the 23-year-old's terrific 2013.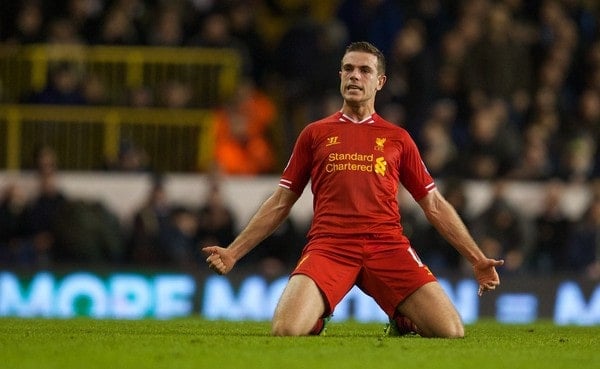 When Henderson signed from Sunderland in the summer of 2011, many were staggered by the hefty £16m price tag. It was clear that he was a talented young English player who many of the top clubs had tracked, but he wasn't worth that amount.
The 23-year-old's first season at the club was hugely disappointing. He struggled to adjust to life in Liverpool, and was often a peripheral figure throughout games. Although he made 48 appearances in 2011/12, he scored just twice and was, to put it bluntly, pretty ordinary.
When Rodgers arrived at Anfield in June 2012, it was clear that he didn't fancy Henderson much as a player, and a move to Fulham looked on the cards. The young Englishman told Rodgers he was determined to fight for his place, however, and he has barely looked back since.
The 2012/13 season didn't start particularly well for him, as he often had to settle for a role on substitutes bench, but slowly but surely he began to grow in stature.
At the turn of the year he had become a regular. Suddenly the power, pace and eye for a pass, that so many had admired about Henderson in his teens, were coming to the fore. In his early days at Liverpool he looked terrified to try anything different for fear of giving the ball away, but now he had the confidence and belief in his own ability.
A stunning strike against Norwich at Anfield, followed by crucial, well-taken efforts away to Arsenal and Aston Villa showed that he was starting to add more goals to his game. A double in a 6-0 win over Newcastle at St James' Park further enhanced his reputation, with many lauding his form.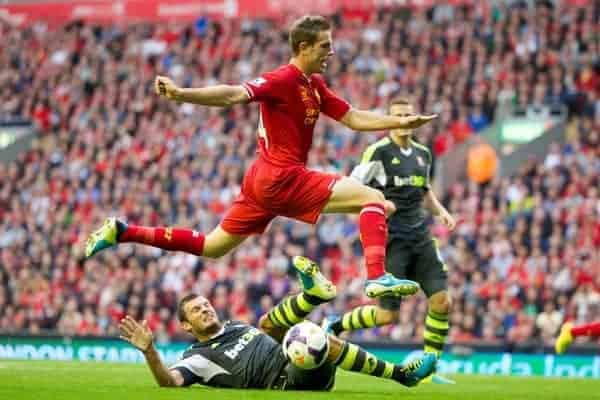 Between January and May there was a noticeable improvement, but this season Henderson's game has gone up another level.
He has featured in all 16 of Liverpool's league games, helping them to second place and with a chance of topping the Premier League at Christmas. His energy, work rate and ability to play a box-to-box style have been vital to the side, especially as the deeper lying duo of Steven Gerrard and Lucas have looked very one-paced at times.
In the eyes of many, Henderson has been Liverpool's best player in a number of games and, although Luis Suarez has deservedly taken a lot of the plaudits, his displays have almost been underrated by some.
In the Reds' last game, the stunning 5-0 win over Tottenham at White Hart Lane, Henderson was absolutely outstanding. He ran the midfield from start to finish, and seemed to thrive in a more central role given to him in Gerrard's absence.
He created the first goal for Suarez, scored one himself and played a vital part in Jon Flanagan's goal too. He was deservedly named Man of the Match on the day, in what was his finest performance in a Liverpool shirt to date.
Before we get too carried away about Henderson's progress, it's still important to stress he's not yet the finished article. He needs to add a more consistent flow of goals to his game, and his final ball could improve in the final third. He is, realistically, not quite good enough to be the natural replacement to Gerrard as the midfield superstar at Anfield, but he can be a top player for many years to come.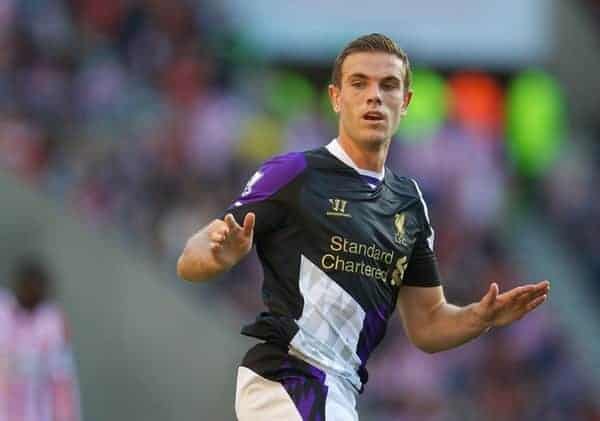 The bottom line, however, is that no player at Liverpool has improved quite as much as the former Sunderland star over the last 12 months. He is a likeable character, and decision to fight for his place has earned him huge respect among Red fans. At just 23 he is only going to get better.
If players like Tom Cleveley and James Milner can get into the England side, there's no reason why Henderson can't be a key man next summer in Brazil either. He has been far better than either of those this season, and Jack Wilshere.
Here's to Jordan Henderson—Liverpool's Most Improved Player of 2013.
Do you agree? Who do you think has improved the most for the Reds in 2013?