Not a pretty win, but an important win nonetheless was the general consensus after Liverpool's 2-1 victory at home to Sunderland on Wednesday night.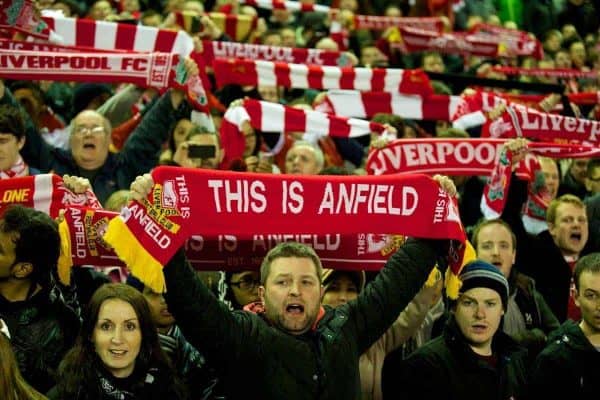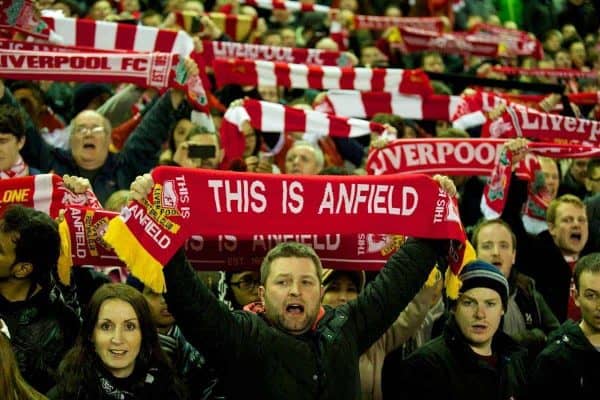 It was a result that puts Brendan Rodgers men just one point off league leaders Chelsea, with Jose Mourinho's men still to come to Anfield on April 27th.
Steven Gerrard's free-kick just before half time gave Liverpool a deserved first-half lead, though Sunderland's defence had held strong and forced a number of shots from outside the area.
Daniel Sturridge made it two after the break when his shot deflected in past Sunderland goalkeeper Vito Mannone.
Ki's header with 14 minutes to go made for a nervous ending for the Reds, but they held on to move back to second in the Premier League table, with seven games left to play.
Andy Hunter of the Guadian wrote of the relief around Anfield when the final whist was blown:
It was not a commanding performance and the overwhelming reaction to the final whistle against a relegation-threatened side was relief – but relief laced with three points for Liverpool. At this stage, and given the marker laid down by Manchester City at Old Trafford 24 hours earlier, that is what matters. The test of Anfield's collective heart rate has commenced.
Liverpool do remain in the title race, and many would argue in the Reds' favour with both Chelsea and Manchester City facing tricky tests of their title credentials at Fortress Anfield before the season is out.
Chris Bascombe of The Telegraph chose to comment on the overwhelming support Liverpool got before the match:
The Liverpool manager and his players were taken aback as hundreds of fans gathered to line the streets of Anfield and parade flags and banners before kick-off, welcoming the team as if they were on route to a cup final.

It is a sign of the growing belief on Merseyside that the 24-year title drought can end in the next two months – emphasised by the 2-1 victory – although this was a night for Liverpool to grind out three points rather than show the dazzle with which they have swept aside opposition recently.
The Daily Mail's Martin Samual assessed Liverpool's title chances, putting Wednesday night's victory down as a result Champions-elect would get:
Liverpool do not have Chelsea's points in the bank, or Manchester City's games in hand. A home draw against Sunderland would have had a devastating impact on their chances. So they dug in and held out, even if they have played so much better this season: because that is what champions do.
On social media, there were similar sentiments following the nervous end to the game. Liverpool owner John Henry's wife Linda Pizzuti tweeting shortly after full-time:
Stressful second half. Today's victory makes it 7 consecutive wins for @LFC! What a season.

— Linda Pizzuti (@Linda_Pizzuti) March 26, 2014
Fans also took to social media to discuss the result, share stats and discuss the important outcomes of Liverpool's continued run of form.
Let us know your thoughts on Liverpool 2-1 Sunderland in the comments section below, on Twitter @thisisanfield or in our fans forums.
Those games are the ones that simply show Liverpool have turned a corner.. We would usually mess up in them 24/7. #HUGE

— Connor (@ConnorwilsonLFC) March 26, 2014
Thought Coutinho was excellent but after week of going on about how he felt judged when injured… I'm judging him fit. Tragic Glen. Awful.

— Michael Sweeting (@M_Sweeting) March 26, 2014
Poyet – "#LFC would be mid-table without #Suarez" Goalscorers #Gerrard + #Sturridge.

— LFCZA (@LFCZA) March 26, 2014
#LFC have now won seven league games in a row. 2005/06 is the only PL season where they've had a longer run (of 10).

— Andrew Beasley (@BassTunedToRed) March 26, 2014
If we do win league, that'll be one of the games we look back on. Winning when you aren't at your best is vital to be Champions. #LFC.

— Simon Steers (@sisteers) March 26, 2014
3 points is all that matters. Important we can show we can grind out wins too. Brilliant. #WeAreLiverpool

— Jay (@Jay82_LFC) March 26, 2014
For the 6th game running, Rodgers has set a new PB for his PL points-per-game total at #LFC. Now at 1.87. pic.twitter.com/Hlm1DxPhuu

— Andrew Beasley (@BassTunedToRed) March 26, 2014
The scenes on Anny Road beforehand were amazing. Pyro, banners, chanting, adoration, pride.

— Jim Boardman (@JimBoardman) March 26, 2014
That is absolutely huge. Can't overstate how important that 3 points is.

— What•a•Hit•Son•LFC (@whatahitsonlfc) March 26, 2014
Sturridge 20 goals,23 games…thank you Chelsea

— Billy Liddell (@Liddellpool) March 26, 2014
Johnson was great v Cardiff but seemed confused with all the freedom he had today, Sunderland's plan worked well.

— Oliver Pfister (@_rickblaine) March 26, 2014