Aaron Cutler jumps to the defence of Mario Balotelli and offers an alternative view on the Italian's season.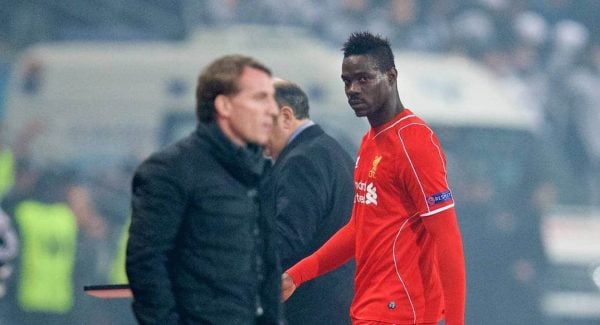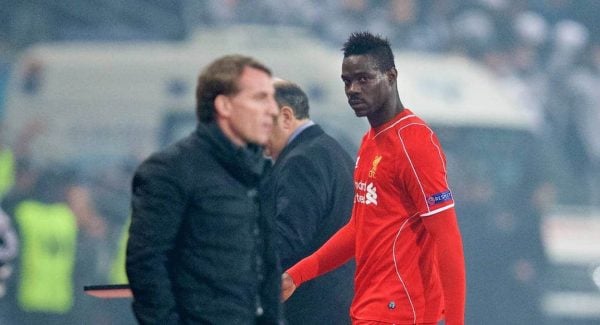 If a picture paints a thousand words the one depicting Mario Balotelli's withdrawal in Istanbul encapsulated a Liverpool career. Ambling from the Ataturk's hallowed turf our mercurial Italian shot an angered glance at his manager, himself po-faced but disinterested. A telling snapshot of a troubled relationship, this image captured a marriage of inconvenience seemingly destined for the divorce courts.
Indeed, if Balotelli is drinking at the last chance saloon this Mersey well is set to run dry. But is his fall from grace self-inflicted, as press, pundits and even manager would have you believe? The truth may be harder for some to see, comprehend and accept.
The decision to sign Balotelli was curious at best. Quite who made that call is a matter of fierce debate and an identity protected deep in the bowels of Anfield. That said most would absolve Rodgers of any blame, if only down to a six month campaign at clearing his own name.
Brendan assured us in July that no deal would materialise and come October was publicly questioning the merits of the transfer committee outright. The Mario effect.
But what of the player himself? Has he really stunk the place out worse than raw sewage? Look beyond the soap opera and that assumption is not wholly accurate. Call me an apologist but in my opinion Balotelli is but a victim of his own reputation. The tabloids favourite, he suffers from a bad press – only some of which is actually merited.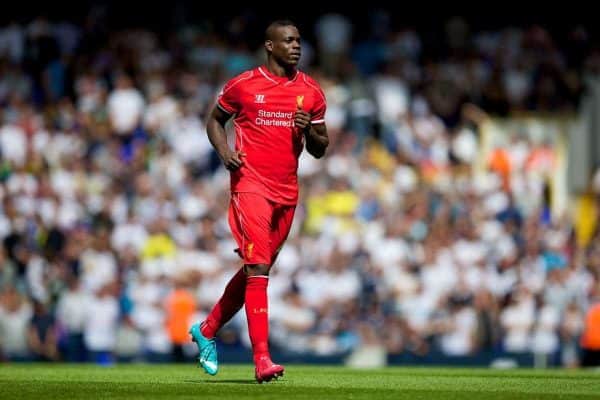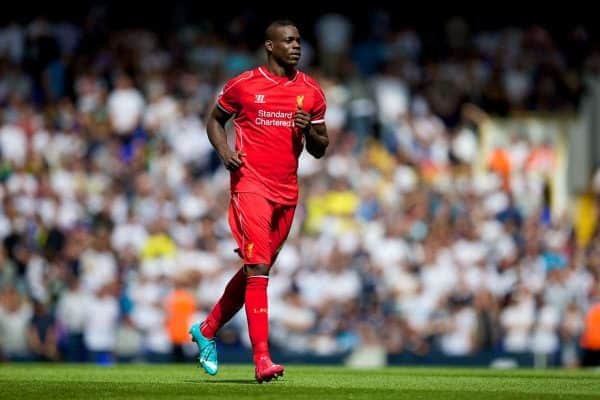 The trouble with mavericks is most want them to fail. Discarded by Inter, City and Milan then branded 'unmanageable' by the Special One no less, the Balotelli to Liverpool narrative was pre-ordained. No bedding in period was ever likely to be afforded. Unless our Wild Child hit the ground running he would be accused of conforming to type; a loose cannon on whom the reds should never have gambled.
Sure enough, a sluggish start inspired familiar complaints. Such ire however never came with context. Predictable headlines seldom mentioned the loss of Daniel Sturridge and the damaging effect that had on his proposed strike partner, suddenly cast as a lone forward in a thankless system.
Similarly, little attention was paid to a collective malaise as Liverpool descended into a rank average side incapable of preventing or scoring goals. A blind eye was also turned to Brendan Rodgers' regressive tactics as the opportunity to lambast Bad Boy Balo proved insatiable.
Why let truth or reason get in the way of sensationalism? Granted, our extroverted number 45 hardly set the world alight from the get-go but his struggles cannot be apportioned to a blatant lack of effort.
A lazy argument is the lazy argument itself. On arrival Balotelli put a shift in. Seriously. True, he will never channel the spirit of Dirk Kuyt but the Italian emitted greater mobility than at any stage of his City career.
Think back to the first derby clash of the season; he exited to a chorus of cheers and a standing ovation appreciative of a combative display. Sadly, good intentions were soon undermined by a frightening lack of in-game intelligence.


For Balotelli would move but do so in the vain of a faulty sat nav, meandering into harmless areas. You would often see him venturing back into midfield or cropping-up by his own corner flag only to be conspicuous by his absence whenever a cross was tossed into the opposing penalty area.
Similarly, peeling off the shoulder of last defender became an art he simply could not master. In short, he brought movement – just the wrong kind; particularly for a side deprived of its primary out ball (Sturridge).
Of Balotelli's many faults the most bedeviling is his naivety, a trait destined to haunt the duration of his career. It is such foolhardiness that led to a ban for posting 'racist' literature as a means of condemning discrimination. He means well but good intentions count for nothing when you are a divisive figure, particularly one charged with replacing Luis Suarez.
A barren spell in front of goal did little to quell the furore. His paltry return was the result of bad finishing and bad luck. Then came a regrettable nadir in the shape of a Champions League encounter with Real Madrid. Faced with humiliation Rodgers attempted to deflect blame by nominating Balotelli a half-time scapegoat.
In a perfect storm television cameras also caught sight of Mario exchanging shirts with Pepe before descending into the tunnel. Significantly, both players had left the pitch and were a matter of yards away from the Main Stand stairway. But why let such small margins stand in the way of a great story? Our very own Liverpool Echo followed suit, APOLOGISE emblazoned across its back page in tacky red-top fashion.

An exile of sorts duly followed before the first of several public dressing downs from Brendan.
"Working with Mario, we've seen that he is someone who is better in and around the box. That level of pressing and intensity is not part of his game.
But you try to make the best out of the players you have, and the qualities that they have. That's something we will focus on."
Rodgers' motives here are most intriguing. Some would argue this approach was simply a motivational tool, designed to fire-up a 'Problem Child'. I tend to think it was face saving, again stressing he had no hand in this a failed transfer. A confident personality never shy of championing his own man-management skills this signalled resignation of sorts; an unfurling of the white flag.
Ostracising Balotelli coincided with an upturn in form. Credit where it's due, Rodgers reinvigorated both himself and his squad with December's change in formation. And Balotelli himself (supposedly) conceded he was not attuned to a 3-4-3 dependent on an incessant press. It is hard to imagine him harassing City's backline in the vein of Lallana, Coutinho and Sterling.
Nevertheless, the paucity of Liverpool's striking options made his total exclusion counter-productive. With the best will in the world neither Rickie Lambert nor Fabio Borini possess an ounce of Mario's natural talent. They may bust a gut but both lack an X Factor capable of changing a game.
Could the New Year's Day draw with Leicester have ended differently had our famous outcast been considered? Could an FA Cup replay with Bolton have been avoided? Could a desperately drab derby have been lit-up? It is hard to question Rodgers given an impressive run but it may be argued he can – at times – cut his nose off to spite his face.
Recent comments – and their timing – suggest initial indifference has turned personal.
A reluctant Rodgers recalled Balotelli for the visit of Spurs, his troubled pupil reacquainting himself with the Anfield bench. With Daniel Sturridge tiring he was called upon to win the game. He did just that. A goal aside his all-round contribution was a positive one. Noticeable work rate was subsidised by thoughtful possession, particularly with Liverpool protecting a slender lead.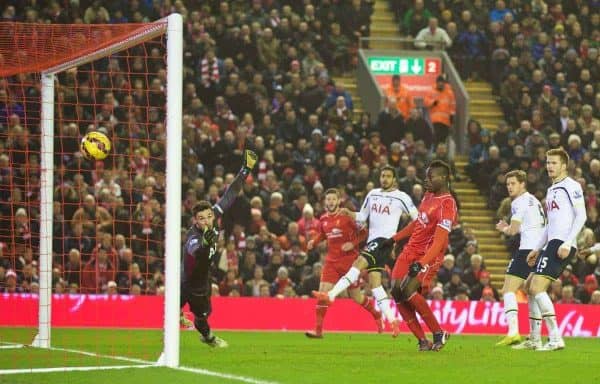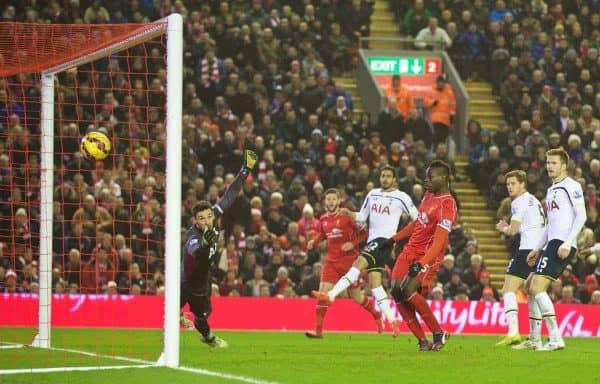 An impressive cameo was complimented by an encouraging performance away at Crystal Palace. Then came Beskitas.
Introduced with twenty minutes to play Mario was head and shoulders above peers and opponents. He was strong, direct and menacing – energising his teammates for a grandstand finish.
That infamous penalty inspired childish hysteria, all of which was entirely avoidable. Balotelli was the outstanding candidate at the time and stepped-up to win the game. Debate over – unless you're Jamie Redknapp who stooped to embarassing depths when declaring the Italian should never play for the club again.
But it was Rodgers' comments that really stuck in the craw.
"We need to ensure that whatever level we are playing at we have everyone working as a team and once we get the penalty he stops working.
So he needs to improve on that facet of his game, to play in his position rather than standing on the side of the football field."
For a manager regularly accused of talking too much this was without doubt his most embarrassing soundbite and one that signalled the end of Balotelli's Liverpool career – in February.
Rodgers has made a habit of hanging Mario out to dry, be it to save face, deflect blame or cosy-up to friends in the media – many of whom salivate at the very mention of this enigmatic forward.
These aforementioned remarks were inadvisable and for me unforgivable. They projected Rodgers as a coach unwilling rather than incapable of nurturing a flawed genius.
Before anyone researches my family tree in search of Italian/Ghanaian heritage I am happy to concede Balotelli is far from perfect.
A tendency to shoot-on-sight is infuriating, as is the ease at which he is drawn into petty shenanigans likely to draw cards of both persuasions. That aforementioned game intelligence also needs refining.
A lack of awareness hinders link-up play, attracting derision from teammates and fans alike. But buried deep beneath the complexity is a super footballer, a talent too good to cast aside, particularly when back-up comes in the form of Borini and Lambert.
Contrary to popular belief he has shown a willingness to adapt only to be assessed and deemed too much hassle.
I am well aware this piece reads like a character reference but if/when Balotelli is sold this summer it should be remembered this latest blotch on his copy book was not totally self-inflicted. Indeed it could be argued he never stood a chance.
Has Balotelli been unfairly dealt with during his time at Anfield? Let us know your thoughts in the comments below.