Jurgen Klopp has responded to FIFA's recent changes to the World Cup, among other proposals, in an impassioned defence of "the future of football."
World football's governing body recently announced their plan to expand the international tournament from 36 teams to 48 from 2026, after a unanimous vote at the beginning of January.
This was followed up by a series of risible suggestions from former Netherlands international and current FIFA technical chief Marco van Basten on how to improve the game.
These included the introduction of orange cards, to replicate rugby union's sin-bin, drastic alterations to penalty kicks and, most remarkably, the scrapping of the offside rule.
Speaking at Melwood on Friday, Klopp was asked about Van Basten's proposal, and was unsurprisingly defensive.
"I actually thought most of the time this season most teams played against us without the offside rule!" he joked.
"But, to answer seriously, my opinion about this is this wonderful game, that we all love, doesn't need rule changes.
"What we are doing in this moment, not only in England but in general, with more teams in the World Cup, we're really bringing the game in danger.
"Obviously a few people think they have to press everything out of football, squeeze everything out of football that they can in this moment.
"I think they don't care enough about the future of football.
"For me it's the most wonderful game, everybody enjoys it, but if it's too much, it's too much. That's how it is, that's the thing they should look at."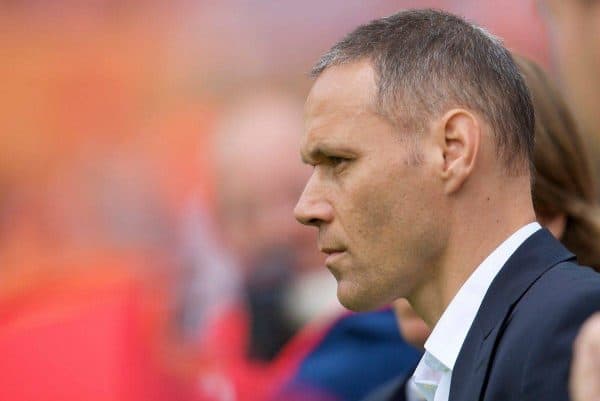 Van Basten's attempt to revolutionise the game has been roundly laughed off by managers around Europe, with Rennes' Christian Gourcuff describing it as "immeasurable bullshit."
"The offside is a manifestation of collective intelligence. There would be no more collective spirit if the offside rule was removed," Gourcuff explained.
"The offside rule is fundamental—if you do not understand that, you do not understand football."
This is something Klopp moved to underline further, implying Van Basten was attempting to remould football into a completely different game.
"I'm not exactly what Marco van Basten is doing, was it a really good idea, was it something he thought about, whatever," he continued.
"But he can invent another game, that's no problem, they have enough pitches around the world.
"So play something else, somewhere else, but I think this game that we all love doesn't need this kind of rule changes."
Klopp is something of a footballing purist, and as such is a credit to the game.
His influential, vocal presence in such a lofty position on Merseyside is hugely important, as FIFA continues to poison the sport's foundations.