Liverpool maintained their perfect record and their tactical discipline during a 1-0 victory at home to Brighton.
Jurgen Klopp's side are lining up in the same shape as last season, but the arrival of Naby Keita and Alisson, plus the introduction of Joe Gomez at centre-back, have seen the side given a fresh look.
They are still scoring goals on the back of counter-pressing, as James Milner won the ball for Mohamed Salah to net his second in three games. Normal service.
They are yet to concede a goal, yet to drop points and are outperforming all other teams in terms of expected goals, both for and against, even Manchester City.
Narrow victories such as this, and the one at Palace, are often attributed to winning ugly, but the expected goals numbers suggest otherwise.
There has been plenty to enjoy about the way Liverpool play, even if there is the sense they aren't yet in full flow.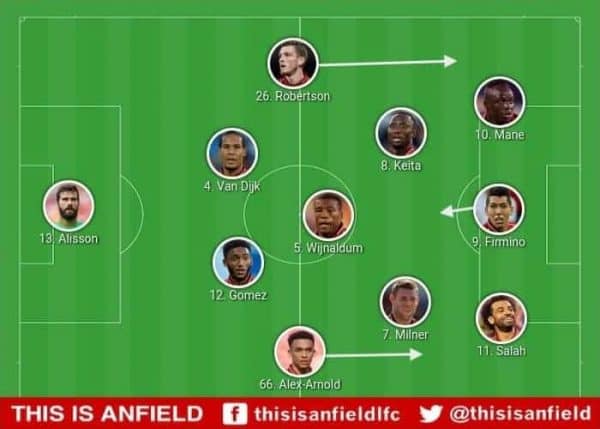 Better Shape Up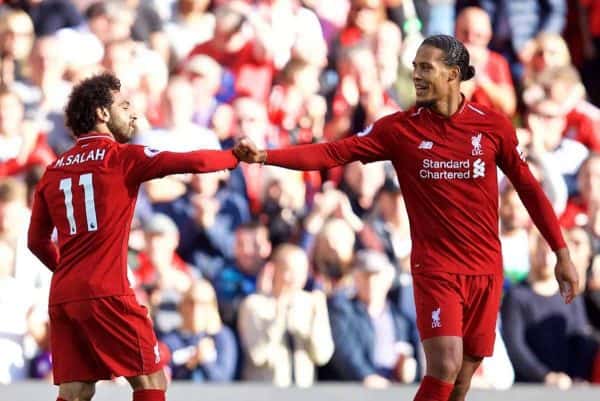 As might be expected when a manager selects the same lineup for three games in a row, there have been similar patterns during Liverpool's start to the season.
The midfield balance has been good and the players in this area have set the tone tactically.
Milner's all-action displays have prompted discussions around whether he's playing the best football of his career; Naby Keita has slotted in nicely, with reassurance from fans and pundits after each game that there is more to come; and Georginio Wijnaldum looks like he might be the club's best No 6, despite the arrival of an expensive new one this summer.
The average positions, via SofaScore, are shown below from the Brighton game, with the previous two fixtures against West Ham and Crystal Palace (upside down as it was away) in the background.

For such a changeable measurement to be so similar across three fixtures shows how structured Liverpool's play is, despite it often appearing chaotic.
Expecting Keita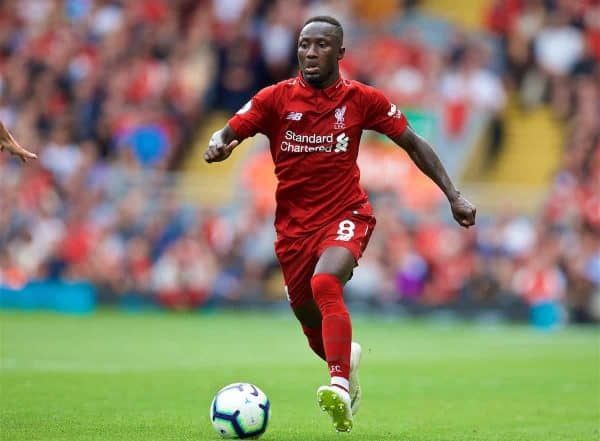 New partnerships and link-ups formed around Keita in the first game of the season and these have continued.
It's too early in the season to take too much from expected goals data, but the Guinean is already ranking high in terms of build-up metrics such as xGChain and xGBuildup, shown below from Understat.

These measurements look at each attacking move a player is involved in, and how likely there is to be a goal at the end of it.
Keita's totals put him 5th in the league in terms of the xGChain behind Salah, Sadio Mane, Benjamin Mendy, and Sergio Aguero.
Incidentally, this is also an early sign that the similarities seen between Liverpool and Manchester City under Klopp and Pep Guardiola are continuing into the new season.
People are happy with Keita, but are expecting more. This shows that there is indeed more to come.
Alisson Saves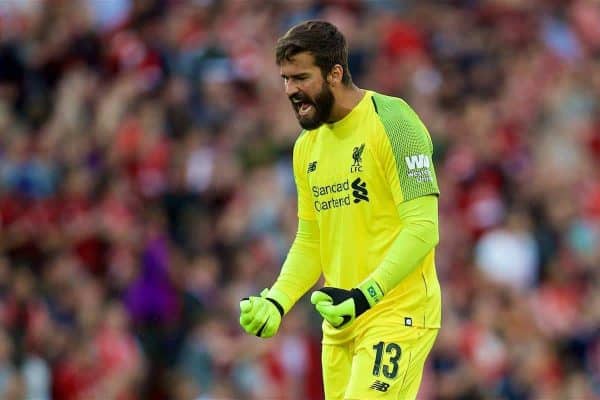 For the first two games of the season, this column focused on Alisson's distribution.
He racked up a pass accuracy of over 90 percent in those, and though he didn't quite reach that level with the ball in this game—and that's not to say his distribution was poor—it was his goalkeeping which did the talking this time.
That, and a cool dink to take the ball past Anthony Knockaert as the Brighton attacker closed him down.
The expected goals for this game, from Infogoal, show that the biggest chance of the match was Pascal Gross' header in the 88th minute. The bigger the circle, the bigger the chance.

It was the only clear-cut or big chance, as defined by Opta, which Brighton created.
Liverpool's only big chance was the similar header from Roberto Firmino which prompted a good save from Mathew Ryan.
For both of these saves, the goalkeepers' positioning cannot be underestimated. These are 'expected goals' and 'big chances' for a reason.
On other occasions, these efforts might have nestled in the back of the net with the goalkeeper said to have 'no chance,' but because of their positioning as the ball came in, the pair of stoppers on show here gave themselves a chance to save the shot, and did so impressively.
Wijnaldum Passing Henderson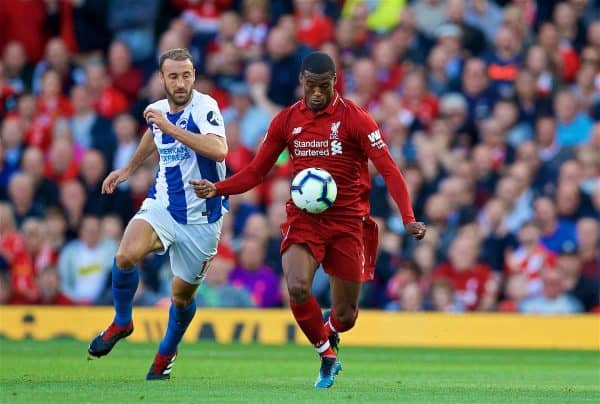 Jordan Henderson may only have been on the pitch for 25 minutes, but his data reads like he was on for the full game: 45 touches, 39 passes of which 37 found their intended target, one key pass, one successful dribble(!) and three tackles.
The captain has had to settle for a place on the bench due in part to his late arrival after the World Cup, but also due to impressive displays from Milner and Wijnaldum in the positions he might operate.
But he tried to fit a full 90 minutes worth of work into this late cameo, which will be pleasing for Klopp.
Wijnaldum himself put in one of the tidiest passing displays Liverpool are likely to see from a midfielder this season.
No matter how well Henderson performs in his cameos, and how much Fabinho adapts to Klopp's system in training, Wijnaldum should keep his place as the deepest midfielder.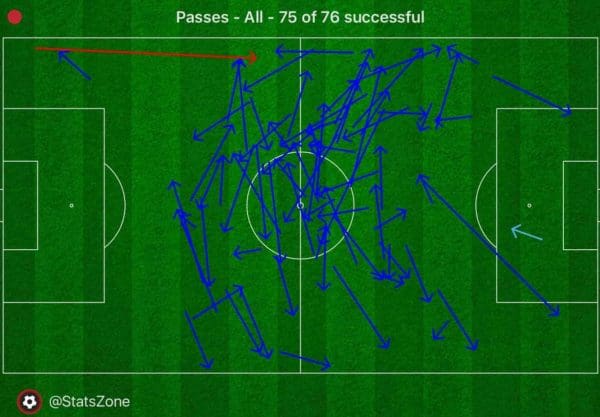 As shown above, via StatsZone, he completed 75 of the 76 passes he attempted and didn't misplace a pass during the first half.
He also had three shots on goal, two of which came when he'd moved further forward after Henderson's introduction.
The increased competition in the squad is improving each player, as Henderson said it would when he was asked last season about Naby Keita's arrival posing a threat to his place in the side.
A drop in performance level from one player gives Klopp an excuse to rotate his side and use one of the players on the bench hungry for first team action, but at the moment the starting 11 are giving him no reason to change things before the first international break.