Many Liverpool supporters want to see a new midfielder added to the ranks this summer – so why, if reports are to be believed, is Jurgen Klopp not so desperate?
"Announce midfielder."
You've probably seen that plea on your timeline at some stage within the last month.
As it stands, Liverpool will go into the new season with their senior midfield options consisting of Fabinho, Jordan Henderson, Thiago, Naby Keita, Curtis Jones, Harvey Elliott, James Milner and Alex Oxlade-Chamberlain.
New signing Fabio Carvalho can also play in a number of roles in the centre of the park and further forward.
On paper, that looks to be plenty, with eight or nine players battling it out for three, or even two, positions.
Delve a bit deeper, though, and you can understand why some fans have concerns.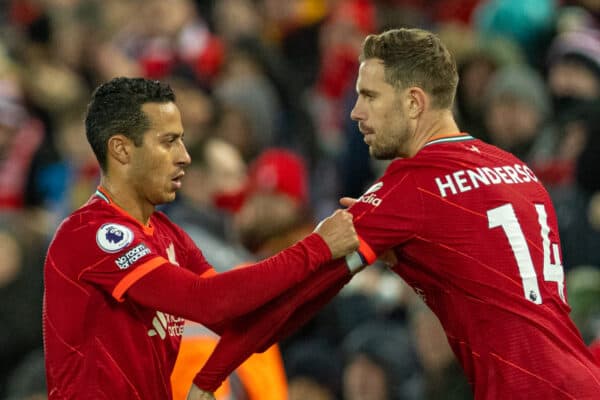 Henderson is now 32. Thiago, 31, can be prone to injury, as can Keita, while Jones and Elliott are still learning. Milner will be 37 next year and Oxlade-Chamberlain was out of favour towards the end of 2021/22.
The Reds were interested in acquiring Aurelien Tchouameni from Monaco, but after the Frenchman opted for Real Madrid, plans to sign a new midfielder have reportedly been shelved until next year.
Here, we assess several reasons why Klopp and the club's recruitment team may feel they already have enough cover in the centre of the park.
Is Carvalho already the forgotten man?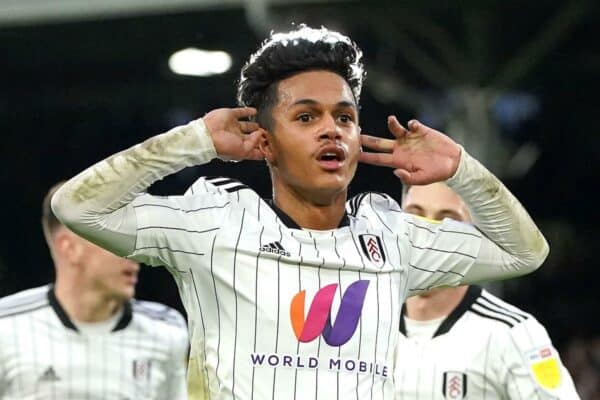 Portugal under-21s midfielder Carvalho is yet to have even been officially unveiled as a Liverpool player, but some are already overlooking the part he could play under Klopp this season.
At 19, Carvalho is a player for the future, but it would be naive to write off his chances of making an impact straightaway.
It remains to be seen where Klopp will feel the Fulham academy product is best utilised, with reports stating he may initially be used as part of the forward line or as a No. 10.
There are claims, though, that the club eventually see Carvalho establishing himself in midfield.
With 10 goals and eight assists in Fulham's emphatic rise to promotion last season, this isn't just a young player with a lot of potential, this is one who has the talent to feature now.
Don't bet against him being this year's surprise package of pre-season – and possibly the season as a whole.
More to come from Jones and Elliott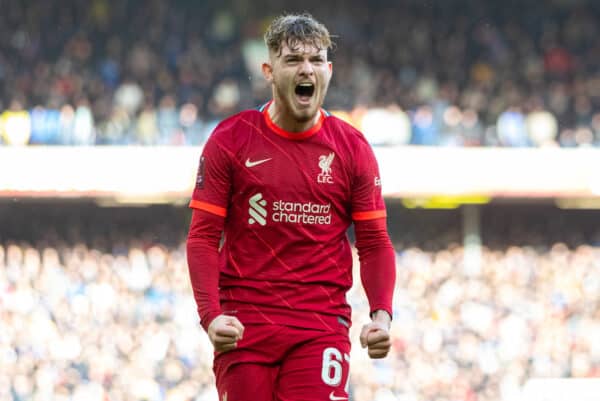 Jones is 21 years of age. Elliott is 19 years of age. That is often forgotten.
Many have labelled the pair as squad options for the upcoming campaign.
That may have been the case last season, but both will rightly have aspirations to eventually become first-team regulars. They certainly have the talent to do so.
Elliott in particular threatened to establish himself as a starter in the early stages of last season, before the nasty ankle injury he sustained at Leeds.
There is a reason that both were ahead of Oxlade-Chamberlain in the pecking order for the majority of last season.
Klopp is investing in them for the future. Jones and Elliott are at stages where game time is essential for their development. Oxlade-Chamberlain less so, with just one year remaining on his contract.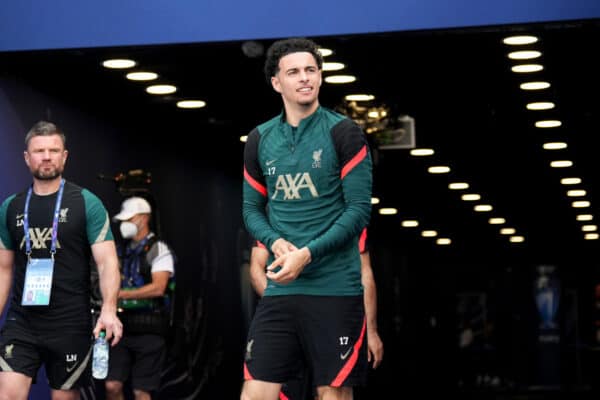 At youth level, Jones looked every bit the ultimate attacking midfield player, bursting past players for fun and scoring some ridiculously good goals.
We're yet to see that at first-team level, but Klopp will know there is still a lot of unfulfilled potential in his No. 17.
Elliott, too, clearly has the talent to become a star of the future in this Liverpool team.
If we're ever to see Jones and Elliott at their very best, both need games. Signing another elite midfielder would limit those opportunities even further.
One more year of Ox?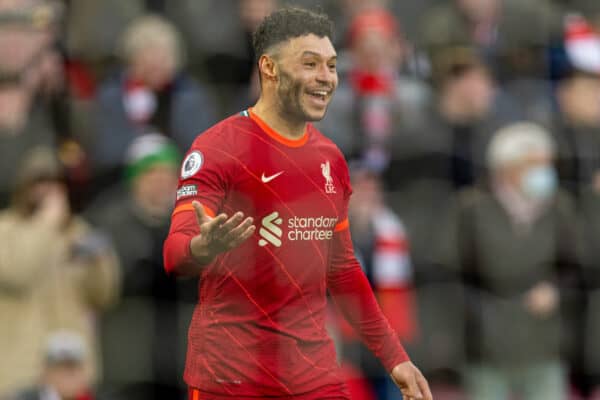 As the 2021/22 campaign drew to a close, Oxlade-Chamberlain was one of the players reported to be on his way out of the club this summer.
In recent weeks, though, the club have indicated a willingness to see him stick around until his contract expires next year.
That may be because Liverpool were unable to secure the services of Tchouameni and have now decided to target a midfielder next year instead.
Despite not playing a single minute for Liverpool since the FA Cup victory at Nottingham Forest in March, Oxlade-Chamberlain made some significant contributions earlier in the campaign – particularly in January, when Keita, Mo Salah and Sadio Mane were away for the Africa Cup of Nations.
There was his all-action display against Atletico Madrid at Anfield last November, key contributions in the cups and important league goals against Brentford and Crystal Palace.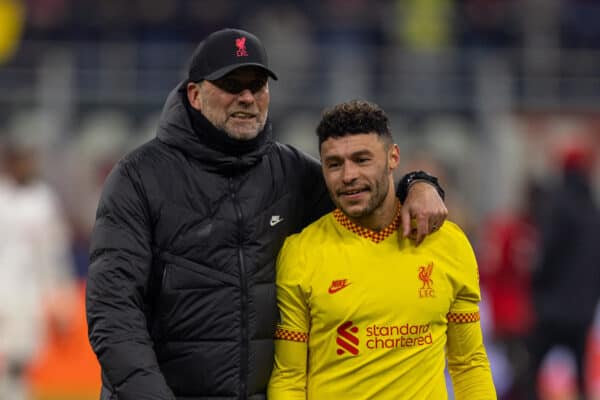 Last December, Klopp even claimed that we were seeing "the best Ox" since his arrival at the club in 2017.
Those contributions make him a valuable squad option and, although he may find himself at the bottom of the midfield pecking order at the start of the season, Klopp can continue to trust him to do a job when called upon.
The Bellingham waiting game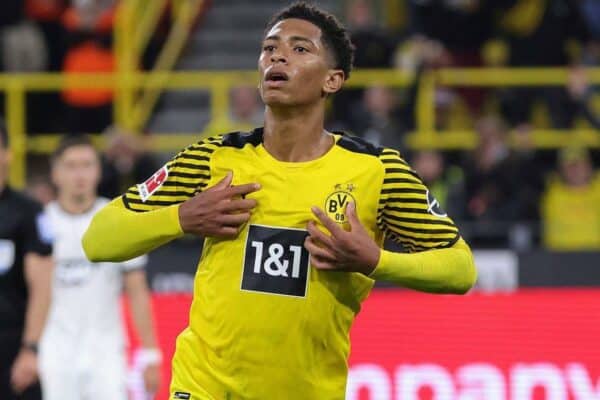 Virgil van Dijk. Alisson. Ibrahima Konate.
Three examples of Liverpool happily waiting until they got exactly who they wanted.
Could Jude Bellingham be the next?
Borussia Dortmund are very unlikely to sell this summer, having already offloaded their other star, Erling Haaland, to Man City earlier this month.
It wouldn't be at all surprising, though, if the Liverpool recruitment team were putting most, if not all, of their eggs in the Bellingham basket for next summer. Who could blame them?
The Birmingham-born midfielder surely ticks all of the boxes Klopp will want for his next midfield addition.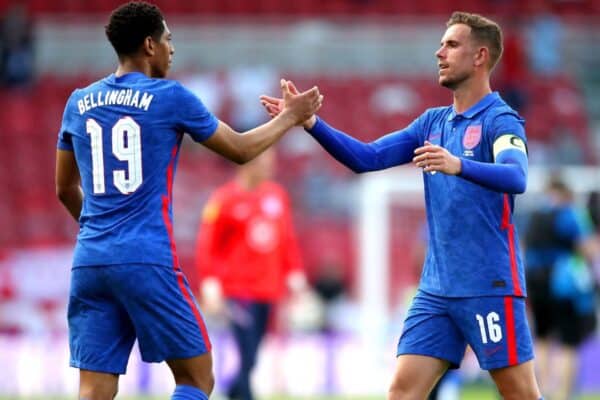 Having only just turned 19, he would be the leading figure in Liverpool's midfield for years to come and a natural successor to Henderson.
Work may well already be going on behind the scenes to ensure Anfield is his destination of choice next summer.
If that's the case, surely no Liverpool fan would begrudge the decision to wait until he's available.
A change in system?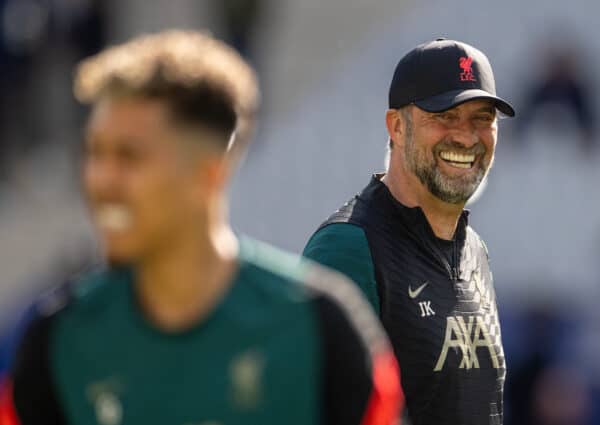 Some believe Liverpool's summer transfer business, particularly the signings of Carvalho and Darwin Nunez, points to a change to a 4-2-3-1 formation this season.
That would, of course, mean Klopp would only have to select two midfielders, as opposed to three, which would further justify his decision to stick with the options currently at his disposal.
There is an argument to suggest that Nunez would benefit from being the focal point in Liverpool's attack, in front of three other offensive players.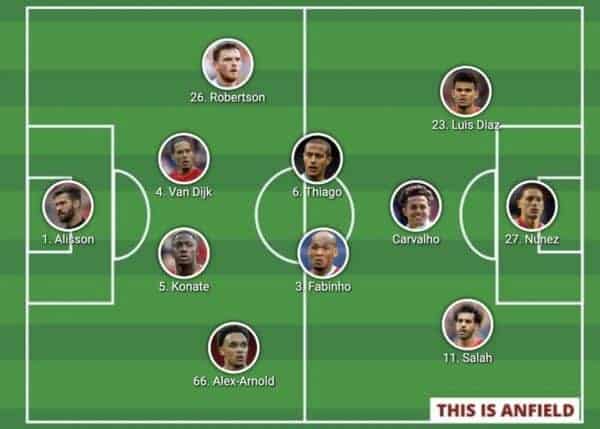 Carvalho would be ideal for role behind him, given his experience as a No. 10, with the likes of Salah, Luis Diaz and Diogo Jota all capable of performing in any of the front four positions.
It would also mean that the likes of Jones and Elliott would be likely to get more opportunities in more attacking positions, where they are arguably most comfortable.
It is not the first summer a change to a 4-2-3-1 has been theorised among supporters, but could this be the year it really comes to fruition?
Wildcard: a surprise role for Calvin Ramsay?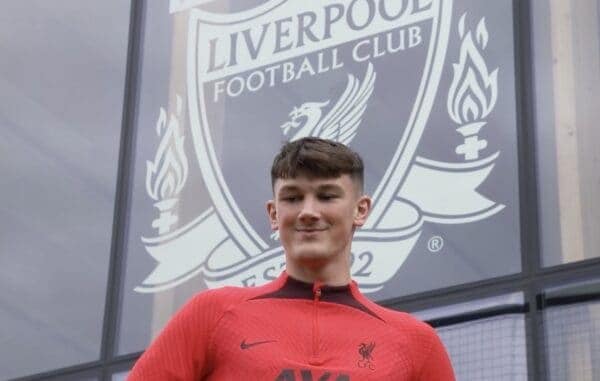 When it emerged that Liverpool wanted to lure Ramsay away from Aberdeen, the general consensus was that he was being recruited as a right-back option.
He is seen as a player who can ease the load on Trent Alexander-Arnold, similar to Kostas Tsimikas for Andy Robertson on the other side.
That may well be the case, but in his first interview with the club it was intriguing to hear Ramsay himself say that he was also comfortable playing in midfield, having done so as a youth player in Scotland.
There were also external reports that claimed the club viewed Ramsay as a player who could fill a number of roles on the right-hand side.
Could it be that Klopp and his recruitment team have identified him as a player who can be a reliable midfield option?
Ramsay: "I can play a few positions, I think I'm quite composed on the ball, can find a pass, get shots away.

"I can play centre-mid, right-back, right wing. Anywhere really."

— This Is Anfield (@thisisanfield) June 19, 2022
Alexander-Arnold could also be useful further forward, but that seems highly unlikely after Klopp questioned Gareth Southgate's decision to use his No. 66 in that position at international level last year.
"Why make the best right-back in the world a midfielder?" Good question, Jurgen.
---
There's no doubt that a new midfield addition will now be high Julian Ward's list of priorities.
If it's not this summer, though, then don't be surprised if Klopp has something unexpected up his sleeve for the new season.
Trust him, why wouldn't you?