Liverpool's success under Jurgen Klopp has been built around intensity. But having lost their identity of late, how can they bring that back?
"Our identity is intensity."
So much has been made of this quote, uttered by assistant manager Pep Lijnders.
The lack of intensity Liverpool have shown this season – the DJ rather aptly played 'Freed From Desire' in the Gtech Stadium after the Reds' dismal defeat to Brentford – has placed large scrutiny on the Dutchman and his recent book, Intensity.
Unlike many who have criticised Klopp's No. 2 of late, I took the liberty of actually reading the book over the festive period.
The headline quote wasn't the only one that stuck out to me when trying to understand exactly why we were so good in 2021/22, and why we haven't been in this campaign.

While the January window is open, "training is our transfer," according to Lijnders.
Time and again the successful regime has found solutions on the training field to win games.
But this process is being criticised now that Liverpool's way of playing is repeatedly failing. Pressures in the final third are down, the midfield is routinely overrun and the defence is often breached.
So here's a fresh perspective on that key Liverpool principle.
Our identity is not 4-3-3. Our identity is not high press. Our identity is intensity. So how can we inject that intensity back into performances and improve results?
"One-vs-one is our strength"

Football tactics are not a magic formula. Every decision has a benefit and a risk, particularly with regard to space.
Pressing high eliminates the space near the opponent's goal, but creates space between your defensive line and your own goal.
The benefit is that you could win the ball near the opponent's goal and score. The risk is you could get counter-attacked and give your opponent a clear shot at your 'keeper.
Liverpool's current setup relies on midfielders winning one-on-one duels all over the pitch.
This allows us to reap the rewards of a high-pressing system with a high defensive line, whilst mitigating the risk of being counter-attacked.

In his book, Lijnders describes how the midfield achieves this balance of attack and defence:
"The idea [is] to fill the box with five players and one crosser, meaning there are four players left to protect ourselves in a huge space.

"This means one-v-one situations – that's not a problem because it's our strength."
When this works, opponents cannot exploit the space in Liverpool's half or release the pressure on their own goal.
But we've started losing these one-on-one duels, and so the idea is now a problem.
Here's an example that I used in a previous piece but so clearly illustrates this. It's 1-1 against Leeds at Anfield, and a Liverpool set-piece breaks down…



This example has it all: failure of anticipation, lack of physicality and poor decision-making.
These have been the hallmarks of Liverpool's midfield this season, and when the system relies on one-on-ones, the consequences are fatal.
We've seen it against Man United…



…and perhaps most damningly, Brighton…

Time and time again Liverpool's midfield is just a moment too late, or just a bit too easy to beat, and the team concedes as a result.
There's also the psychological impact, which Lijnders points out himself:
"When you run a lot but you can't find the challenge, that's when you never gain momentum. You lose energy."
With reinforcements in the January window uncertain and a season still to save, can we adapt with what we have?
Controlling the space

We've actually already seen one excellent performance this season where Liverpool masked their weaknesses and leaned on their strengths to great effect.
In the 1-0 win over Man City, Liverpool adapted in several key ways without compromising their principles, which can be loosely defined as bravery, "playing the first pass forwards" and intensity.
Rather than pressing high up with a front three, expecting midfielders to surge forwards and steal the ball, Liverpool lined up in a 4-2-3-1 when out of possession.

Mo Salah took up the lone central role, with Roberto Firmino supporting the midfield double pivot while Harvey Elliott and Diogo Jota provided width.
This meant that Liverpool could get numbers around the ball closer to their own goal before springing forwards on the counter-attack.
One passage of play in the second half epitomised this.
City won the ball near Liverpool's goal, but the team were ready as a unit to react and win it back…


Almost immediately there's pressure on the ball, but crucially there's also good coverage in terms of players picking up a man to deny City an easy pass forwards.
The attack eventually breaks down…

…and Liverpool are able to play the first two passes forward, releasing Salah into acres of space…


Liverpool had 37 percent possession at Anfield, but won the game – and won well.
The midfield still pressed, but within a structure that allowed it to be both timely and effective.
To go back to the earlier point about space: rather than leaving it behind our defenders, or around our struggling midfield, we encouraged it in City's half.
That way we could time challenges correctly, steal the ball, and then use our quick, ruthless forwards on the counter.
"Momentum is only possible when you steal balls"

It's worth noting that Klopp trialled a new shape at Brighton with Thiago as a No. 10, which failed miserably.
It's not about changing formations like a computer game, but supporting the players to express the principles that have brought us so much success.
Stealing the ball and dominating the opponent breeds a hungry, aggressive, intense game. Chasing the ball fruitlessly breeds uncertainty and frustration.
Lijnders' overview of Liverpool's trip to the Amex last season spoke well to this:
"Curtis and Naby would have to chase them from the blind side to steal the ball and play the first pass forward.

"We wanted momentum in the game and this is only possible when you steal balls."
Instead of asking the midfielders to cover massive amounts of space, we should return to the game plan and the 4-2-3-1 out-of-possession structure from the City game.
Dropping slightly deeper, with a more compact midfield, means we can press effectively and in numbers – "hunting in packs," as we once did.
Creating this momentum also means we can bring our forwards into play on the counter-attack.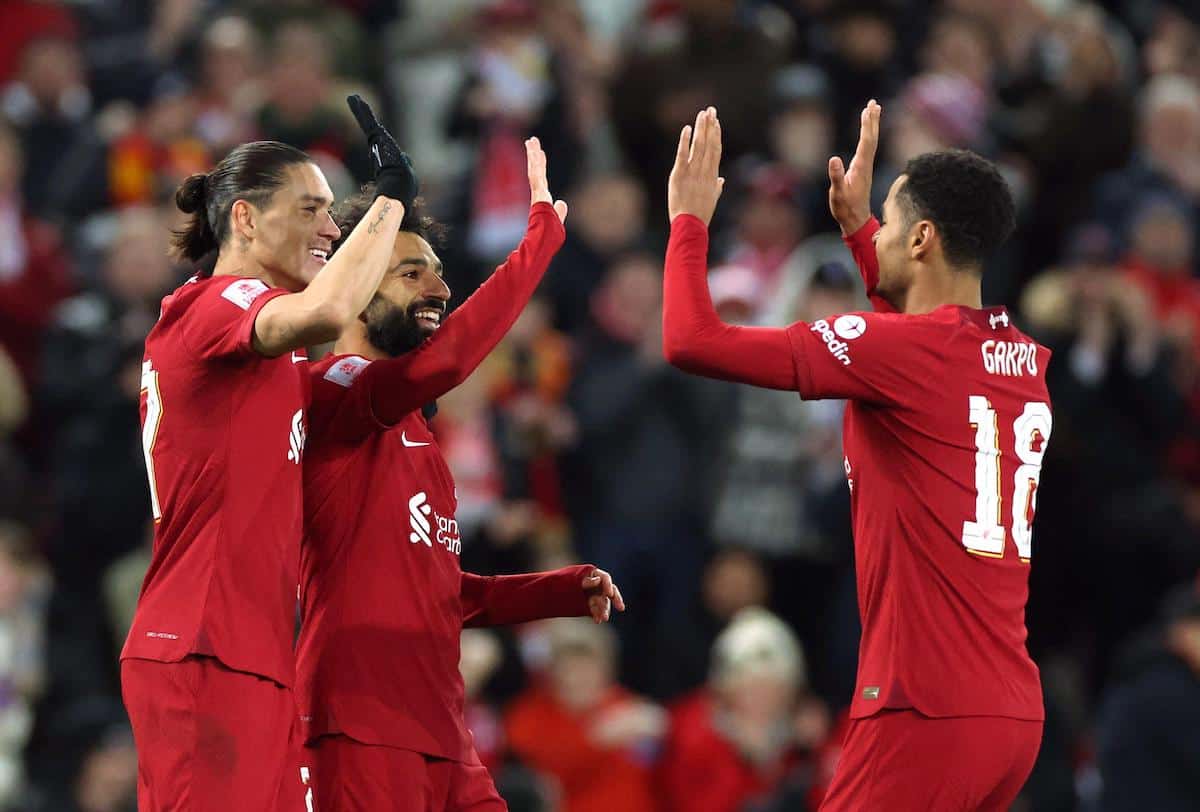 With Darwin Nunez and now Cody Gakpo joining Salah in the forward ranks, Liverpool have the pace to devastate on the break, much as they did in the earlier years under Klopp.
In the long term, it's necessary to dominate the ball and break teams down, as we evolved to do in 2019/20.
But right now, hewing closely to our tactics is actually compromising our principles.
If we play to our strengths, we can adapt our decisions accordingly, and reclaim our intensity.