Liverpool's win at West Ham edged them closer to a European spot, but they are still relying on Man United or Newcastle to drop points in the run-in.
It has been seven years since Liverpool last failed to qualify for the Champions League.
However, poor away form this season has let Jurgen Klopp's side down massively and they are now relying on others, as well as themselves, for them to finish in the top four.
Liverpool are currently seventh, with 53 points from 32 matches.

They are aiming to catch Newcastle and Man United, who sit third and fourth respectively.
Man United are seven points ahead of the Reds, while Newcastle are a further two points clear.
How many points can Liverpool get?
The Reds are enjoying one of their best runs of form this season at present – they are unbeaten in five and have won their last three matches.
If Liverpool were to win all of their six remaining matches, their points total would amount to 71.
This would have been enough for fourth place in six of the last 10 years – over the last 10 seasons, the average number of points that the team finishing fourth has obtained is 71.4.
However, both Newcastle and Man United look set to beat that tally this season.
How many points do we need Newcastle or Man United to drop?
To fall short of 71, Newcastle would need to drop 10 of a possible 18 points still available to them.
Man United, meanwhile, would have to drop 11 points from a remaining 21.
Who do our rivals have to play?
Newcastle and Man United only need 12 and 14 points respectively to secure their Champions League spot for next season.
Newcastle have six and United have seven games to achieve this.
These points would take them above 73, which is the figure Brighton – who have played as many as three fewer games than those around them – can still reach if they win all their matches.
Like Liverpool, it seems unlikely Brighton that catch up. Roberto De Zerbi's side has lost two of their last three league matches.
A home advantage?

Fortunately for Liverpool, four of their remaining six matches are at Anfield, with the away games coming at Leicester and then Southampton on the final day.
If only home games counted, Liverpool would be fourth in the table, while solely away points would place them 10th.
Man United are arguably looking weaker at the moment and could start to feel the pressure if they drop points in their next two matches, which are against in-form Aston Villa and Brighton.
They also need to play more away matches than Liverpool and have the Manchester derby, in the FA Cup final, six days after their final league fixture against Fulham at Old Trafford.
Liverpool's remaining fixtures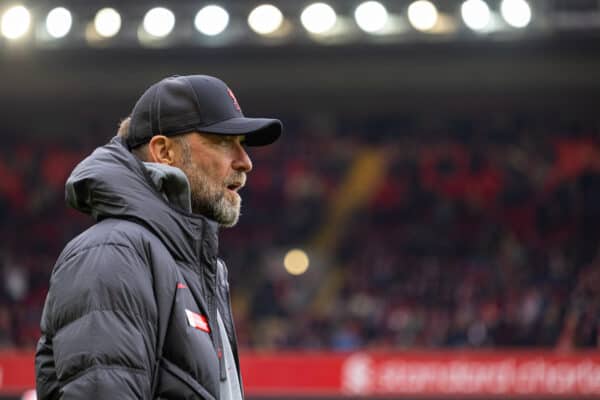 Liverpool vs. Fulham – May 3, 8pm
* All times BST.
It would take a considerable leap for Liverpool to catch up with Man United or Newcastle, with the likelihood being that they need to win all six of their remaining games to have any hope.
Either way, Klopp has admitted his team will "take what we get" when it comes to European football next season.