With Liverpool's top-four hopes slim as Newcastle and Man United pull clear, Jurgen Klopp admitted they "will take what they get."
It will prove a tough task now for Liverpool to finish in the top four.
Man United and Newcastle, who currently sit third and fourth, need 14 and 12 points respectively to secure their Champions League spot for next season.
Finishing fifth or sixth would bring Liverpool qualification for the Europa League, a competition the Reds haven't featured in since they reached the final in 2016.
The seventh-placed team in the Premier League qualifies for the Europa Conference League.
With potential Thursday night football looming, Klopp said: "We take what we get.
"It's not that we started the season and said if we can qualify for the Europa League it would be fantastic, but the season taught us a few things, and that's absolutely fine.
"If it's Europa League, it's Europa League."
Liverpool have won the competition three times in total, all under its previous guise as the UEFA Cup, in 1973, 1976 and 2001.
Klopp insisted that he is not so interested now "in what we qualify" for but, wants to "create the basis that we qualify for the best possible scenario and squeeze everything out."
He added: "I want to play the best possible football. If we get nothing for that at the end of the season, then we created that situation earlier in this year.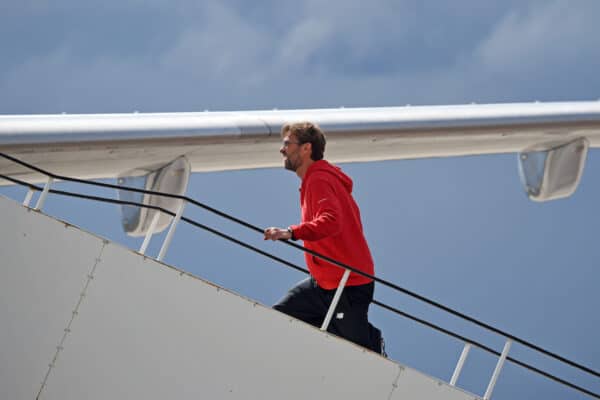 "But, in this part of the season, we have to be just really focused on the game coming up."
Liverpool face Tottenham at the weekend and are aiming to win four consecutive league games for only the second time this season.
"Whatever happens until the end of the season, these last seven, eight, nine, 10 weeks will be very important as well for the next season," Klopp reinforced.
There is still plenty to play for in the six matches remaining for Liverpool.
Some squad members are playing for their place at the club while others are auditioning for new roles next season.
Whatever happens, it is important that Klopp's team end the campaign on a positive note.