Jurgen Klopp believes Mohamed Salah is "really positive" about life at Liverpool, and "wants to maximise" their potential after offers from Saudi Arabia.
Salah was subject of record-breaking bids from Saudi Pro League side Al-Ittihad at the end of the summer transfer window, but Liverpool rejected all offers.
The 31-year-old, for his part, did not agitate for a move either, and so far this season has been in imperious form, with 10 goals and four assists in 14 games.
Wednesday's 2-1 win over Bournemouth in the Carabao Cup saw Salah start as captain for the first time, and there is a sense that he is enjoying life at the heart of Klopp's side.
Speaking on Salah's future in his pre-Luton press conference on Friday, the manager says his No. 11 is focused on "getting something out of" the squad.
"I don't know anything about an offer or whatever, but it's not important," Klopp insisted.
"Mo is here, Mo never came to me and wanted to go. I didn't think a second about it, to be honest, should we [sell] or not, or whatever.
"So, yes, he's here.
"He feels extremely well, you can see that he enjoys the team a lot, played 105 minutes [against Forest] and then he played as a No. 9 [against Bournemouth], enjoyed that as well.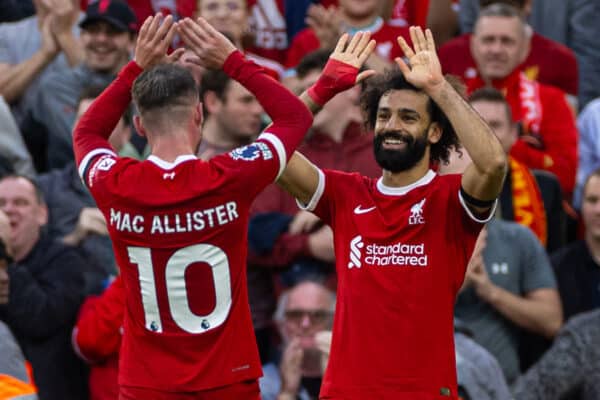 "Yes, good shape, on the pitch, goalscoring-wise, everybody can see that; off the pitch, he's in even better shape, I would say.
"He's really positive. He enjoys the company of the boys and sees that there is a lot of potential, and wants to maximise that by getting something out of it.
"But the other stuff, we never thought about it, and I hope I don't have to."