Keith Perkins looks back at the career of Liverpool left-back Steve Staunton, who had two spells at Anfield in the 1980s and 1990s.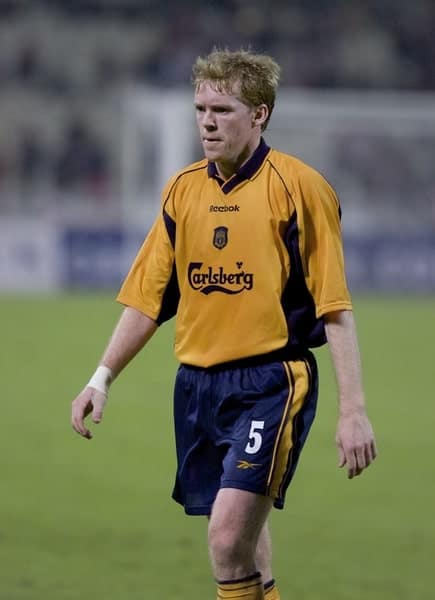 There must be a very short list of players that have played twice for one club. One that comes to mind is Peter Beardsley, who came to Liverpool from Newcastle, and then later spent the last few good seasons of his career with the Magpies.
An even shorter list would be of Liverpool players who left and then later returned.
One famous example is Ian Rush who left Liverpool at the end of the 1986/87 season to try his luck with Juventus, but returned after only one season and went on to continued success with the Reds.
Steve Staunton would be on an even shorter list as he played twice each for two different clubs – Liverpool and Aston Villa – as if both clubs had agreed to take turns in using his talents for a few years at a time.
Stephen (Steve) Staunton was born in Drogheda, Republic of Ireland on January 19th, 1969. As a young lad, he was an accomplished all-round athlete, playing Association Football for Dundalk F.C., and Gaelic Football for County Louth U-21's.
As a 17 year old with Dundalk, he was spotted by a Liverpool scout and soon after he met with Kenny Dalglish to sign a contract with Liverpool in the summer of 1986.
It was something of a slow start as he began honing his skills with the reserves. Part of this learning process included a loan spell of eight games with second division Bradford City, who were chasing promotion, before returning to the reserves in his second season.
Finally, after those two seasons, he made his first team debut on September 17th, 1988 as a substitute in a 1-1 draw with Tottenham at Anfield.
His performance in that match was impressive enough for him to be on the bench again three days later as Liverpool faced Arsenal at Highbury in the semi final of the Centenary Trophy.
In that match he came on as a substitute and scored Liverpool's only goal in a 2-1 loss. Another substitute appearance in a 3-1 win away to Southampton was then followed with his first starting place in a home League Cup match against Walsall.
It was only a month later when he made his International debut for Jack Charlton's Ireland side in a 4-0 friendly win over Tunisia, even though he had yet to play a full ninety minutes for Liverpool.
At this point, it must have been obvious that his career was well and truly under way, and so it proved as the following couple of seasons saw success (and medals) coming his way.
Liverpool's central defence was well anchored in those days by Alan Hansen, but when he was briefly out of the side with an injury, Gary Ablett was moved to the centre which opened up the left back spot for Steve Staunton.
From that time on, the position became his for the remainder of the season. Liverpool were on their way to another League and FA Cup double, but all of that was forgotten on April 15th 1989.
Steve attended many of the funerals and comforted bereaved families as the city mourned. When the semi-final against Nottingham Forest was replayed, he put in a man-of-the-match performance to help Liverpool reach the final against Everton.
The 3-2 extra time win (he was substituted at the beginning of extra time) gave him his first major medal as an FA Cup winner.
Disappointment soon followed as Arsenal beat Liverpool in the last game of the season to prevent the double, and thus robbing Steve Staunton of a League Champion's medal.
He didn't have to wait too long to make up for that though, as he played a significant part in Liverpool's League success the following season.
The 1989/90 season may have been the best period of all in Steve Staunton's career. By this time he was showing his versatility by playing in a variety of roles, from all four positions at the back, to midfield, and sometimes up front.
He even scored a hat trick in a League Cup match against Wigan in September '89 when he was a substitute for Ian Rush. At the end of that season, he picked up a well earned medal as Liverpool won their eighteenth League Championship.
His international career also blossomed during the same period, and it was no surprise that Jack Charlton selected him as part of the squad to travel to Italy for the 1990 World Cup Finals.
The first match of the contest must have seemed a bit like a Liverpool inter-squad match as he lined up for Ireland alongside fellow Reds John Aldridge, Ronnie Whelan, and Ray Houghton.
Opposite them for England were John Barnes, Steve McMahon, and Peter Beardsley. That match ended 1-1, and although Ireland were unable to beat Egypt, they were able to play out a 0-0 draw against Holland and went through to the knock out stage, beating Romania and losing out by a single goal to host Italy in the quarter final.
Unfortunately, that was to be the peak of his career, where at the age of just twenty one (and the youngest player in the Ireland team that summer) he played in all five of Irelands' games.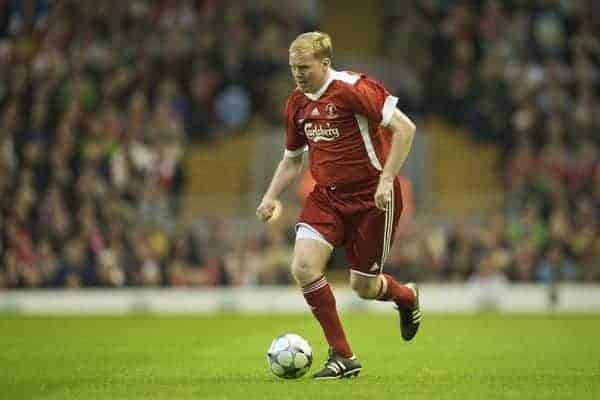 When he reported back to Anfield for the 1990/91 season, he could not have known that the turmoil to come would be the beginning of the end of his days with Liverpool.
By the end of the season, after Kenny Dalglish's shock resignation in February of 1991, Graeme Souness became manager and many changes were in the air.
Liverpool were allowed to return to European competition (following the ban imposed after Heysel) for the 1991/92 season in the UEFA Cup, but some new rules that had been brought in were not good news for any non-English player in the squad.
The governing body of UEFA had decided that no more than three foreign players could be fielded for European matches. Graeme Souness therefore decided that Staunton was no longer in the plans for the future and so was sold to Aston Villa for £1,100,000.
That's a good return on the initial outlay of £20,000 paid to Dundalk a few years earlier, and many supporters saw it as a good business move by the manager.
Staunton soon settled in at Villa Park, making an impressive debut by scoring a goal against Sheffield Wednesday. Only a season later, he was joined by two more former Liverpool players as Dean Saunders and Ray Houghton also fell under the Souness axe.
The three of them together were League Cup winners in 1994, which culminated with a 3-1 win over Manchester United. That now gave Steve Staunton all three domestic competition medals, and he went on to win one more when Aston Villa beet Leeds United in the 1996 League Cup Final (although he was an unused substitute in the final match).
The rules that had forced clubs to carefully count their non-English players had been challenged in court, and subsequently defeated, in 1995.
The new ruling abolished quotas of non European Union citizens for any EU clubs. It also allowed more freedom of movement of players, including free transfers from club to club at the end of a player's contract. Such a 'Bosman free transfer' saw Steve Staunton returning to Liverpool in the summer of 1998 (following several years of speculation), under joint managers Roy Evans and Gerard Houllier.
This second period at Liverpool lasted two seasons, at the end of which he was told that he would be allowed to leave on a free transfer at the end of the 1999/2000 season.
The early part of the following season was spent on loan at Crystal Palace for a total of six games before being recalled to Liverpool for what would become his last ever match in a Liverpool shirt.
That was as a second-half substitute for Djimi Traore in a UEFA Cup match against Olympiakos on 23rd of November 2000. That made a total of 147 appearances and 6 goals for Liverpool.
Aston Villa supporters were not pleased when Steve Staunton had effectively thumbed his nose at them, during what turned out to be his last season at Villa Park, by stating that he would welcome a move back to Anfield.
Following that transfer, when Liverpool played a Premier League match at Villa Park in October of 1999, the Villa fans gave him a lot of stick and were delighted to see him sent off after an hour of play.
There was much hilarity for the Villa supporters, but the last laugh must have been on them as the object of their derision was soon to be on his way back to the Midlands.
In December 2000, he returned for a second spell at Aston Villa, playing in 14 league games to end the season.
The two years that he now spent with the Midlands club were not as successful as previously, although he was able to end his Villa career with a total of 350 appearances and 16 goals (all of which came during the first spell).
From there it was a free transfer to Coventry City for two seasons, followed by a move into management as player/assistant manager at Walsall.
Meanwhile, from 1991 when he left Liverpool for the first time, his international career continued to progress.
He played in all of the Republic of Ireland's four matches at the USA 1994 World Cup, and was regularly selected over the years even though they did not qualify for Euro 96 in England, or for the 1998 World Cup in France.
As Ireland made their way through to the 2002 World Cup, Steve Staunton was named team captain. The 1-1 draw with Germany in the group stage was a very special occasion as he made his 100th international appearance.
Ireland made it through to the second round, losing to Spain on penalties. It was shortly after that defeat that Steve Staunton decided to end his international career, with a record 102 caps and as the only player to have played in all 13 of Ireland's World Cup Finals games.
Surprisingly to many, he was appointed as the manager of the Republic of Ireland in January 2006. The critics were soon quiet after his first match in charge ended with a 3-0 win over Sweden.
But, that was followed by a string of defeats, and then a few better results to keep them in contention for Euro 2008 (currently in a three way tie with Germany and the Czech Republic).
At the end of it all, as Steve Staunton looks back on his Liverpool career, he can be justifiably proud of his contribution to the club.
He picked up a League Champion's medal, an FA Cup medal, and twice won Charity Shield medals. He can also be proud of the fact that Roy Evans rated him highly enough to bring him back for a second spell with Liverpool when his first stint at Aston Villa came to an end.
Unfortunately, for some reason he was never the most popular player at Anfield during his first spell, and even less so during the second.
No matter what the statistics or the history of Liverpool players may show, it was not enough for him to be recognised in the list of 100 Players Who Shook The Kop, having been kept out by the likes of more popular candidates such as Erik Meijer and Nigel Clough. Still, he easily makes it on my list of Liverpool Heroes, even though he is just one more that seems to have been forgotten by most.