How would Liverpool look without Luis Suarez in attack? A shared responsibility on goalscoring could help the side, discusses Eli Caywood.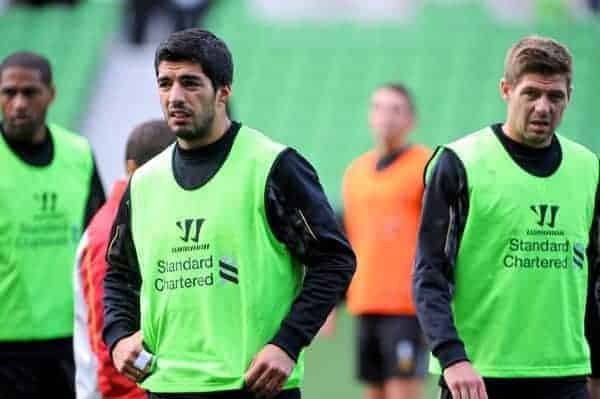 Like many others, I've been anxiously following Twitter since the transfer window opened waiting to see what new signing Brendan will unveil that gives us further hope for the coming season.
As an opening caveat, I feel confident that Liverpool FC is moving in the right direction and FSG as doing what they can to support the club and it's goals. There are some excellent articles out there highlighting FSG's financial support of the club. This Is Anfield published an interesting article comparing Liverpool to Dortmund;I hope they are right for a number of reasons, all signs point to numerous commonalities and Liverpool are paving the road to success.
Now on to the big topic of the summer, the Suarez transfer saga. Some fans want him gone for the way he acted and his perceived treatment of the club. Some fans point to poorly translated interviews and media propaganda in his defence. Regardless of how you feel about him personally, Liverpool retaining his services (purely for footballing reasons) will certainly help the club. It astounds me that people would be so willing to ship 23 League goals out the door. I understand there are numerous factors in player-club-fan interact and loyalty, but football is a results based game and like it or not, Luis Suarez gets results.
Does Suarez leaving really herald all doom and gloom for the future of LFC? I want to take a few minutes to outline, in both results and financials, why LFC is building towards a bright future, even if that doesn't include Suarez. First, cash generated from the sale of Suarez will most likely be in the range of £45 million to £50 million. Further savings are generated of £7.5 million a year in salary and amortized fees. Add for a moment the sales of Stewart Downing and Jordan Henderson, two of the most costly players brought in that have failed to produce the expected results (between the two of them they account for 8 goals scored). Perhaps conservatively they would raise a combined £10 million in sales, they would save the club a combined £15.2 million a year in salary and amortized fees. On the high end of things that raises £60 million in transfers and £22.7 million saved a year.
Results. Results are a very tricky thing to predict; player's form, injuries, and playing time are all obvious factors in trying to predict results. What I have done is look at a players career (number of seasons, average number of games per season, and average number of goals per season) in an attempt to predict future results.
First, let us look at our two new attacking options. Iago Aspas has played a total of eight seasons, averaging 27 appearances per season and scoring 7.1 goals per season. Luis Alberto has played 3 seasons, averaging 15.5 appearances and 3.6 goals. For the rest of the attack, Daniel Sturridge has played 7 seasons, averaging 15.7 appearances and 5.1 goals (caveat: Sturridge's minutes per goal in the second half of the season was 104.4 compared to his career average of 184.7) Fabio Borini has played 4 seasons, averaging 12.5 appearances and 4 goals.
Sterling and Ibe have both had bright starts to their careers. What I have done for these two (admittedly it's a bit of a stretch) is combined minutes played from last season and this preseason and averaged out minutes per goal. As a result Sterling has an average of 472.5 minutes per goal and Ibe has an average of 205 minutes per goal. Since both are young and it is impossible to guess how much playing time either will get, I have divided the number of minutes in league regulation time (3420) by 3/4 for Sterling (this is an additional 817 minutes from last year, or 9 full games) and ¼ for Ibe. As a result Sterling could be expected to contribute 5.4 goals and Ibe 4.1 goals.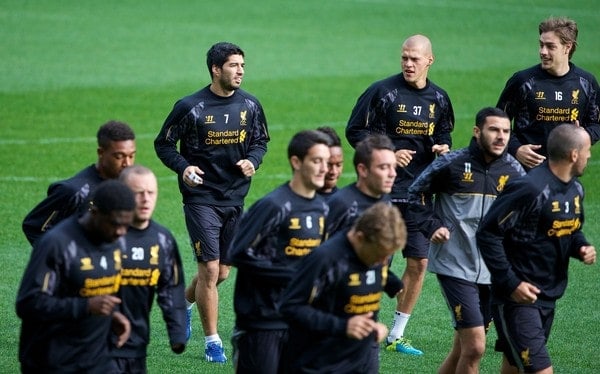 So what can we expect from an attacking line minus Luis Suarez? If Suarez leaves, we can expect a considerable increase in play time for Sturridge. If he features in the 30 games we should expect 10-11 goals (if he continues his hit rate from the second half of last season it would equate to 25.9 goals in 30 games). Fabio Borini who at the most has played 24 games in a season (Roma, 2011/12) would be expected to score 8 goals.
Most people will agree that to make a push for the top 4 the midfield needs to contribute more goals. By using the same methodology as above we can expect Gerrard to chip in with 6 goals and Coutinho to chip in with 5 (if he continues with a strike rate combined from last year and preseason that number rises to 12.4) Brendan has talked about brining in a goal scoring midfielder. Christian Eriksen seems to be a good option (his strike rate would put him around 9 goals), he can provide goals but also create chances (11 assists in each of the last two seasons). There is a lot hinging on brining Eriksen to Anfield, but he certainly fits the bill of the current transfer policy and has loads of potential.
77. The number of projected goals scored for next year, 6 more than 2012/13. There is obviously a lot of "ifs" in this scenario. Clearing Downing and Henderson off the wage bill would certainly help, especially when you compare it to their contributions on the pitch. Does selling Suarez set the team back? Possibly, that's for each fan and pundit to debate. Does Suarez leaving herald the doom and gloom that some are predicting? Probably not.
Eli Caywood