Liverpool are confident they have absolutely no obligation to sell Luis Suarez to Arsenal and the player himself has given up on taking the case to a Premier League arbitration.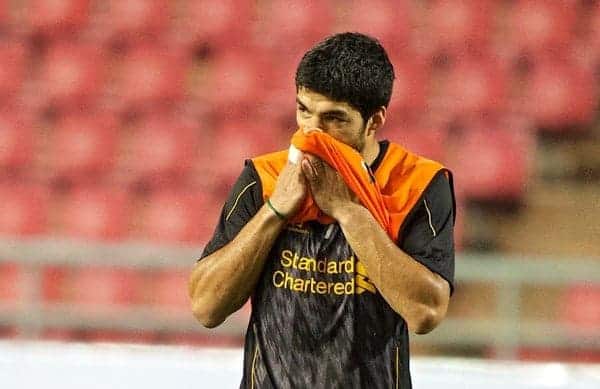 A senior Liverpool source is quoted in The Mirror, Guardian and Telegraph, saying:
"We've all examined the clause in detail. All it obliges is for us to enter good faith negotiations about Luis's future. There is absolutely no obligation to sell and that is very clear."
The Telegraph write:
Suárez has made no representation to the Premier League to seek adjudication on whether Arsenal's provocative bid of one pound over £40?million obliged Liverpool to sell.
They add that Liverpool could choose to report Arsenal for their approach, and are not impressed by Arsenal's bizarre bid last week which was rejected:
There are no Liverpool plans at this stage to pursue a complaint against the Londoners, although at the highest level of the Merseyside club there is a feeling bidding an additional pound was "rubbing Liverpool's noses in it".
The Guardian report similarly:
Arsenal had hoped the 26-year-old would agitate for a move from Anfield once they triggered what Suárez and his representatives believed to be a release clause in his contract. But, aside from telling Liverpool that he wants Champions League football next season, the striker has not sought outside assistance from the Premier League over the transfer.
This all means that if Arsenal were to get their man, they'd need to bid the price Liverpool value the player at – £55m according to The Mirror:
Arsenal will have to pay £55million if they still want Luis Suarez, after the striker dropped his pursuit of arbitration as a means of leaving for less.
They add that Liverpool may accept a lower bid from a club abroad but have absolutely no intention to sell to a Premier League rival, as was widely reported last week.
The Mirror also claim Suarez re-iterated his desire to play Champions League football this coming season at talks with the club this week.
Quite clearly, Liverpool are extremely irked by Arsenal's stance during this saga and Suarez's options have therefore become thin; remain at Anfield, or hope a club from abroad bid the required amount for him.
Suarez could make his first appearance at Anfield since biting Branislav Ivanovic in April when Liverpool host Olympiakos for Steven Gerrard's testimonial on Saturday (12:45pm kick off).