Aaron Cutler is full of praise for our new centre-half who has begun the season in fine form.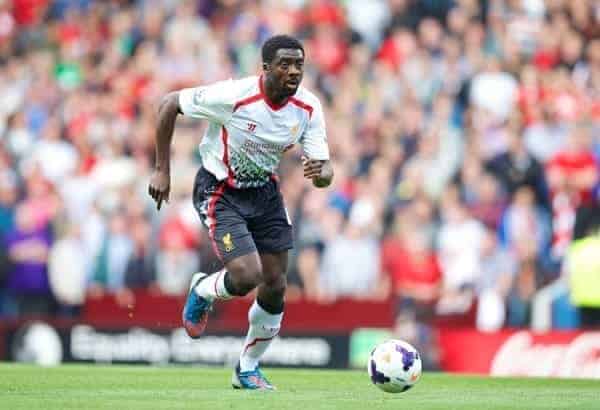 When Liverpool announced the free signing of Kolo Toure this May more than a few eyebrows were raised. The Ivorian international had become somewhat of a forgotten man, featuring only sporadically for Manchester City since a well publicised ban for his use of dietary pills. Seen as no more than a stop-gap while the club hunted Jamie Carragher's true replacement his arrival was hardly toasted in the pubs around Anfield.
A brooding 6ft man mountain, Toure's career had scaled many highs since leaving him homeland in 2002. He arrived at Arsenal as a ball-winning midfielder, only for Arsene Wenger to mould him into a dominant centre-half. Indeed, dominant would best describe that Arsenal side who waltzed to an unbeaten league title with Toure and Sol Campbell as defensive lynchpins. The former's towering performances earned rave reviews, his brute strength and sheer will to win adding a steel Arsenal so badly lack in 2013.
A popular figure in and around Highbury the charismatic Toure also added two FA Cups to his North London trophy haul. His eight year spell with the Gunners ended on a sour note however after a bitter fall-out with teammate William Gallas. Angered by perceived intimidation at the hands of the Frenchman, Toure had a transfer request rejected by club chairman Peter Hill-Wood. He played-on for a further three months before sealing a £14m move to mega rich Manchester City in July 2009.
Highly-rated by incumbent boss Mark Hughes, Toure was appointed club captain as Sheikh Mansour's revolution began to take shape. With Kolo at the heart of defence City climbed to a fifth place finish, three points short of Champions League qualification.
The Ivorian's career then reached a watershed as new boss Roberto Mancini stripped him of the captaincy and relegated him to the status of squad player. In and out of the side the following season he failed a drugs test in the wake of a Manchester derby later that year. It soon emerged the defender had in fact taken one of wife's diet pills, which – unbeknownst to him – contained a banned substance. Devastated by the fallout, Toure was made to serve a six month ban.
Returning to the fold for City's title winning campaign of 2011/12 Toure made just 14 appearances and a further 15 last season before being released on a free. Generally regarded as 'past his best' he was destined for the footballing scrapheap before Brendan Rodgers came calling.
A curious signing, he was viewed as either Gary McAllister mark II, or a has-been hunting one final pay day depending on your view of the world. Questions were raised about fitness and hunger (no pun intended) at the age of 32. Nevertheless, from day one Toure set-about quelling such fears and making the most of his last hurrah.
The usual rhetoric about being honoured to play for Liverpool and our legendary support was spouted but you sensed rare sincerity. Toure seemed genuinely humbled and appreciative to be handed another shot at a big club given his age and recent struggles.
Impressing his manager in training he soon began stamping his authority on pre-season games. As imposing as ever he seemed to have retained a degree of pace also, surprising many. In a defence lacking authority Toure displayed a refreshing desire to attack the ball in both penalty areas, seemingly hell-bent on notching a first goal on tour. Alas this never came but he won an army of admirers for that outright enthusiasm.
Billed as a replacement for Carragher he is in fact very different. Yes both show leadership but Toure's game is a cultured mix of attributes whereas Carra defined the stereotypical English centre-half. That is by no means a slight on Jamie just an observation that the pair are cut from very different cloths.
As the weeks have passed it has become clear Liverpool may not be adding another centre half to their ranks, despite speculation linking them to anyone resembling a pre-2012 Martin Skrtel. In light of such inactivity Toure has gone from supposed back-up to obvious starter for the visit of Stoke on the opening day.
In a manner befitting his character he stepped-up and led from the front. Typically commanding in the air he minimised any threat posed by Peter Crouch but also appeared finely tuned with his fellow rearguard, Daniel Agger. The starting XI were able to play a higher-line with him in the side, enabling Lucas to press high and Liverpool to dominate from the off. This became impossible towards the end of last season due to Carragher's lack of pace. The difference was telling.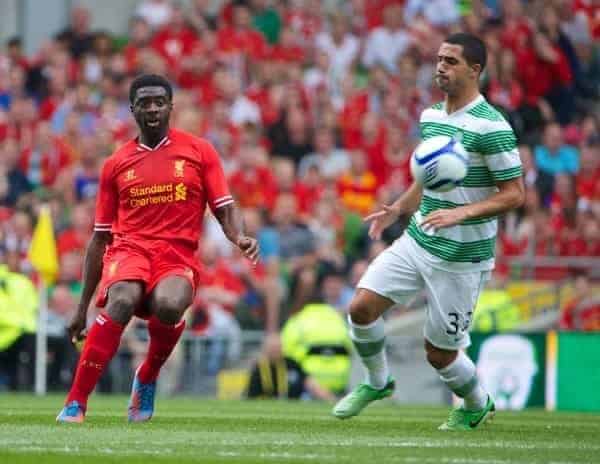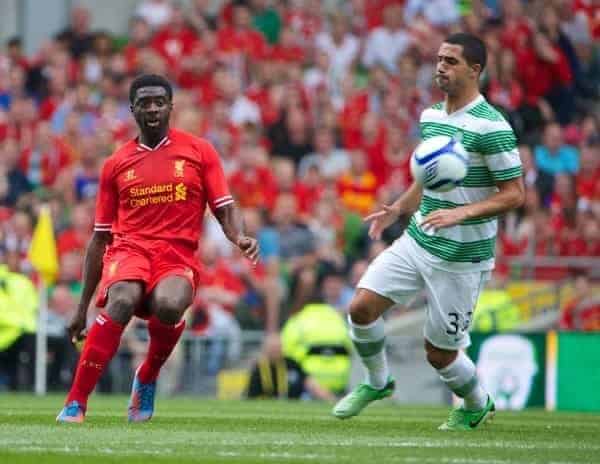 Toure was also calm in possession, happy to play out from the back in the style preached by Rodgers. At the same time he would go long when circumstances dictated, avoiding the 'either or' vacuum that so unsettled Skrtel at times last year.
Vocally he was consistent, organising those around him and engaging in some serious sledging with Crouch throughout. Three moments in particular defined his performance and underlined the type of player Liverpool have acquired.
On 13 minutes he leapt powerfully to head a corner onto the crossbar, almost shattering it in the process. As a collective sigh swept the ground Kolo screamed in displeasure, outwardly angered at what he viewed as a bad miss.
On 74 minutes he collected the ball from deep before feeding a pass to Daniel Sturrdige. Suddenly noticing a lack of support beyond the England man, Toure set-off on a burst that was as hilarious as it was admirable. Impressive in the sense it displayed a real determination to influence the attack and kill the game off; comical in the fact the run itself had no bend, disguise or guile to it whatsoever. No, Toure's dart was literally straight, resembling a tank charged with crushing all in its path. It delighted The Kop who lapped-up the enthusiasm.
Then on 88 minutes when Stoke were awarded a penalty to snatch victory from our grasp nobody seemed as incensed as our number 4. Inconsolable, he put his hands to his temple and screeched in agonised disbelief. Sixty seconds later he was the first player to clamber onto Simon Mignolet as the Belgian celebrated a heroic double stop. Then – as others weighed-in to follow suit – the Ivorian ushered them all away, literally pushing Steven Gerrard out of his path in order to defend the incoming corner. A born winner.
That win was not solely down to Toure but he played a major role and certainly endeared himself to his new public. So much so that The Kop were chanting his name on debut – no small feat. Almost sensing his new cult status, Toure followed victory up with a fantastic interview in the Echo. In it he thanked the supporters for that immediate bond and vowed to repay their faith in him.
True to his word he went into Saturday's game with the unenviable task of keeping Christian Benteke quiet. Undeterred, Toure succeeded where Arsenal and Chelsea had failed, restricting the monstrous Belgian to mere scraps. The stats were impressive – Kolo winning 75% of duels and 67% aerially – this opposed to Benteke's showing of 35% and 42% respectively.
Toure again displayed an unapologetic will to win, almost too eager at times as he challenged for every single ball – even when standing off seemed the better option. Nevertheless his desire sets a precedent and an example to those around him. Brendan Rodgers once spoke about signings needing the right mentality to prosper at LFC – Toure has that in abundance.
It is of course early days and he will need to be managed throughout the season. He will surely be rested for tomorrow's night's visit of Notts County for instance but will have a pivotal role to play when we host United on Sunday.
At 32 Toure is younger than Gerrard but seems to have been around for an eternity. In that time he has amassed tremendous experience and has the personality to help the younger members of our squad. Lest we forget he has won two Premier League crowns and attained more than 100 international caps – such achievements are exclusive to a Liverpool side built around youth.
As mentioned, Gary McAllister's impact was heroic – at 36 he had the class to not only affect games himself but also nurture the talent of protégés such as Gerrard and Danny Murphy. If Toure can exert even half as much influence as everyone's favourite slaphead he will prove an inspired signing.
To this point Toure has played a key role in what has been an excellent start to the campaign. If our Stoke showing was a joy to behold Villa was somewhat more restrained and ground out. In truth the latter may have been more satisfactory, proof the team have developed a resilience often lacking last term and maybe even a 'plan B'.
United will prove a totally different animal but there is no reason why Liverpool cannot cause them problems. The inter-changeability of Coutinho, Aspas and Sturridge will worry Messers Vidic and Ferdinand, while a re-energised Lucas will be on-hand to snuff out the artistry of Cleverly and Kagawa. The Brazilian needs a big game as his sheer nuisance sets the tone for such fixtures.
Should Liverpool win three points this weekend a decent start becomes a terrific one and we can push on to a series of 'winnable' games until we visit Arsenal on November 2. A caveat to that would be a strong finish to the transfer window. The feelgood factor surrounding our initial business has been diluted by the failure to add to that in recent weeks. Big players are being linked and big players are going elsewhere. Sadly we no longer have the pull our history once exerted, with players chasing Champions League football as well as big salaries. Frustration seems to be creeping in, with Rodgers hinting at disapproval in Thursday's press conference.
The Northern Irishman is clearly desperate to add a left-winger but it could be argued the squad needs strengthening in weaker departments. In spite of Toure's fine form the defence needs bolstering, particularly with Sebastian Coates now sidelined for most of the season. Skrtel is clearly out of favour and the intention is to send Andre Wisdom on loan. Will we revise plans and renew our interest in Kyriakos Papadopoulos? Can we afford not to?
Lucas too needs cover/competition as he remains our one combative midfielder. His is a demanding role and he is noticeably tiring at the end of games as he works his way back to full fitness. Introducing Joe Allen at such junctures is not the answer.
The next week is critical for Rodgers but more importantly FSG. Right now we are in credit for our summer dealings, while big earners such as Andy Carroll, Pepe Reina and Stewart Downing have been offloaded to trim the wage bill. Rightly or wrongly it reeks of cost-cutting.
John W. Henry and his business partners may have been prepared to bankroll big moves but to this point none have come to fruition. That has left a restless fan base convinced we are two or three players away from a serious tilt at the top four. Rodgers too may find his relationship with his American bosses strained should he be short-changed for a successive summer.
Once in a while a bargain like Kolo Toure pays off but if the club seriously expect success on the cheap they are in for a rude awakening. Here's hoping we add quality to the starting eleven between now and Monday, with any arrivals sharing that same passion so obvious in our new cult hero.