Facing up to the reality of a future without Luis Suarez, Joseph Copeland is positive Brendan Rodgers has built a mean attacking machine at Liverpool.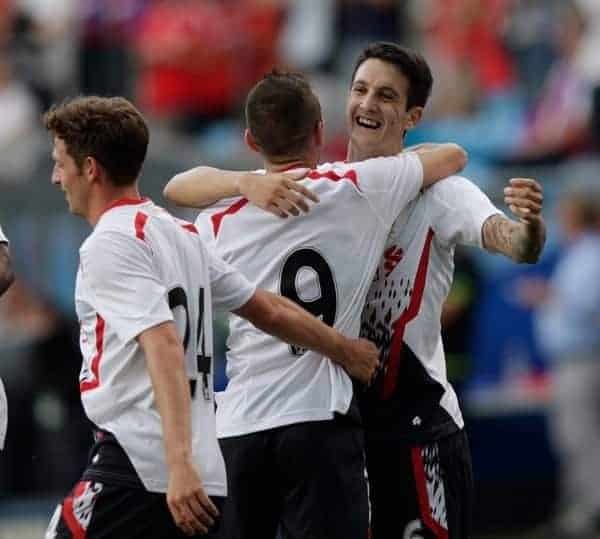 If you're a Liverpool supporter, these past few months of "Will he" or Won't he" with Liverpool's Uruguayan starlet Luis Suarez have become monotonous. One week he wants to leave the country as a result of poor press coverage; only to declare how flattered he was by interest from Arsenal the next. There is no denying the mesmerizing talents of Suarez. His 51 goals in only 90 games for the club are clear evidence of this. It is a fair assessment that the 30 goals the Uruguayan netted last season were an essential part of what Brendan Rodgers was trying to achieve in his first season at Anfield. However, for half a season it was Suarez alone in the attack. To thrive under that much pressure to score is still something that must be commended, even now in these testy times between club and player.
The January purchases of Daniel Sturridge and Philippe Coutinho were seen as reinforcements. However, both players hit the ground running. Sturridge bagged 10 league goals in only 14 appearances. As for the diminutive Brazilian, his future looks as bright as any youngster in the Premier League. His 3 goals and 5 assists from 13 games tell only half the story. His sublime technical ability on the ball and exquisite vision are light years beyond a player of his age (Coutinho is 21).
Sturridge formed an instant working partnership with Suarez; however there were times when the England International was left wanting by Liverpool's No. 7. In order for Sturridge to truly flourish in a center forward role, he must be the focal point of the attack. In his defense, things usually go well when the play goes through him. At 6'2, he has both the size and pace to be the driving force in any attacking lineup. Spurs boss Andre Villas-Boas summed up what Sturridge brings to the game in 2011 as Chelsea boss.
"He is an extremely quick player, and he has technique and pace. You get plenty of pacey players, but what is important is that he arrives with the ball, he can control it and do something with it. That is what he offers." Villas-Boas told reporters.
At just 23 years old, the Liverpool faithful have yet to see the very best of Sturridge. Should Suarez depart in this transfer window, you would be well placed to put money on "Danny", as he is affectionately called, taking close to 20 goals this campaign.
Coutinho might not replace the goals should Suarez leave, but he would definitely pick up the slack in the creativity department. His innate ability to unlock any defence is a beautiful Plan B to have if you're Brendan Rodgers. Once touted as "The future of Inter" by Inter Milan president Massimo Moratti in 2010, Coutinho has thus far exceeded any expectations from Liverpool. His 8.5 million pound move to Merseyside was seen as a bargain. Should he continue in the rich vein of form we saw the last half of 2013, "bargain" might become "steal". Like Sturridge, youth is on the Brazilian's side. We saw what he could do with a consistent run of games, and if he can improve his match fitness, he could be something very special for Liverpool.
Rodgers has continued to reinforce his attacking options this summer in the form of Spaniards Iago Aspas and Luis Alberto. Aspas brings proven success in top flight European competition after his time in La Liga with Celta Vigo. Alberto seems to be a purchase in the mold of Coutinho, in that he is young and has a tremendous upside, but lacks any consistent top flight experience.
Nobody will be able to replace Luis Suarez, there is no question about that. However, the player that comes closest to emulating him would be Aspas. At 26 years of age, he is entering the prime of his career. He brings a fiery passion to the pitch that is always entertaining. He has an insatiable appetite for the game, and it seems the only time he would consider stopping is to celebrate a tremendous goal or assist. Aspas can play out wide as a winger, or through the middle, which should see the Spaniard finding many opportunities to see action. He has settled in nicely with the club, having already scored 4 goals during Liverpool's unblemished pre-season thus far. His link up play with Stewart Downing and Alberto in particular, should be extremely encouraging for Rodgers and fans alike. Having scored 12 goals and racking up 7 assists in the Spanish top flight last season, it would not be out of the question to expect around the same production at Anfield. With Suarez out, there would be 30 extra goals to go around, and I feel adamantly that Aspas would relish that opportunity.
Luis Alberto arrives at Anfield on the heels of a 6.8 million pound transfer from Sevilla. Alberto has spent the majority of his career in the Segunda division, which is a notch below La Liga. He spent last year on loan with Barcelona B, where he scored 11 times in 23 appearances. Only 20 years old, Alberto has a lot of growing still to do. It would be unreasonable to expect him to adjust as quickly as Coutinho was able to. However, from the pre-season matches we've seen thus far, Alberto is confident on the ball, can deliver a deadly through ball and has a solid scoring touch. Check out this finish versus Valerenga.
Now let's think about this for a minute. An article on the Liverpool attack should Suarez leave and I've left out Steven Gerrard? It is by no means a slight to the Anfield legend, but I foresee him playing a deeper role this season, thus preventing him from bombing forward like the old days. 8 goals and 8 assists would be just what the doctor ordered from Stevie G. Look for the continued development of winger Raheem Sterling in his second year with the 1st team. His outstanding pace and agility will be quite useful against the more cumbersome sides in the Premier League. Forward Fabio Borini also returns from injury as well. His work rate and movement off the ball should see the Italian notch a solid 5-7 goals should he stay healthy.
The beauty of Liverpool's attack, with or without Suarez, is the versatility it offers to Rodgers. All the aforementioned players can play in multiple positions across the front. As a result of this there are a plethora of lineup options for Liverpool going forward this season depending on the opposition. So should Suarez finally leave, Liverpool fans should not worry too much. His departure is well covered.