Luis Suarez has claimed he is "not desperate to leave" Liverpool, but insists he wants to reach an "amicable agreement" to join Arsenal.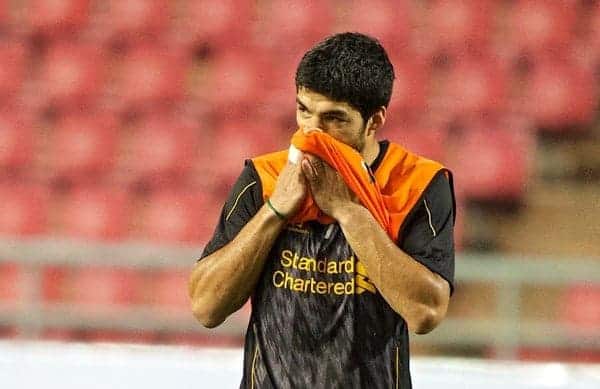 The latest quotes from Suarez, given to Spanish sports newspaper Marca suggest Suarez has realised he's not done himself any favours with his talk of "betrayal" at Anfield earlier this week.
Suarez has now been forced to train alone at Melwood with Brendan Rodgers unhappy at the Uruguayan's attitude in pre-season training and games.
His outburst on Tuesday night, to the Guardian and Telegraph in which he falsely accused Liverpool of denying him a buy-out clause in his contract, has been met by fury from the fans and little sympathy from the press.
Arsenal, who have already had two bids rejected for the 26-year-old, must now step up with an improved offer of at least £40million if they are to continue their pursuit of the forward.
Today Suarez told Marca, with quotes translated by the Independent, "I'm still defending the Liverpool shirt and I will do so until the last minute.
"My aim is to reach an agreement with the club in a friendly manner and I hope the clause we agreed a year ago is fulfilled. Up to now, it hasn't been.
"It's not that I want to or am desperate to leave, but I like things to be clear and a year ago I made my position to the club clear."
Suarez was also unhappy at his loyalty to Liverpool being compared to captain Steven Gerrard, who celebrated his testimonial at the club on Saturday and will finish his career as a one-club player.
He continued, "Gerrard has a lot of history with Liverpool and his words are very important but everyone should understand that I need to play the Champions League to keep growing as a footballer.
"Now I have the chance, I want to take it.
"A Champions League team [Arsenal] is making a big effort to get me and one always wants to be where they feel comfortable."
Suarez also spoke about the rumours this summer that he could pack his bags for Real Madrid, although the Spanish giants are yet to make an approach for him.
He added, "There were a lot of rumours [about Real] that were different to reality: Madrid never called me personally or Liverpool to try and negotiate.
"Every player aspires to reach the top and Real Madrid is among the most important clubs in the world. It would be very difficult to say no to Real Madrid."
Beginning to sound like a broken record now, Luis…