Newcastle were so bad last season, even Fabio Borini scored against them! Rory Fitzgerald tells us what we can expect from the opposition on Saturday.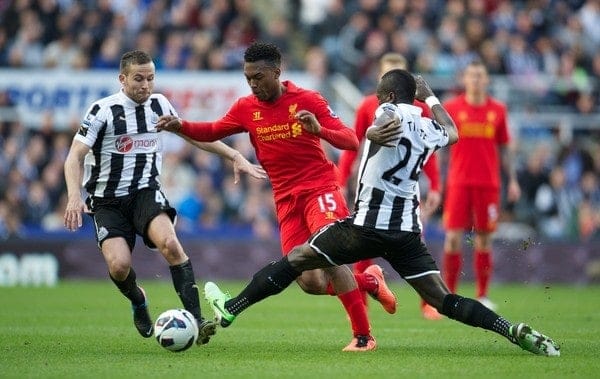 Newcastle v Liverpool
Saturday 19th October 2013, 12:45pm
A team of 2 halves
The Newcastle United team this season have a very clear strength and a very clear weakness that simply breaks down as their 'attack and defence'. The dichotomy within the team is almost perfectly reflected in their early season form a record of 3 wins, 3 losses and the other being a draw. Appropriately for this team, its black and white with little apparent grey area. The enigmatic performances don't even stretch from just game-to-game but even half to half.
Pardew after Everton defeat:
"The 1st half, I'm afraid, wasn't good enough. The inconsistencies I spoke about before the game have come back to haunt us again. We defended so much better in the 2nd half. We didn't gift them any goals. They had to earn their chances and we caused them all sorts of problems".
Pardew after Cardiff victory:
"1st half – wow – was some performance it really was, one of the best halves I have seen as Newcastle manager. But this team does really need a health warning because 2nd half we didn't keep it as well or create as much as we would've liked – and had to have a grandstand finish unfortunately".
Set up
Newcastle's shape is very much a 4-2-3-1 type set up. The defensive midfield duo is generally Sissoko partnered, mostly by Suarez's old Ajax team-mate Vurnon Anita, or less frequently, Cheik Tiote. Yohan Cabaye has been the player given licence to get forward and support Papiss Cisse and feed the likes of Loic Remy and Hatem Ben Arfa. However, at times Sissoko will also use his energy to break forward. These are likely to be sporadic bursts from midfield rather than stationing himself in an advanced area, Cabaye is the player likely to position himself at the apex of the midfield.

On the set up above after the Villa game, Pardew commented that "We played very, very well today and I thought some of our play was what it should be at Newcastle. We have a real attacking mode at the club and that's the type of offensive side I want to put out, but I have been unable to do so really since Demba Ba left". Against Liverpool, it will be the 1st home game since being humbled at Goodison Park – should Pardew seek to appease the fans and field his favoured attacking line-up, the above is what can we expect.
Mode of attack
The attacking strength within this team is very definitely carried by the wide players – Remy on the left & Ben Arfa on the right. However, 'wide' is something of a misnomer. Whilst they will be stationed wide, once they receive possession their initial instinct is to look to carry the ball infield and attack towards goal. Pardew has stationed Remy on the left to allow him to cut in on his right foot whilst Ben Arfa is predominantly left-footed and dribbles infield from the right to get a shot off.
Below is Remy's goal against Cardiff. Initially Cardiff are attacking (1st screenshot) but the pass into the striker is intercepted. The interception falls to Sissoko who immediately looks for Remy (2nd screenshot). I will touch on Remy's positioning further on but for the sake of the attacking side of Newcastle's game, this approach has allowed Newcastle to counter swiftly with Remy getting down the line in the final screenshot and cutting inside to get a shot off which managed to beat David Marshall to give Newcastle the lead. Also of note is there was alot of running in this move from Sissoko.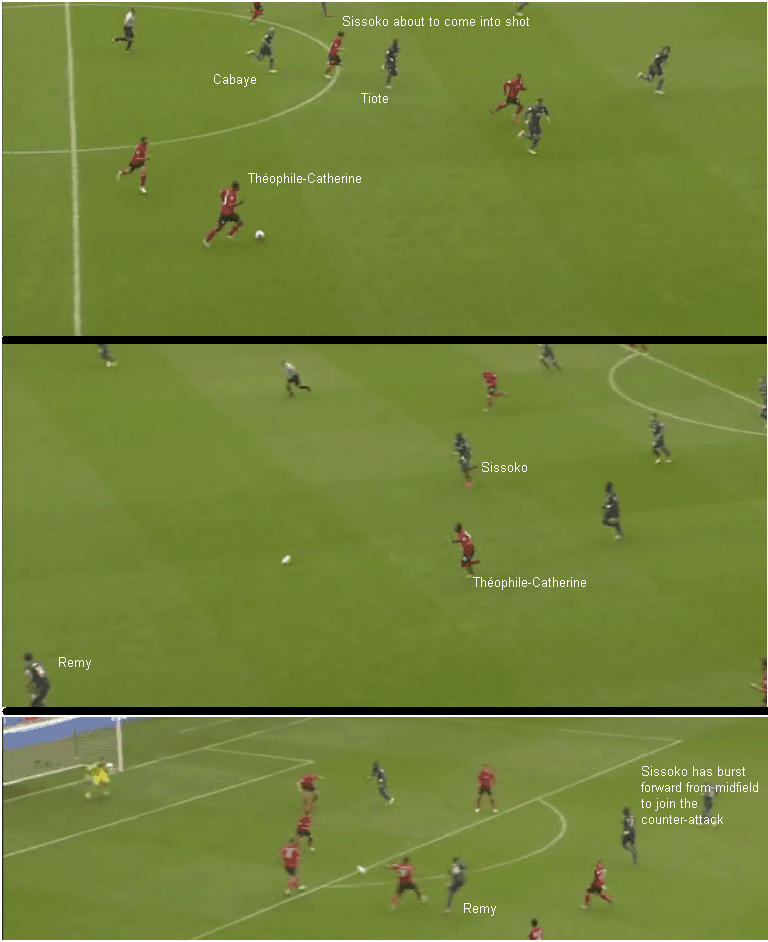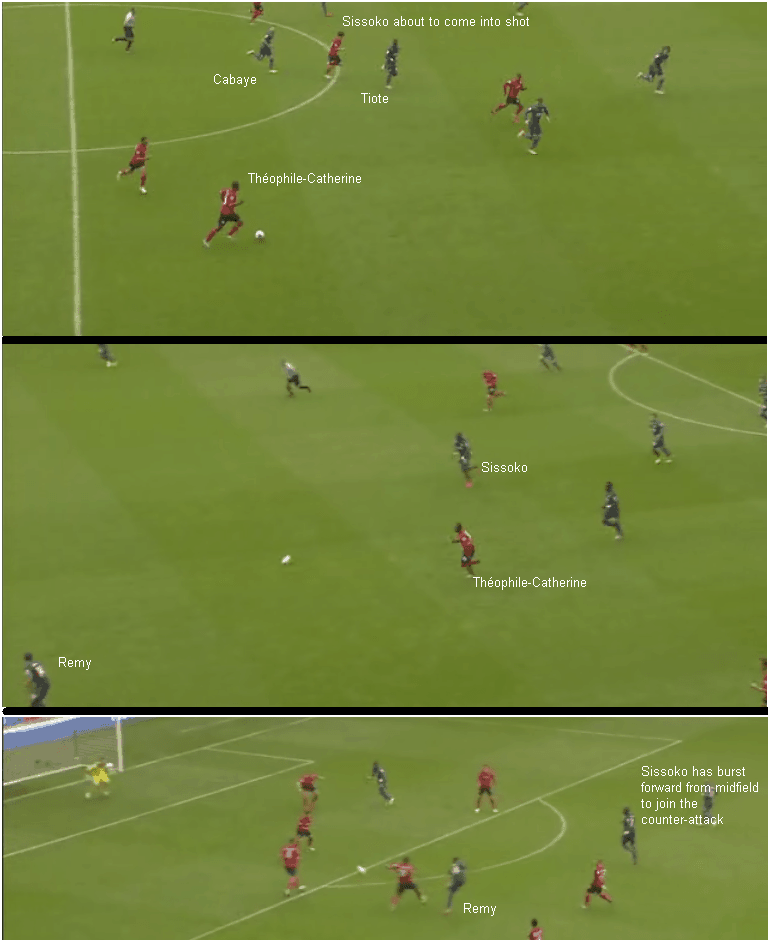 On the other side of the pitch, Ben Arfa demonstrates the same tendencies though he is a bit more willing to go on the outside for the cross. However, if there is any space inside, he will look to exploit it. By coming inside, he is likely to be supported by Cabaye in the attacking midfield role and have a willing runner from the left in Remy who will look to get into the box when the play is not coming down his flank. As an example, here are 2 separate attempts by Ben Arfa vs Villa that almost look identical. In the 2nd screenshot, Guzan could only parry the shot out to Gouffran who scored the winner from the rebound. This bears some similarities to Giaccherini's goal at the Stadium of Light i.e. a long shot parried out and capitalised on by the opposition.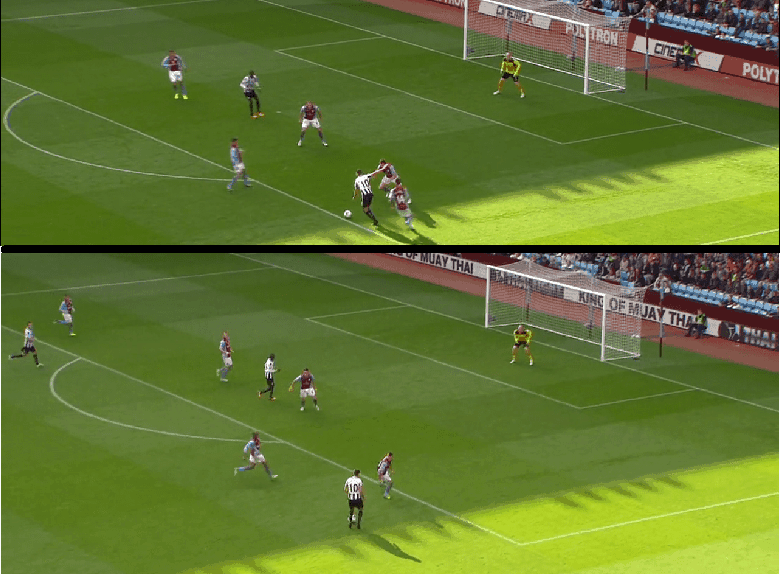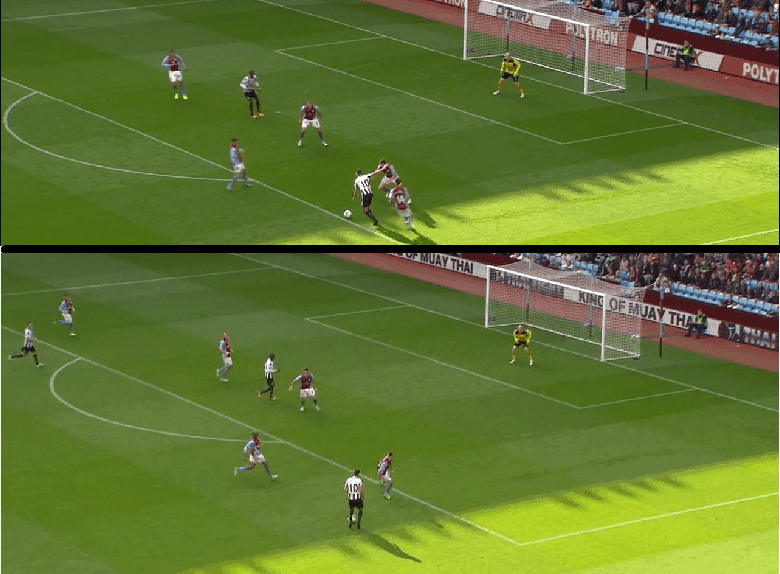 Below are the heat maps of both Remy & Ben Arfa from the recent home game against Hull City. Apart from being almost identical, they would seem to show 2 players that receive the ball in wide areas inside the oppositions half but try to move infield the further forward the play is. Also, there is a limited presence in the wing positions near the goal line for providing crosses.

Threats from distance
Linked to the above analysis, Newcastle have taken the 3rd most shots on goal in the league this season and those 2 wide players average the most shots per game for Newcastle. Also something to be considered is that Newcastle have taken the most shots from outside the box this season. As such, should the likes of Remy, Cabaye and Ben Arfa find the kind of space that Sunderland got outside the box only 3 weeks ago when Liverpool played away in the north-east then we could be facing quite a few shots again, though from better strikers of a football.
The threat from Remy is depicted below in the 1st graphic. No other club has got off more shots from the left side of the pitch. Additionally, with Cisse off form and Cabaye only starting half the games so far, Newcastle's attempts from the middle of the pitch are 3rd lowest (2nd graphic). The threat from Newcastle is from players cutting in and getting shots off with the final graphic showing where Newcastle have got their goals from.

The Achilles heel of this Newcastle team is their defence. However, the strength & weakness of this team are not mutually exclusive issues and are linked to;
(a) the attacking tendencies of the full backs, Debuchy & Santon, combined with
(b) the limited cover afforded to them by Remy & Ben Arfa, and finally
(c) the inconsistencies from Coloccini's partner be it Yanga-Mbiwa or recently, Mike Williamson.
The primary concern for Newcastle in defence is the exposure of the full backs with little support from the wings. However, from looking at Newcastle compared to other teams they seem to be purposely exposed. Its happened too often for it to be just a lapse. By largely absolving Remy & Ben Arfa of defensive responsibilities, it helps Newcastle pounce on the counter attack like they did against Cardiff when they found Remy quickly as he was not asked to track back (graphic already shown above). Liverpool's opponents after Newcastle is West Brom at Anfield who play a similar(ish) system but their wide players work so much harder and are detailed to support the full backs, unlike Newcastle.
In the graphic below, Santon faces Wiemann in the left back area. Nothing to see here. However, in the space of 5 seconds, Wiemann moves infield with the ball and drags Santon with him. He checks back and finds Lowton who has run into the void to provide the overlap. Note that Remy has shown no interest to help his full back despite facing the play and being able to see Lowton sprinting 30 yards to create a 2-on-1 on the flank. Anita has covered El Ahmadi by this stage but the space at left back has caused their best defender, Coloccini, to be drawn a few more yards out of the center when ideally he will want to be dropping back in to defend the cross.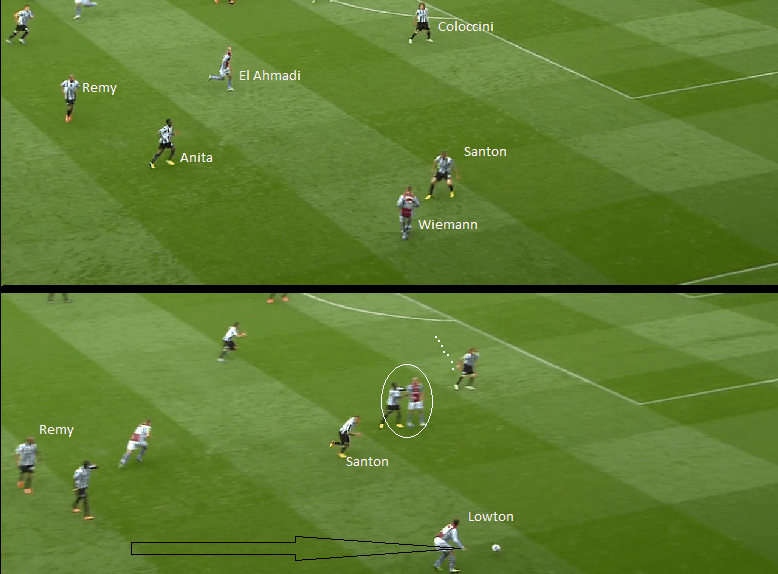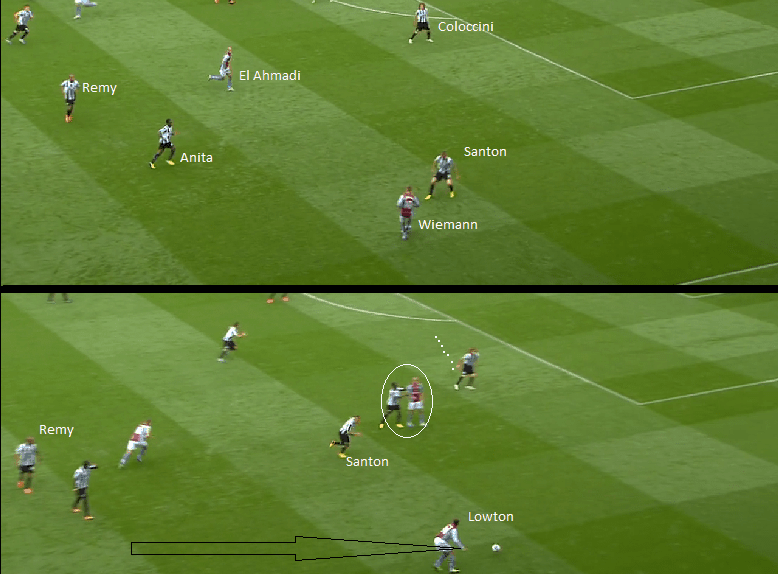 A similar case occurs below with Remy in the Hull City game. The progress of how play develops is provided within the graphic. Ultimately Hull don't capitalise this time.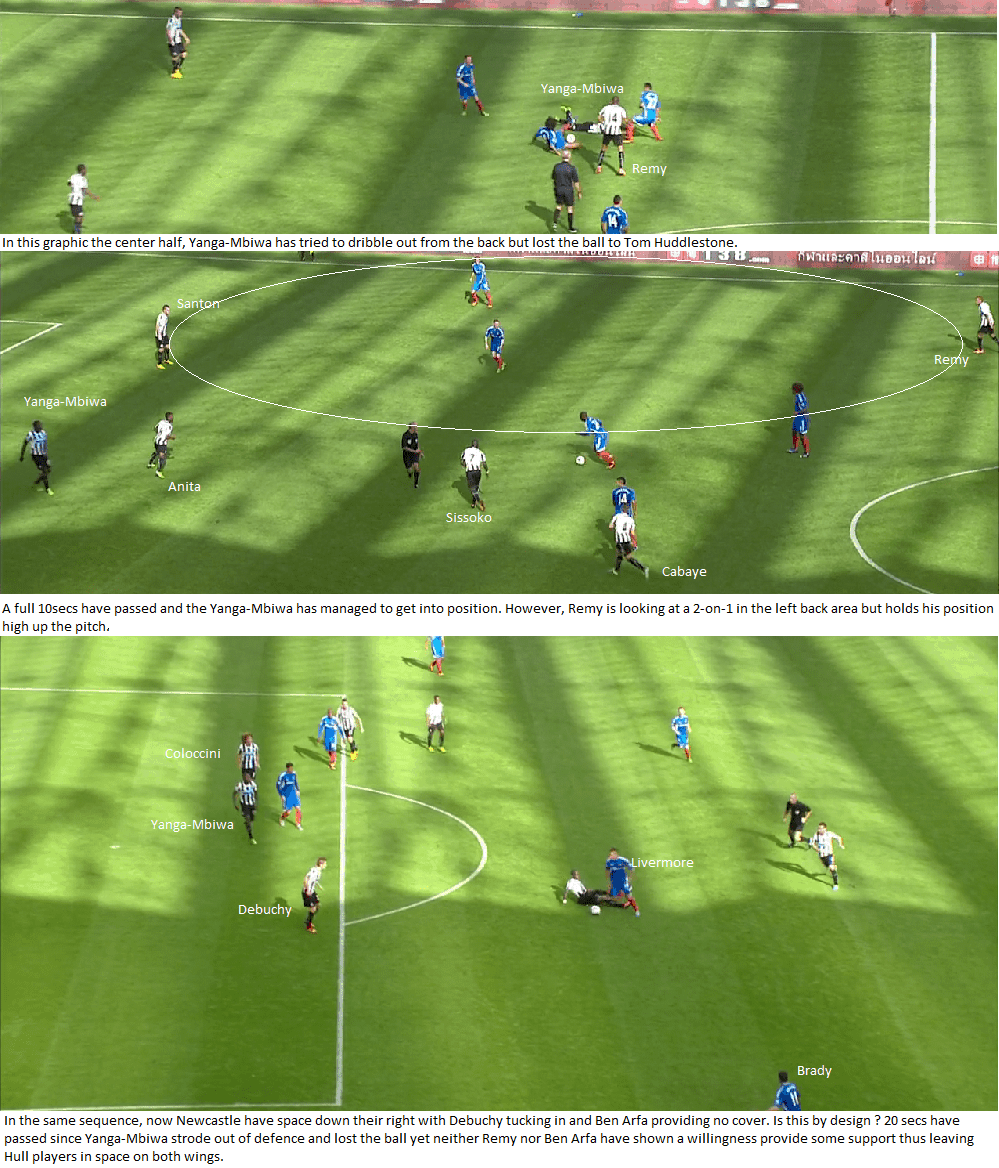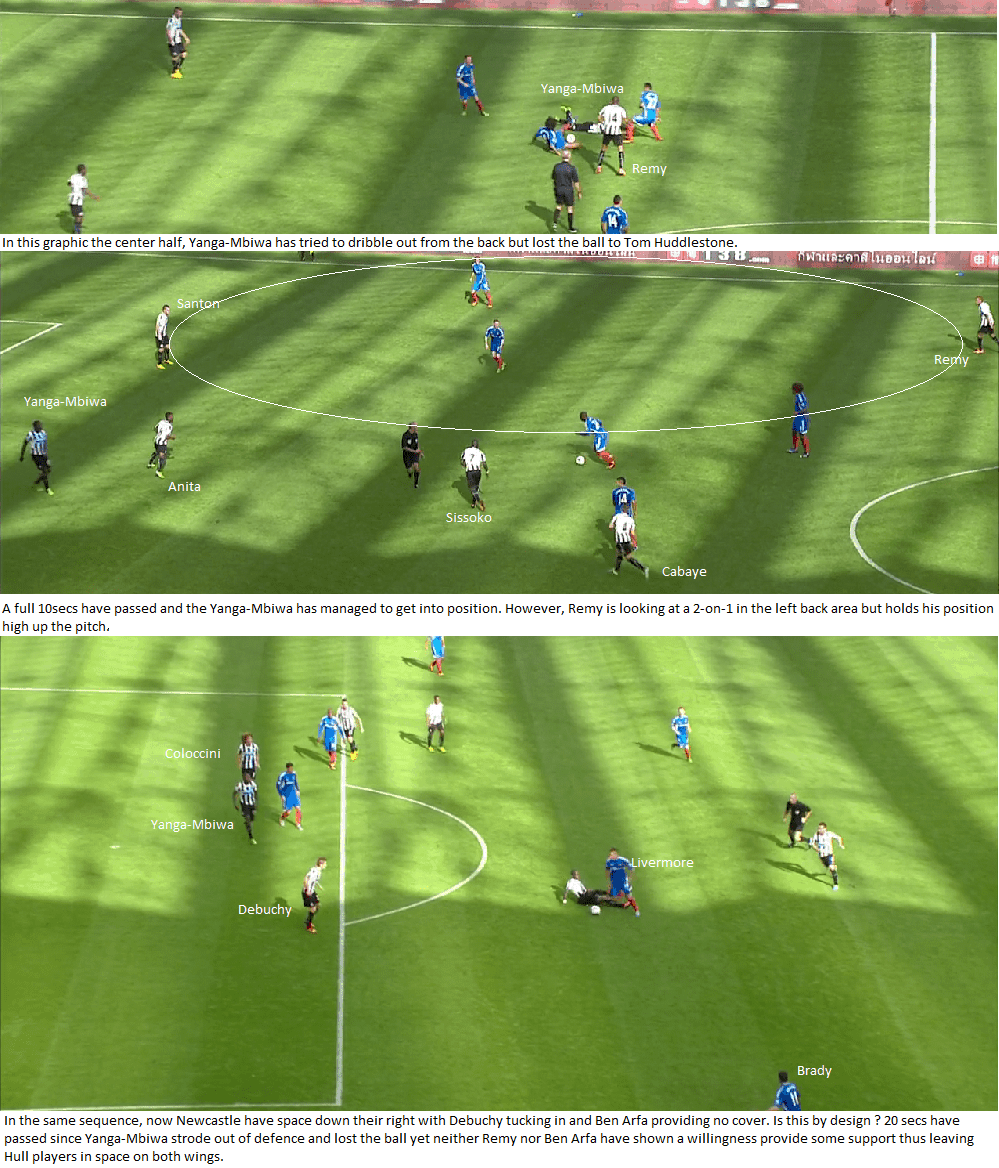 Whilst Hull didn't take advantage in the sequence above, their equaliser came from a not-too-dissimilar passage of play. Again, a description of the play is provided within the graphic.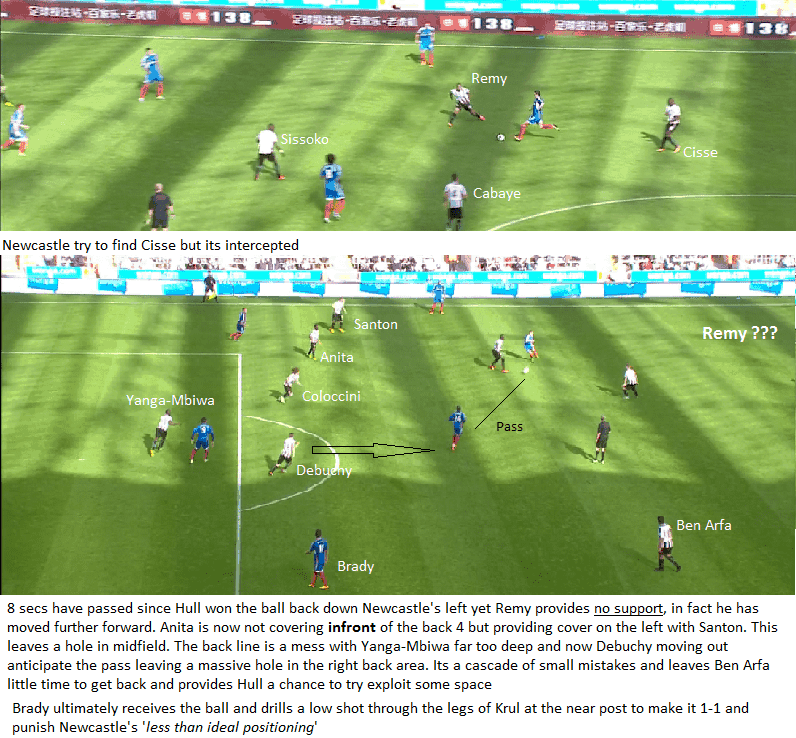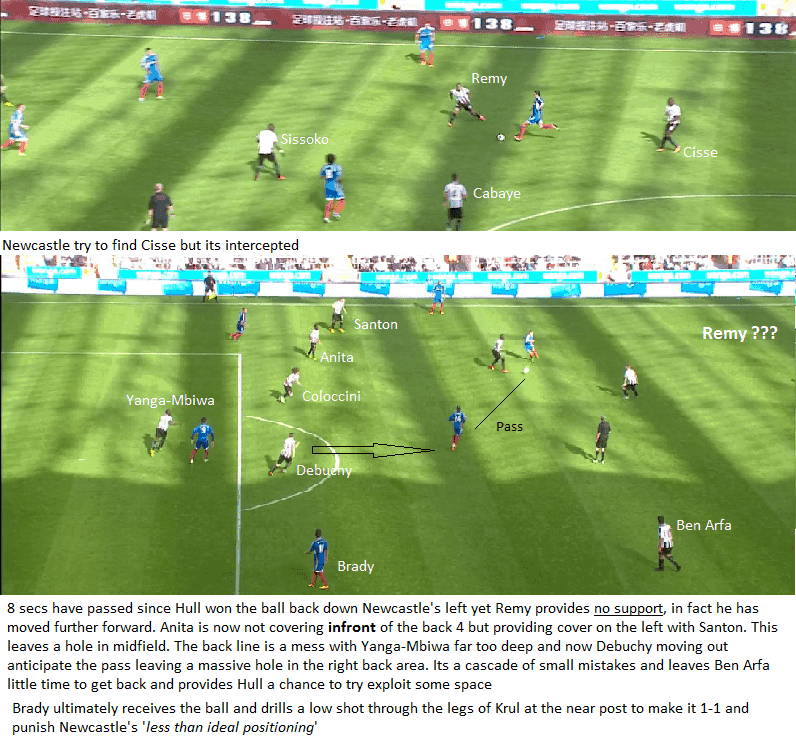 Capitalising in wide areas
Liverpool's new systems of 3 centre backs and 2 centre forwards is still in its infancy and its difficult to draw any definitive conclusions from it as yet. However, something did strike me on the odd occasion in the Sunderland game and the Palace game. Conventional wisdom requires a strike partnership to operate close to each other to provide support and more often than not that was on show in both games. Yet, on the odd occasion, I noticed that the space between Suarez and Sturridge to be quite vast.
Both Suarez and Sturridge are very good individual footballers. Both have excellent control, have the willingness to try & ability to beat 1 or 2 defenders and recently showed their unselfish side in setting up chances for each other. As such, allowing them to operate almost independent of each other on opposite sides of the pitch has certain benefits;
(a) it stations a player in each channel and offers an opportunity on either side of the pitch for the player in possession when the ball is won back,
(b) it gives the opposition a headache – can the fullbacks continue to drive forward and risk splitting the center-backs,
In the defeat to Everton, the full backs of Debuchy (RB) and Santon (LB) were constantly caught out of position and center-backs of Yanga-Mbiwa & Coloccini caught for pace. Debuchy can be rash in a tackle and, at times, positionally suspect. He's particularly prone to being beaten by long, diagonal balls in behind him and can also be caught out flying up the right-hand side of the pitch too which is a danger when the player ahead of him is usually Hatem Ben Arfa who is never going to offer much cover. Perhaps this is something that Brendan Rodgers might look to exploit with the individual ability of Suarez & Sturridge when Liverpool are defending deep i.e. when Newcastle are playing in our third of the pitch, allow Sturridge and Suarez to spread out either side of the center circle which can give 2 different options on either side of the pitch should we intercept and look to attack quickly. Obviously, such positioning does not make sense when in possession and the opposition are not susceptible to a quick counter as they have fallen back into position when we move up the field in possession, its the wing-backs that will become more important in the wider areas should their wide players ignore the threat.
Below is the goal against Sunderland. Liverpool have 8 players in deep areas to defend and leave 3 players high up the pitch but also, spread right across the front line to stretch the opposition and provide different outlets. This is not too dissimilar to what Newcastle have been doing with their wide attackers, its just Liverpool have been able to defend somewhat better than Newcastle in such situations.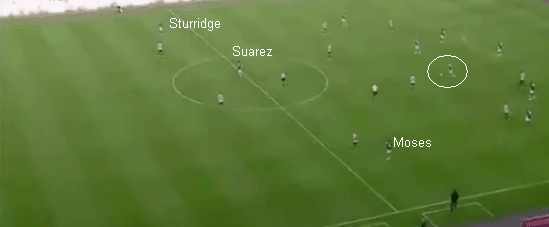 Below is an example against Palace. Again Gerrard has the ball in a deep area and again, Liverpool have options both wide right and wide left to provide an option on each side and stretch the oppositions defence. Its early days to draw any conclusions but perhaps we may see something similar against Newcastle especially considering this seems to be where they are softer in defence. Perhaps when we are under threat, we are dispensing with orthodox positioning of the strikers and acknowledging that Suarez & Sturridge can operate individually especially when we stretch the oppositions defence so that there is space for them to drive into should they receive it early.



Conclusion
3 weeks ago in the North East, Sunderland got off 23 shots against Liverpool though with only 5 finding the target. If Liverpool suffer the same amount of shots, Mignolet could be in for a much tougher afternoon as instead of Craig Gardner and Adam Johnson taking aim, it is likely to be the players already detailed above and who have all scored from outside the box this season. In the event that Newcastle do start with Remy & Ben Arfa wide and should their early play see them cutting inside and causing trouble – an unorthodox move to mitigate it would be to switch Toure & Sakho as it would be easier to tackle on their favoured foot when the attacker cuts inside. In 2007, Benitez played the right footed Arbeloa at left back against Messi because Messi was only ever going to come inside thus it would be easier for a right footed player to tackle in those situations than a left-footed one. Personally I don't think there is a chance of it happening, but its an out-of-the-box idea should we find ourselves fire-fighting in the 2nd half if we are under pressure and trying to defend a lead.
Should Pardew put out his favoured attacking team at home to appease the fans, Liverpool could find space in wider areas and could be able to drag their defence out of shape – which has been achieved by other teams. By pushing the wing-backs on, we could overload their defence in wider areas and create 2-on-1 situations. However, if Liverpool are wasteful, Newcastle have a set up which could trouble us if they can get the ball to their danger men. Despite having the 11th most possession so far this season, Newcastle have recorded the 3rd most attempts at goal and the most from outside the box. As such, Mignolet could be quite busy as he was in the 2nd half at Sunderland. As I mentioned above, Sunderland's goal came from a shot hit with little pressure from our players and Giaccherini capitalising on the rebound from Mignolet's save.
Ultimately, I will leave you with this quote from Alan Pardew and which makes me thinks this analysis has been futile as no one knows what kind of Newcastle will turn up on Saturday – least of all Pardew – who had this to say after the Cardiff's win;
"For our fans, that was a bit of payback for Monday night (3-2 defeat at Everton), I think they'll enjoy that result and we can all go into the bar and scratch our head a little bit about our team and ask, are we really good or are we really bad, we're not really sure".
References: whoscored.com, squawka.com