A disappointing performance against Newcastle could prompt Brendan Rodgers into making a number of changes for this weekend's game with West Brom. Ben Twelves discusses the different options open to the manager.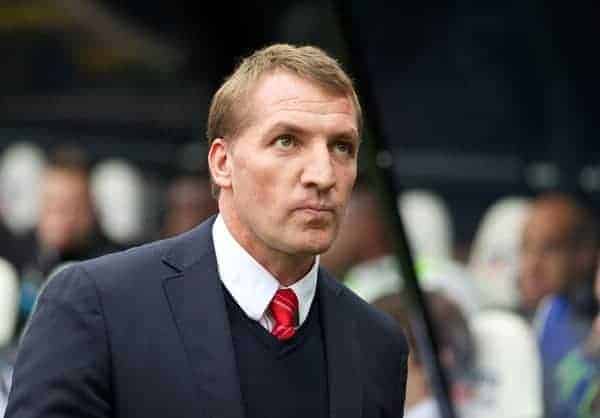 Liverpool were forced to battle back from behind twice to claim a point at St James' Park last Saturday, after a sloppy performance in large parts. The result almost felt like a defeat to some sections, a slightly harsh criticism born out of the frustration of having carelessly let Newcastle retake the lead, and failing to grind down their ten men to win the game. It was an uncomfortable, disjointed and typically tired looking performance after the international break from Brendan Rodgers' men, and it is sure to be one that they will no doubt be looking to move forward swiftly from this weekend.
West Bromwich Albion are the visitors to Anfield on Saturday and The Baggies arrive on Merseyside unbeaten in their last five league games after a tricky start to the season. But for Liverpool, who dropped a place in the league table to third, the game is a must win fixture before we travel to North London for a tough game at league leaders', Arsenal.
The main talking point in the build up to the match is if Rodgers decides to stick or twist with his teams' formation as he continues to search for the form that his side displayed throughout the second half of the last campaign. If there is one thing that the flat Newcastle performance has done, it's that it has certainly given Rodgers something to stew over. Does the formation change? Do other players come into the team in the same shape? Or should the team remain exactly the same? There are cases for all of those and the many more options at Brendan's disposal so let's take a look.
3-4-1-2 & Change of Personnel
The swap to this formation has been viewed as a change that Rodgers was forced into due to the injuries and suspensions to certain personnel in the squad. It has proven to be a fairly effective short-term fix, as results since the change have brought seven points from a possible nine in league matches and the only defeat came in the forgettable Capital One Cup tie at Old Trafford. The teams' performance hasn't drastically changed though – we still suffer from the increasingly worrying second half syndrome and the middle of the park looks even more of a problem area as we sacrifice control of the midfield.
The performance on Tyneside has given Rodgers the perfect excuse to make one of two moves. One of those is to actually show faith with 3-4-1-2 and make some bold changes to the team selection. It has been written here before, but Martin Skrtel's continuation in the starting team makes Rodgers' decision to rarely use him in the second half of last season contradictory and confusing, if he is now first choice. Skrtel has done well since he's come back into the team, make no mistake, but surely it is only a matter of time before vice-captain Daniel Agger takes over from the Slovakian to join the new and preferred Kolo Toure and Mamadou Sakho.
Steven Gerrard's evident inability to now play every game showed at St James' Park and the Captain's tired legs contributed to a lethargic performance. The importance of managing Gerrard has been spoken of previously and this weekend, resting him could be a wise option. That opens the way for a return to the team for Lucas realistically, but Joe Allen would be the preferred player to come in to allow us to keep possession better than we have been recently.  We could look like this but of course, permutations are open to debate:

The return to 4-2-3-1
The other move for Rodgers is returning to the formation that saw his team perform best. Of the structures that Brendan has played since he took over as Liverpool manager, 4-2-3-1 is what worked best. It is the shape that I feel has made the team look most settled and reverting back to it is an option that should be looked at, despite the absence of Philippe Coutinho, as something needs to change if we are to find the type of performance again that we are desperately in need of. Luis Suarez can drop into the withdrawn role or Luis Alberto could be given a chance behind Daniel Sturridge. Suarez could even play wide of the three with Victor Moses on the other side and one of Jordan Henderson or even Joe Allen if not Alberto, can fill in to create a flexible attacking midfield three.
It would mean some big decisions for the manager as two defenders would make way (we saw how four centre backs worked v Southampton) to accommodate Glen Johnson and Aly Cissokho as the full-backs presumably. It's a tough decision to pick two of Skrtel, Sakho, Toure and Agger as all have done well so far, but for me it is finding one of the remaining three to partner Agger. Who that is, is too tough to call but it would be one of Sakho or Toure. The changes could see Liverpool look along the lines of this:

A slightly different option could be:

However, if we were to revisit 4-2-3-1, I would imagine Brendan to pick a team that looks like this:

The results so far this season have been far better in the most part than the performances and experiment is needed to find form before we go into the tougher games. If we can pick up wins while playing poorly, that's great, but playing well and dominantly will always make winning games more comfortable. Let's hope that the form that we are in search of returns on Saturday, along with three more points.
What would your starting 11 be on Saturday? Let us know below…