Luis Suarez has recently declared himself "comfortable and happy" being at Liverpool adding "this is my home." Ben Twelves takes a look at how much longer that could be the case.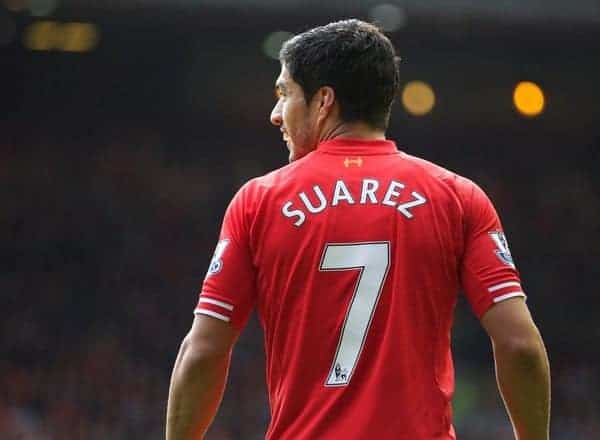 Despite what I interpreted as good intentions from Brendan Rodgers and FSG over their resilience in keeping hold of Luis Suarez throughout the summer transfer window, I have to say I didn't expect to see him in the red of Liverpool again.
Thanks to those in charge at the club, El Pistolero is still with us, in as good a form as ever and really does seem to be enjoying his football once again in what is the strongest team we've had during his time at the club.
It's exactly how I wished it would all work out in the end. Suarez is scoring goals, causing havoc for opposition defences with unplayable performances and the team as a collective are on the rise with the Uruguayan's assistance. To me however, it almost feels too good to be true.
Whenever I start to worship the man for his world class talent in the number seven shirt, I can't help but think that this is the same person who was absolutely desperate to abandon our club and sacrifice all of the love we had shown him in order to secure a move away.
I find it hard to just accept that Suarez has simply had a sudden change of heart and is now happy to stay at a club that he previously couldn't face being at for one more minute. Suarez isn't here through choice at the end of the day, the club refused to sell him, much to their credit of course.
I do wonder if he has been told that whether we secure a return to the Champions League or not, he will be allowed to move on to Real Madrid or whoever will cough up the funds for him, having given us one more year of service. Don't get me wrong, if he genuinely has seen the light and is around beyond this summer, I'll be as delighted as the next Suarez-adoring Liverpool fan.
Of course, Suarez could genuinely have had a change of heart. Seeing the team strengthened as much as it has been in a short period of time with owners who are prepared to invest should the deal be right for all parties, may have provided Luis with the reassurances needed that the club want to move forward to levels and competitions he craves to compete in.
He has spoken of his desire to "help the team" since his return to action and continue the good form that we have begun the season in. He said in an interview with Sport 890 radio station in Uruguay that "we are still aiming for the top" despite defeat to Arsenal showing that he exists to win trophies, not just make up numbers.
All these comments are exactly what we want to hear, but some of them do feel as if they have a 'while I'm here' edge about them.
Luis has come out and said how happy he is at Liverpool currently and at the same time dismissed speculation linking him with Real Madrid once again.
Taking that at face value is of course great news. His strike partner Daniel Sturridge has spoken of his belief that Luis will be around for a while yet in an interview with talkSPORT: "The club, the players and the fans all want Suarez to stay and I'm sure he will." I wish I shared his confidence.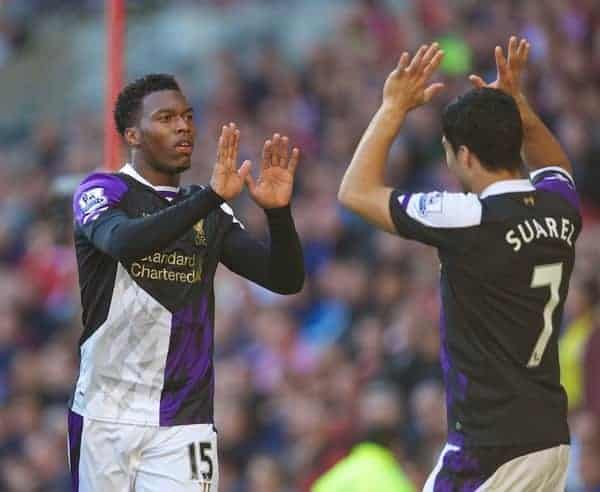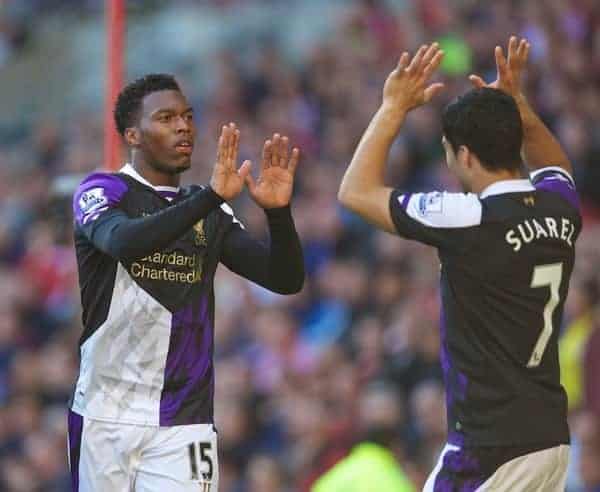 It's no secret what the club want to achieve come the end of the season and if we are to finish in the top four, it will have involved a huge contribution from Suarez.
Will a return to the competition be enough to convince him to stay and lead us into battle on our return? That was seemingly why he pushed for a move to Arsenal, so taking that view then yes, it should be. I'd certainly like to think so, but am I kidding myself?
Some fans have quickly pointed towards his typical performances on the pitch as a display of his happiness at Liverpool. But Suarez is Suarez when on the field of play. No matter who he is playing for, his style will never change.
It isn't one level of performance for Liverpool and another for Uruguay, that isn't Luis Suarez. The problem is about who he wants to be giving his all for. Is that for our beloved Liverpool? I'm not so sure.
We know what Anfield is like on a European night; the standing Kop, the noise, the atmosphere as we begin another adventure on our way to conquering Europe but Suarez doesn't.
Is it enough for Luis to just hear the line "imagine this place on a European night" from Steven Gerrard, Daniel Agger et al?
I'd love to believe it would be enough to convince him to stay and want to experience it for himself and the incentive of qualifying of course, is that we then put ourselves in a better position of keeping Luis, but there still seems an element of doubt over whether Liverpool is where he wishes to remain long-term.
It's a fact that Luis will always have the world's top clubs queuing up for his signature and that will be no different whether we are in the Champions League or not. The important thing is we get there, giving Luis the best possible reason to stay.
Whether or not qualification would be enough to convince him to remain at Anfield is another thing completely. Personally, I doubt it will.