This season there has been a lot of talk about our SAS (Sturridge and Suarez) and rightly so. Both have been superb. Suarez has 26 goals in his last 29 games for Liverpool while Sturridge has a mere 22 goals in 30 appearances for the club. Going beyond the numbers, both players pass the eyeball test as well. They really do tear teams apart both individually and as a partnership and it's great to see.
Having said that though, neither would be my LFC player of the season so far. It's our new goalie Simon Mignolet who would get my vote. He has been quite magnificent, hence the slightly cheesy title of this blog.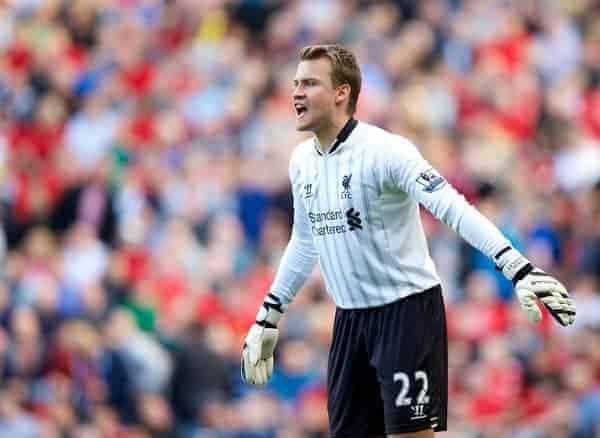 There was a lot of apprehension amongst the fan base when it became obvious the club was looking for a new goal keeper. The incumbent, Pepe Reina was a very popular figure and the feeling was that although he had lost a bit of form in terms of shot stopping and maybe coming for crosses, he was slowly getting back to his old self. His distribution remained at a high level and he was a big character in the dressing room so most fans wanted to keep him.
We paid £9m for Mignolet so it was clear at least to me that he was going to be our number one goalie. However Brendan Rodgers said he and Pepe would provide competition for each other and distanced himself from speculation linking Pepe with Napoli or Barcelona.
It had been rumoured for months that Barca would be looking for a new keeper this season as their keeper, Victor Valdes had told them he would not be signing a new contract (he had one year left on his current deal). Pepe Reina was the keeper Barca wanted as Valdes' replacement and rumour was that Pepe would have jumped at the chance to go to them. It later became apparent that Liverpool were aware of the situation and so made sure they found a replacement for Pepe before he left. As it turned out Victor Valdes stayed at Barca for the final year of his contract and there was no need for them to sign a replacement in the summer, leaving Pepe Reina rather high and dry.
Although publicly Brendan was saying Mignolet and Pepe would fight for the position it became clear that Liverpool were looking to offload the Spaniard. Rafa at Napoli eventually took him on loan. It worked out quite well for Pepe as both his old manager and his favourite goal keeping coach Xavi Valero were at the club. Napoli are a top side in Italy and are in this year's Champions League. However he had this to say after leaving:
"If I have one regret, it is the way that I am leaving. It is only natural that I would be disappointed that the Liverpool management agreed to loan me to Napoli without telling me first. I thought that I deserved better than that even though I understand that difficult decisions have to be taken in football. A lot has been made about me informing the club that if an offer came in from Barcelona that I would have liked them to consider it. But I had also spoken to the club about the possibility of extending my contract if the offer was not made. I told the manager that I wanted to play for Liverpool and that Barcelona would only become an option for me if the opportunity arrived, like the rumours said it would, as it would give me a chance to go back home. When it didn't come I was happy to fight for my place, so I was surprised that Liverpool decided it was in the club's interests to send me to Napoli instead."
This is like a guy saying to his girlfriend "Babe listen, a couple of the guys at work have told me that Kim from accounts really fancies me. She's really beautiful and her family is rich so I want to see if she'd like to be my girlfriend. If she's not interested then I'd like us to get engaged. What do you think?"
I don't know about any of you but that wouldn't have gone down well with any of the girlfriends I've ever had.

.@PReina25: try to win always,this is our mentality and I think it's the best one in football http://t.co/D4btWHbKnR pic.twitter.com/tdMyJScLE6

— Official SSC Napoli (@sscnapoli) November 26, 2013
The club took the opportunity to find a better, younger alternative, available for half the wages Pepe was earning and once they signed Mignolet its clear they wanted rid of Pepe. I don't blame them, in fact I think it was clever. Given the fact the club is trying to get its finances in order. £80K-£90K for a number 2 keeper? That would be madness.
Some of the fan base, people more suspicious of FSG saw it as asset stripping. Cutting as much cost as possible so they could sell the club. Well, nobody seems to be moaning about selling Pepe now.
I know its early days and I'm aware things can change but purely going by his form so far Mignolet is the best Liverpool goalkeeper I've seen. He has made important world class saves in every game this season. Ray Clemence was before my time and I only remember the back end of Grobbelar's career where he pulled off great saves but committed many howlers. David James was known as calamity James. Sander Westerveld was pretty good to begin with but turned into a nightmare. Jerzy Dudek was also very good in his first season but got progressively worse every year after. He did help win us the Champions League however.
Pepe Reina was excellent in his first 4 seasons, with his distribution superb but his form deteriorated. Check out his save percentage stats below

Last season Pepe saved just 55% of shots on target in the penalty box. So basically when an opposing player took a shot in the box, almost half the time the ball would end up in our net. Whereas Mignolet saved 68% of shots on target in the box last season.
Also telling, is that last season Pepe saved just 28% of clear cut chances faced. Mignolet saved 43%.
The figures below show that Pepe is well ahead in the distribution stats. We probably knew that already.

< I couldn't find any stats for this season but it wouldn't surprise me if Mignolet's save percentage is even better this season (in the 90s maybe?). He has won us a lot of points this season, I'd go as far to say that if we had an average keeper we'd be in mid table. When a keeper is that good at keeping the ball out of the net his distribution is a bonus. Please keep it up Mignolet. Everton 3-3 Liverpool. What a game eh? A classic people are calling it and I agree. In the previous blog I said my head says 2-2 but my heart says 3-2 to us. I wasn't that far off but really, taking clear cut chances into account, it should have been 7-5 to Everton. The defending from both teams was quite dreadful. The first 2 goals, our goal and theirs… They would give defensive coaches nightmares.
You want to know what gives me nightmares? Our midfield. Or to be more accurate our lack of midfield. I have never in my life seen any opposition team have as many clear one on one situations with our goal keeper and the amount of times they had 4 against 3 or 3 against 2 situations against our defence was frightening. On those occasions when we managed to scramble the ball clear, the ball would still fall to an Everton player in the midfield area. It looked as if Everton had 15 players on the field. "Where the fuck is the midfield!?" Was my favourite rhetorical question during the 2nd half. All of them performed disappearing acts during the game.
Steven Gerrard aka Harry Houdini put in the worse performance of his career. He was shocking. Not by his standards either, but by anyone's standards. Had he been playing for Tranmere Rovers like that against Stanley, their manager Ronnie Moore would be thinking "fucking hell, think I might need to give Stevie the hook here". Stevie had 3 moments of quality. 2 set pieces that led to goals and a beautiful cross that Suarez should have buried. None of our other midfielders can create chances like that so Gerrard simply has to play in my opinion.
Lucas Leiva aka David Copperfield was doing my head in giving away foul after foul outside our penalty area as if there would be no consequences. Maybe he's unaware that Baines is deadly from free kicks, Lukaku is deadly in the air and our defending from set pieces is deadly. At times Everton ran rings around Lucas. He made some important blocked challenges and interceptions but is so slow on the turn these days. An attacker with skill and pace tend to go past him with ease. The way Ross Barkley was taking liberties in the first half, he made our midfielders look like cones on the training ground.
Joe Allen aka David Blaine was alright in possession in that he was one of the few able to pass to a team mate when we were under pressure. But when Everton had it he was too easily bypassed and you can't really rely on him to win a 50-50 challenge can you? The less said about his miss the better. 'Shocking' is an overused word in football but I was genuinely shocked to see the ball slotted wide. It wasn't even close to the goal. Fucking hell.
Jordan Henderson aka Dynamo was so anonymous I can't begin to describe his performance. He ran around a lot with intent but the only thing of note I remember from him was when he attempted a volley in midfield with nobody behind him, sliced the ball horribly and 2 seconds later Mignolet was pulling off another great save.
Philippe Coutinho aka Paul Daniels scored a neat opener but then went missing for very long spells as he tends to do against the better sides. He struggles to impose himself on the game against good sides. You feel this will come on during the next stage of his development.
Our midfield is good enough against the lesser sides and does well against teams that allow us space. Give Gerrard or Coutinho time and space and they'll kill you. Lucas will control a game if given time. But when up against quality, or pressing teams, especially away from home, the midfield consistently does the disappearing act, we struggle to pass the ball, we struggle to win the ball back due to our own lack of press and we drop points.
I think this will cost us in the long run so would like to see at least one quality midfield player with pace and power signed in January. M'Villa? Yes please.
The derby was a great game though, even if I did spend most of it with my head in my hands. I loved it when Sturridge equalised and ran to the Everton fans that were giving him abuse to do his dance. Brilliant.
The league table still looks pretty, we're second after 12 games. Still in a position we'd have taken if offered before the start of the season. So while there may be things that concern us we can still enjoy the season so far.
Hull City up next and I'm expecting 3 points but these sort of away games are always a potential banana skin. The players, with a full week with no games should be focused for this one. Surely we will have too much quality for them. Their 3 wins at home have been 1-0 wins against Sunderland, West Ham and Norwich. They lost last week to Crystal Palace.
Hull actually try to pass the ball under Steve Bruce but will probably see set pieces as their main weapon against us. I'd be tempted to go with Toure and Sakho from the start because I think Agger and Skrtle are too easily bullied. Although Johnson was as useless in the derby as a pair of binoculars are to Stevie Wonder he has to start at right back and after a very impressive display, young Flanagan should get the nod at left back. He was very good indeed in the derby, outperformed everyone except for Suarez and Mignolet in my opinion. I don't really rate the lad, but I've got to give credit where it's due. He did great and should be rewarded with another start. The position should be his to lose now until Enrique is fit.
I'd drop Allen and start with Sturridge in his place. Here is my side:
Mig the magnificent
Johnson, Toure, Sakho, Flanno
Lucas
Henderson, Gerrard, Coutinho
Suarez, Sturridge
Our league record against Steve Bruce sides isn't great but I think that will be put right on Sunday. We are the biggest club to go to Hull since they were promoted so their fans will be right up for it and the players will probably fly into us early on. That's when we need to control the game and give them no encouragement. I think we will have some scares during the game but eventually win it 3-1.
Cheers.