In the latest edition of 'Where are they now?', Scott Taylor reviews the career of English striker David Amoo – who left the club in 2012 but is already on his third new club!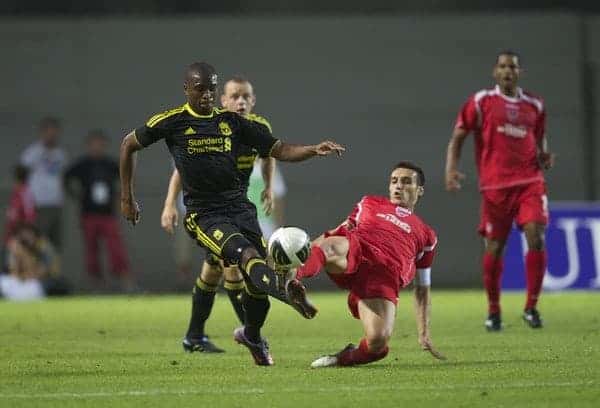 Amoo joined Liverpool from Millwall at the age of 16 in the Summer of 2007. His impact with the Reds was initially thoroughly impressed at Under 18 and reserve level. He was rewarded with a two year contract at the end of the 2009/10 season.
Amoo ticked all the boxes for the Liverpool staff and after the contract and the training with the first team squad, he arguably accomplished his biggest achievement with the Reds, as he was named in Liverpool's Champions League squad for the 2009/10 season. In fact this was the last time Liverpool played Champions League football.
He was named in Liverpool's squad for the 2010/11 Europa League, and made his full debut on the 29th July 2010 against Macedonian side FK Rabotni?ki. The Reds comfortably won 2-0 – David Ngog with both the goals – but unfortunately for Amoo he did not make any significant impact.
After his debut, people could argue that a loan move could only benefit the forward and consequently was loaned out to League One side MK Dons in January 2011. His move only lasted a month and overall Amoo made 3 appearances for the club without scoring.
After returning to his parent club, Amoo was then loaned to Hull City for the remainder of the 2010/11 season. In March 2011, Amoo made his full debut for Hull, coming on as a substitute in a 1-0 away victory against Nottingham Forest. However, the 22 year old had to wait two months to get his first goal for the Yorkshire side, when he netted in a 1-1 draw against QPR in April 2011, QPR then went on to win the title and Hull finished 11th in the league.
In his 7 appearances for the Tigers, scoring once.
At the start of the 2011/12 season, Amoo was again loaned out in a bid to improve as a player, but this time to Bury. In October 2011, Amoo scored his first goal for his new side, in a 3-1 win over Yeovil Town.
The striker's loan deal was originally going to be for a month, but he then went on to play 27 times for the Shakers, scoring 4 goals, arguably his most successful loan spell of his short career thus far.
When he returned from his loan spell at Bury, Liverpool decided not to offer the forward a new deal, and his contract expired in July 2012.
In May 2012 before his contract expired, Amoo had agreed to join Preston North End for the 2012/13 season.
Preston's new number 7 had to wait until the 3rd November to score his first goal for his new club and like when he was at Bury, Amoo scored in an FA Cup game against Yeovil Town, which meant that he has 2 goals in as many games against Yeovil.
Unfortunately, for reasons unknown, Amoo's contract was cancelled by mutual consent in January 2013. During his brief spell at Preston, Amoo made 17 League appearances, but failed to score in the league, with his only goal coming against Yeovil.
Amoo then briefly found football at League One side Tranmere, his sixth club in 3 years and played until the end of the 2012/13 season, and in that 5 month spell, Amoo made 11 appearances scoring just once.
Amoo has now looked to have found some stability when he was announced as Carlisle United's first signing in the summer of 2013; unlike most clubs, Amoo only waited until 3rd August to score his first goal for his new side against League leaders Leyton Orient. Four days later, Amoo was in the goals again, as he scored a brace against Blackburn Rovers as Carlisle progressed to the next round of the league cup.
Since his move to Carlisle, Amoo has scored an impressive 6 league goals in 10 league games for his new side, plus his brace in the League Cup. So, despite his rocky career since leaving Liverpool, things look to be on the up for Amoo, as he will look to continue his fine form and become a better player.
Amoo must have learnt a lot from his loan moves and this experience may have helped the Englishman. He's still only 22 years-old so could still have a successful career ahead of him.
What are your thoughts on Amoo? Was he unlucky with his career thus far? If you have an answer to any of these questions then be sure to leave your comments below, and if you have any suggestions for players I can cover in upcoming editions of Where are they now, then also leave that in the comments below.
Finally, for more updates on former academy players, follow me on Twitter.