Liverpool fans have reacted to news that the Reds have have rewarded Luis Suarez with a bumper, four and a half year new contract – making him the highest paid player in the club's history.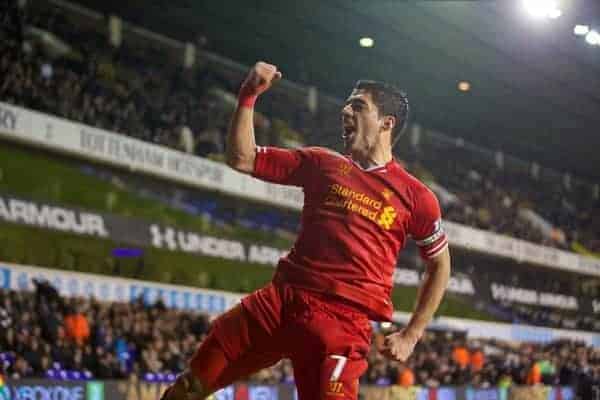 According to BBC Sport, and other mainstream media outlets, Suarez will earn £160,000 per week for the remainder of this season, rising to £200,000 per week for the four years after.
Whether a release clause has been included in the deal isn't sure, but is expected.
#LFC are delighted to announce Luis Suarez has signed a new long-term contract with the club: http://t.co/diU9OuarUi pic.twitter.com/VGnMfSD5Vm

— Liverpool FC (@LFC) December 20, 2013
News of Suarez's deal comes out of the blue, ahead of Saturday's match with Cardiff – which can put Brendan Rodgers' side top of the Premier League with victory.
Suarez, of course, has been in sensational form this season, scoring 17 goals in just 11 appearances.
Here's a selection of what fans had to say on the big news this Friday afternoon:

What are the odds on a Suarez hat-trick tomorrow?

— Green Scouser (@Green_Scouser) December 20, 2013
Hate to be a grass but former Red David Thompson @77thomo did promise to run naked around Anfield if Suarez stayed beyond Xmas. #LFC

— Peter McDowall (@Petermcdowall10) December 20, 2013
Great news about Suarez's new contract. Hacks and ITK's will have to look elsewhere for their January transfer rumours… Haha! #LFC

— The Redmen TV (@TheRedmenTV) December 20, 2013
Any objections to me giving it large for Luis Suarez tomorrow? Haha. #LFC #andforliverpooooollllllllllll #luissuarezzzzzzzzzzz

— Peter McDowall (@Petermcdowall10) December 20, 2013

https://twitter.com/pauldalglish/status/414042585087221761

— D E E P D A S T A R D L Y (@srijandeep) December 20, 2013
Contracts may not mean as much as they used to, but it's one hell of a statement and puts us in a strong position should Madrid come in.

— WHAT•A•HIT•SON•LFC (@whatahitsonlfc) December 20, 2013

https://twitter.com/MostarLFC/status/414035463138070528

Chuffed re: Suarez. I'd guess there's a (big!) release fee and perhaps provisos relating to CL qualification. At least he's happy for now

— Paul Tomkins (@paul_tomkins) December 20, 2013
What a time to be a Liverpool fan!

— LFCTS (@LFCTS) December 20, 2013

https://twitter.com/Liddellpool/status/414033285673517056