The 2011 January transfer window was a dramatic one for Liverpool, with huge fees being both paid and received by the club. Henry Jackson (@OnFootballTweet) takes a look back at an unforgettable day three years ago.

Transfer Deadline Day is always an intriguing, if slightly overhyped, day in the football calendar, with rumours regarding comings and goings at every club in the Premier League throughout the day.
31st January 2011 was a particularly extraordinary one at Liverpool. It saw a former Reds hero leave, a young player join for a fee three times what he was worth, and the arrival of a future Liverpool legend.
Torres
Fernando Torres was the aforementioned former hero. The Spaniard had been a great servant to the club since his arrival from Atletico Madrid in the summer of 2007- 81 goals in 142 games was an excellent return- but was showing signs of unrest.
His form hadn't been the same over the previous 12 months, with injuries and a poor attitude affecting his game dramatically. Rumours of a move to Chelsea were rife throughout the transfer window, and he made his move to Stamford Bridge late in the day for £50m, a British transfer record.
While some Reds fans were upset when he left, in hindsight it was a good decision by the club. Torres has never looked the same player he was between 2007 and 2009, scoring just 19 league goals in 99 appearances to date. His lightning burst of pace has gone and he is no longer lethal in front of goal. Liverpool enjoyed the best years of his career.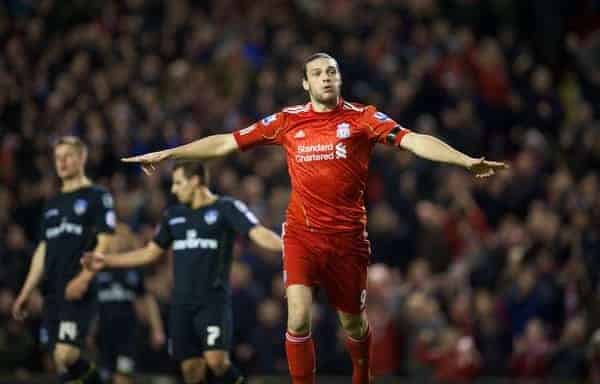 Carroll
Andy Carroll made a surprise move to Anfield just prior to Torres' deal going through, joining the club for a record £35m. At just 22 at the time, Carroll was seen a future England regular. Big, bruising and perhaps more subtle on the ball than some gave him credit for, there was excitement among Reds fans at his arrival. Some will deny it now, but the majority thought he would be a big success.
The former Newcastle man was a disaster in his time at the club, especially considering the vast amount of money Kenny Dalglish signed him for. He was rarely fully fit, and when he did play he struggled hugely.
Barring an impressive double at home to Manchester City in April 2011 and the winner against Everton in the FA Cup semi-final a year later, he had very little to shout about in a Liverpool shirt.
When Brendan Rodgers arrived it was clear that he didn't see Carroll as part of his plans, and after a loan spell at West Ham the move was made permanent last summer. He left Anfield for £20m less than he was originally signed for. In total, he scored just 11 goals in 58 games for Liverpool.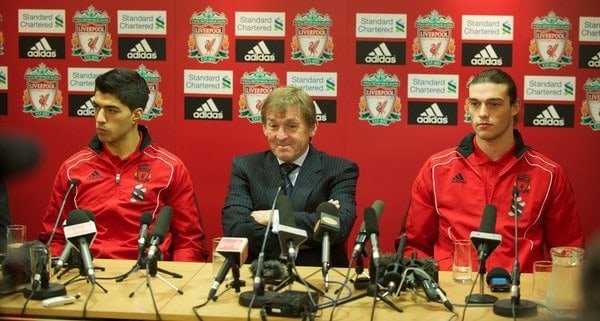 Suarez
If the purchase of Carroll was a disaster- some will say it wasn't a disaster because Liverpool made a profit thanks to the Torres deal, but that's no excuse- the signing of Luis Suarez was an absolute masterstroke by Dalglish.
Liverpool signed the then 23-year-old Ajax and Uruguary striker for £22.8m; a good deal at the time but an absolute steal when you consider what he's worth now. It's absolutely unbelievable, looking back, that he cost over £10m less than Carroll.
Suarez had starred at the 2010 World Cup the previous summer, and continued scoring for fun for Ajax, but no other big clubs seemed to fight Liverpool for his signature.
In his three years at Anfield he has been absolutely sensational, already cementing his name among the club greats and perhaps even winning the 'Most Talented Liverpool Player Ever' award. His first 18 months were very good, but he wasn't as prolific as many would've hoped. By the time the 2012/13 season started, however, Suarez had gone up a gear.
Last season he was arguably the best player in the Premier League, although it was a tight tussle between him, Robin van Perise, Gareth Bale and Juan Mata. The brilliant Uruguayan scored 30 goals in all competitions, and was a joy to watch.
This season he has got even better. There can be absolutely no doubt that he has been the best player in the league by far, and on current form he is one of the top three or four players in world football.
Suarez has 23 goals in just 21 appearances, with many of those strikes absolutely spectacular, and he is pivotal to Liverpool's top four chances. If he does stay at the club in the long-term which, let's be honest, is far from certain, I have no doubt that he will one day be considered alongside Dalglish and Steven Gerrard as the finest Liverpool player of all time.
Looking back at that fateful day in 2011, it's hard to say whether it was a success or a failure. While the failure of Torres and Carroll at their respective clubs still makes it hard to decide, surely the purchase of Suarez swing it in favour of being a total success.
Will Liverpool make any signings this Deadline Day? What are your thoughts on Torres, Carroll and Suarez since 2011?