It is 17 years to the day since Jamie Carragher made his first appearance for the club, and Henry Jackson (@OnFootballTweet) takes a look back at his wonderful Liverpool career.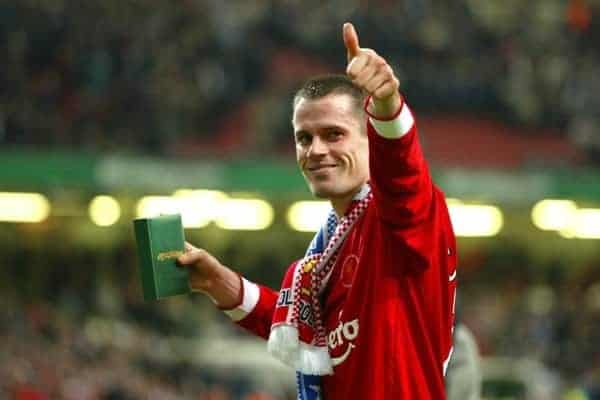 The date was 8th January 1997, and Roy Evans' Liverpool side faced an away trip to Middlesborough in the quarter-final of the League Cup. They may have lost 2-1, but the game will be remembered for the debut of a skinny 18-year-old who would go on to become a genuine Reds legend.
Jamie Carragher had worked his way up through the youth ranks- he won the 1996 FA Youth Cup after defeating West Ham in the final- and was seen as a good utility player who could play either in defence or midfield.
He was not a player blessed with great natural ability, but he was someone who worked harder than anyone else on their game. He also had that burning desire to win games that only the top players have in their armoury.
In the late 1990s Carragher was often a regular in new manager Gerard Houllier's side, whether it be at full-back or in midfield. At just 21 he won the prestigious Player of the Year award at the club in 1999.
Carragher remained a versatile player without a nailed down position into the 21st century. Centre-back was where the boyhood Evertonian longed to play, but the exceptional duo of Sami Hyypia and Stephane Henchoz were a tremendous pairing at the back.
He became the regular left-back during the historic treble-winning campaign of 2000/01, making a highly impressive 58 appearances in all competitions that season. He was highly dependable, and even converted a penalty in the victorious shootout victory over Birmingham City in the 2001 League Cup Final.
It was around the 2002/03 campaign that Carragher's game really went up a notch, and with Henchoz suffering from injury problems, he seized his chance and became first-choice centre-back alongside Hyypia.
In September 2003, disaster struck. Carragher suffered a broken leg after a tackle by Blackburn defender Lucas Neill, keeping him out for several months. Many wondered whether he would return the same player, but from the moment he came into back into the side he was Liverpool's second most important player, behind Steven Gerrard, for nearly a decade.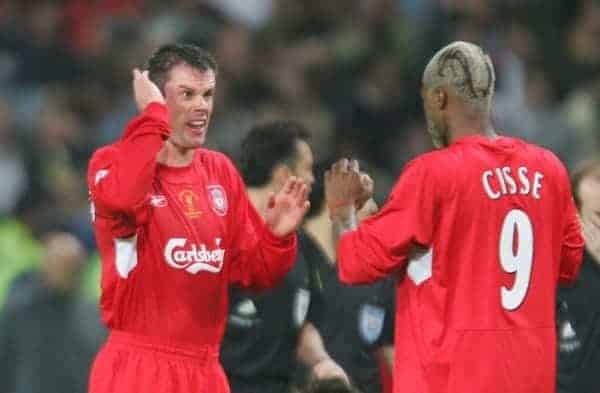 Between 2004 and 2010 Carragher barely missed more than several games a season, and was a model of consistency, passion and bravery. There weren't many defenders in Europe better than him, and John Terry and Rio Ferdinand only got into the England side ahead of him because they were more high-profile names.
Carra's Liverpool career will, of course, be defined by the 2005 Champions League Final win over AC Milan in Istanbul. He was an absolute colossus throughout the game, as others around him started to wilt. The images of him writhing around on the ground suffering from cramp in extra-time are still some of the most vivid for Reds fans of a certain age.
Without his heroic defending in that match, Liverpool would never have won that game on penalties. He was a player who always raised his game in the biggest matches against the greatest players. The likes of Andriy Shevchenko, Thierry Henry, Samuel Eto'o and Zlatan Ibrahimovic will all vouch for that.
Rafa Benitez made his Liverpool side one of the best in Europe in the mid to late 2000s, and the centre-back pairing of Carragher and Hyypia played a huge role in making the Reds so difficult to beat in those days.
Age started to catch up with Carragher by 2011, and while he was still a very fine defender, he had lost a yard of pace and started to slowly fall behind Daniel Agger and Martin Skrtel in the pecking order at Anfield.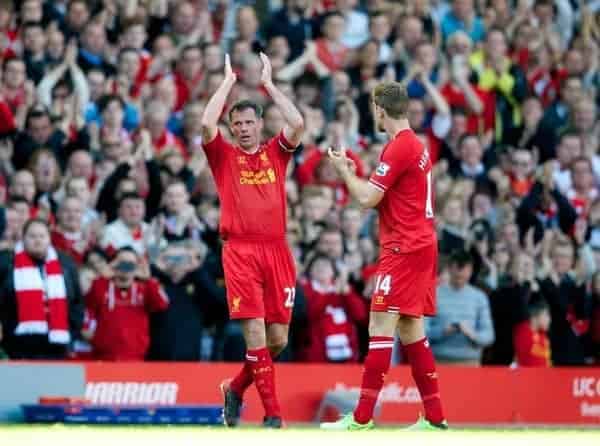 Last season, with Carragher now regularly an unused substitute, the veteran had one last run in the team, replacing Skrtel. He was absolutely terrific, and his return to the side coincided with an excellent end to the season by Brendan Rodgers' side.
Carragher decided to hang up his boots in the summer, after more than 16 wonderful years in the first-team. He almost scored a fantastic effort in his final game for the club, at home to QPR, but hit the post at the Kop end. He was substituted late on, receiving one of the most richly deserved standing ovations you are likely to see.
The 35-year-old finished with 737 appearances for Liverpool; second only to Ian Callaghan (857). He scored five goals, won many trophies and cemented his status as one of the club's finest players of all time. 
There have been times this season when the Reds' defence has looked creaky, particularly from set pieces. It's at times like these that you realise how great an addition Carragher in his prime would be to this current team.
Here's to Jamie Carragher: a true Liverpool great.
List of Carragher's honours
UEFA Champions League– 2005
UEFA Cup- 2001
FA Cup– 2001; 2006
League Cup– 2001; 2003; 2012
UEFA Super Cup- 2001; 2005
FA Community Shield- 2001; 2006
Liverpool Player of the Year- 1999; 2005; 2007
[table id=3 /]