Liverpool have taken a major step forward with their plans for the redevelopment of Anfield after the council revealed plans for the regeneration of the area.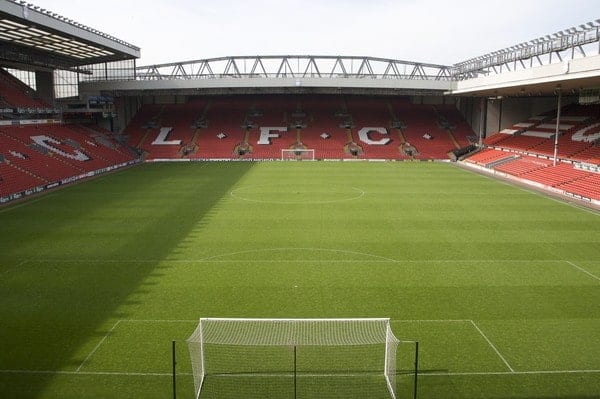 The Anfield Spatial Regeneration Framework was released on Thursday to begin a period of public consultation with residents and local businesses over the plans to revamp the area of North Liverpool.
The documents released this week state that the plans are carried out and completed by 2018 — and that includes Liverpool's stadium renovation.
The plans show Liverpool FC's desire to expand the Main Stand and Anfield Road end of the stadium, although obstacles over property ownership still exist.
There are also plans to make a "96 Avenue" in tribute to the victims of the Hillsborough Disaster, and an "Anfield Square" public outdoor space.
Carl Markham of the Independent explains:
The remaining four properties are owned by two owners and negotiations are still ongoing, but the council has already indicated it will pursue compulsory purchase order (CPO) powers where agreements cannot be reached.
Chris Bascombe adds in the Telegraph:
There is confidence a deal is close to being struck with those involved and, for the first time, there is cautious optimism from all parties the process is reaching the point where the club can begin to consider the possibilities. A planning application is conceivable by April, the difference with previous applications being – by that stage – there could be a broad consensus both politically and in the neighbourhood to ensure swift progress.
Liverpool managing director, Ian Ayre welcomed the news, saying in a statement on the club's official website, "The publication of the draft SRF document is another important milestone in the regeneration project as we continue this exciting journey to transform the Anfield area.
"Any final decision regarding a future stadium expansion continues to be based on certainty – certainty that we can obtain the necessary land around the stadium to facilitate any expansion; certainty that there is demand for any future expansion; certainty that we have home owners' support; and certainty that we will be able to navigate the complex planning landscape.
"We regard the progress to date as extremely positive and will continue to be fully supportive of the regeneration project with Liverpool City Council and Your Housing Group."
Fans and the public can view the Anfield project document in full here.