With the January transfer window now well underway, Jack Lusby assesses whether there is a case to replace Liverpool's Lucas Leiva.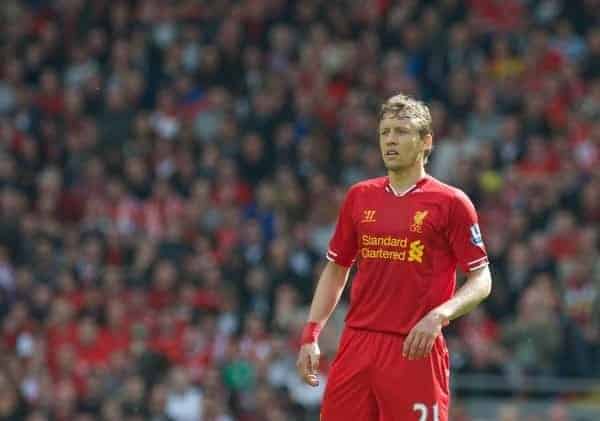 It's no secret that Liverpool are looking to strengthen their midfield and one player whose position seems under constant scrutiny as a result is that of defensive midfielder Lucas Leiva.
Having risen from Anfield's underbelly to become one of the club's most consistent performers, the Brazilian is now often made a pariah due to the understated nature of his position.
So is there good reason to replace Liverpool's tough-tackling midfielder?
Post-Injury Form
There is definitely a case to suggest that, over the past two seasons, Lucas' overall form has slumped.
In an injury-hampered 2012/13 season, Lucas managed 26 games for the Anfield club, proving a composed presence in the centre of midfield when fit.
He averaged 55% duels won, and won 73% of attempted tackles, while committing 52 fouls in the process.
This season, the player has an average of 47% of duels won, has won 44% of attempted tackles and has made 36 fouls – even more significant when considering Lucas has only played 17 games so far this season.
However, statistics can only show so much of a player's performance, and Lucas' role is still a key one for a developing Liverpool side.
Key Player?
In Liverpool's 2-0 FA Cup 3rd Round victory over Oldham, Lucas was one of many key players to be initially rested by Brendan Rodgers.
With the game 0-0 at half-time, the defensive midfielder was bought into the game to add balance and protection to a midfield now tasked with a more ambitious passing game.
This highlights the need for a diligent defensive presence within a modern football team, and Lucas remains one of the league's finest.

In the above graphic – via Squawka – I have compared Lucas to fellow defensive midfielders from Premier League rivals: Arsenal's Mathieu Flamini, Everton's Gareth Barry, Chelsea's John Obi Mikel, and Southampton's Morgan Schneiderlin.
Having played more minutes, Lucas still retains a respectable average in comparison to his competitors.
The fact that Lucas has significantly higher numbers of tackles and headed duels won portrays his importance to Liverpool's defensive game.
In particular, when compared to Merseyside rival Barry, his defensive game proves hugely impressive, with higher percentages in tackles, take-ons, and headed duels.
Hull City Defeat
Measuring Lucas' ability within the current Liverpool squad can be seen in his performance in the 3-1 loss at Hull City in December.
In a tragic team performance, the Brazilian was one of the few Liverpool players that could retain any dignity following the final whistle.
As shown in this image, Lucas was a constant presence in Liverpool's midfield:

Furthermore, Lucas' positive performance was supplemented by an exemplary passing average of 92%, completing 70 of 76 attempted passes.
Passing is one aspect that Lucas has improved this season. Last season, the player boasted a decent average passing accuracy of 87%. However this season, in line with his composed performance against Hull City, this has risen to an average of 91%.
This suggests that Lucas is developing his game under Rodgers.
With the player only recently celebrating his 27th birthday, it is generally considered that he would be reaching his prime within the next few years.
Injury Prone?
However, with a history of lengthy injury layoffs it can be questioned whether Rodgers can rely on his current charge on a long-term basis.
Having missed large portions of previous seasons with serious injuries, the Grêmio academy-product is in danger of being labelled injury prone.
Currently without a genuine backup in his position, another spell on the sidelines could cause Rodgers to look elsewhere in order to maintain his lofty ambitions.
The Future for Lucas?
There are several options for Rodgers to consider with regards to defensive midfield when looking forwards.
Deploy Gerrard Deeper
With Steven Gerrard ageing it is likely that the Englishman will be moved further back into Liverpool's engine room to accommodate for his diminishing legs.
This may impact on Lucas' position as deploying two deep-lying midfielders may jar with Rodgers' favoured higher, pressing game.
Such is Gerrard's status, and his potential to adjust into a deeper role, Lucas may be the unfortunate party.
Provide Lucas with competition
It can't be ignored that since the devoted-but-lacking Jay Spearing was shipped out, Lucas has enjoyed an essentially unchallenged tenure.
Signing competition for the position may provoke a positive response from the player.
Sign a Replacement
If Rodgers were to find a genuine upgrade on his current defensive midfielder things could change rapidly, as evidenced by Mamadou Sakho's ruthless ousting of Daniel Agger in recent weeks.
A player along the lines of Barcelona's Alex Song or Javier Mascherano would provide a more than capable replacement for Lucas as Liverpool challenge for domestic honours. However it would prove a tough task to sign a talent of such magnitude.
Where Would That Leave Lucas?
Overall, while he has his detractors Lucas is still an assured member of the regular starting midfield for Liverpool and is a player who knows his position on the field, having grown into it.
Signing a world-class defensive midfielder would represent a coup for the club. Without the attraction of Champions League football it would be hard to convince any player to make this "step down".
Furthermore, the Brazilian is by all accounts a dressing room favourite. Lucas in particular acts as a figurehead for the club's young South American contingent.
I believe that replacing such an important member of the current squad would be short-sighted of Liverpool at this current juncture.
With Brendan Rodgers more likely to add to his attacking options this January, the manager will surely be content with his trusted defensive stalwart until the right option becomes available. Liverpool can do a lot worse than Lucas Leiva.